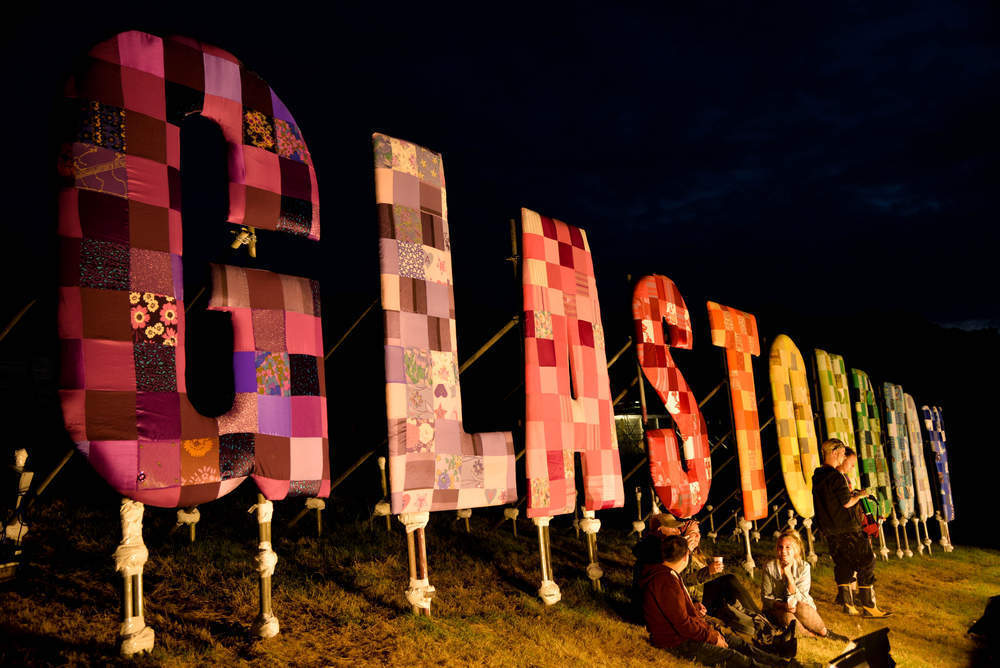 Can a huge UK music festival make public shaming of disposable plastic bottles and cups a thing by banning plastic bottles?
We may not find out until 2019, but the idea that one of the biggest music festivals in the world would contemplate banning plastic bottles could spark similar bans at outdoor festivals around the world.
This is a new front in the war on plastic.
The UK's Glastonbury Festival is a five-day, celebration of music on a 900 acre farm that attracts around 150,000 people, over 350 performers, and a huge amount of trash.
The 2016 edition of the festival needed a cleanup effort that lasted over two weeks. Eager to rein things in, festival organisers hope to implement a site-wide ban on plastic bottles once the festival returns from its fallow period next year.
The Glastonbury Festival has already been taking steps toward a more sustainable existence in recent years.
In 2014, it debuted stainless steel bottles and water kiosks for free refills with any beverage container. Two years later, stainless steel pint cups were new in a design that discouraged efforts to turn them into dangerous projectiles.
As part of Glastonbury's new so-called love the farm… leave no trace initiative, cups were optional and did not seem to make a dent in reducing the festival's massive amount of leftover trash.
Emily Eavis, daughter of Glastonbury Festival founder Michael Eavis, recently told the BBC that a plastic bottle ban was "the big project" for 2019. Though short on details, the proposed ban is referred to as an "enormous project" that is "taking a lot of time to tackle".
Plastic bottle bans at public venues like festivals could stigmatise plastic packaging, imparting a "scarlet letter" effect that may encourage consumers to steer clear of the bottles regardless of remediation efforts by drink makers.
Attitudes toward plastic are already negative. A 2017 survey conducted by Populus found that over 90% of people in the UK would welcome a "plastic-free" aisle in the supermarket to reduce plastic use.
Companies like Nestlé are trying to counter the negativity through innovation. In Nestlé's case, that translates to bottles made from 100% food grade recycled plastic (also known as rPET) for its Nestlé Pure Life purified water brand in the US.
Nestlé Waters North America also says it has reduced the amount of PET plastic in its Pure Life half-liter bottles by 40% since 2005. Progress, but it does not address the fact that most plastic is never collected and recycled.
The precedent has already been set for plastic bans at public events. In 2017, Splore became the first festival in New Zealand to eliminate single-use plastic water bottles. Music festival organisers encouraged attendees to bring their own bottles to fill at free water stations.
Spore also offered a reusable plastic cup system by a firm named Globelet to keep plastic waste off the beachfront festival site.
Globelet says its system diverted 55,000 single-serve plastic cups from landfills over the three day duration of Splore 2017. With roughly 8,000 attendees, Splore is tiny versus Glastonbury, but the trail blazed there says more single-use plastic bottle and cup bans are coming.
New Zealand-based Globelet is counting on that.
The company markets a plastic cup made from recycled plastic via a deposit system where consumers pay a small amount (usually around $2 to $3) to rent the cup. When the cup is returned, the cash deposit is returned. The consumer may keep the cup as a souvenir, but forfeits the deposit by doing so.
Globelet re-uses its own cups by washing and drying them in its own facilities. For cups that are too damaged to re-use, Globelet recycles them. Globelet's system is primarily geared toward events, but the "rent a single-use plastic cup" concept has broader potential.
The company is banking on that along with a newer concept that could change beverage packaging forever: trackable reusable plastics.
This concept relies on the company's own radio-frequency identification (RFID) tags. The unique RFID tag (in the shape of a swirl which is Globelet's company logo) is scanned and can be attached to a reusable bottle or cup, enabling Globelet to track down cups that have been used, but not returned.
Cups that are returned or are otherwise retrieved are washed, dried, and distributed back onto the market.
The plan is for Globelet to populate cities with reusable Globlet cups and washing centres so that consumers can "close the loop" and turn single-use plastic into reusable packaging.
This may be an ambitious plan, but one can envision a day when companies use chip-tracking technology to push collection rates for recyclable plastics much closer to 100%.
This addresses the top issue with single-use plastic packaging: most is never recycled. According to one estimate from the organisers of New Zealand's Splore Festival, just 9% of plastic worldwide was recycled as recently as 2012. Those days may be over.