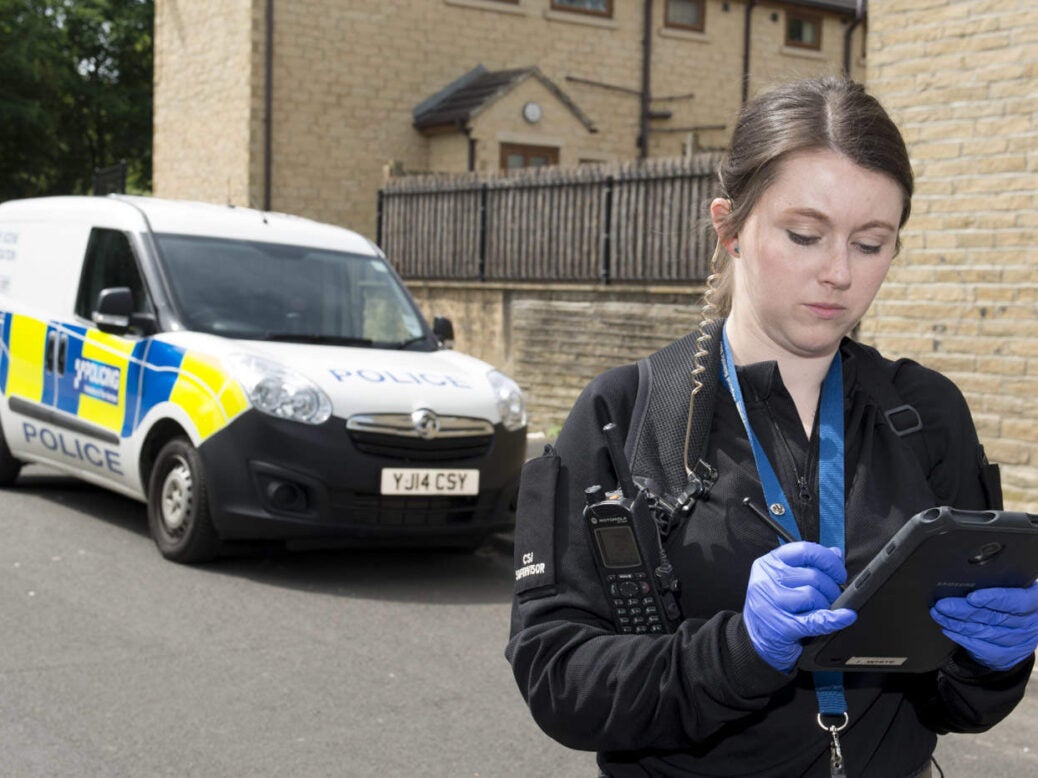 There's a lot of talk about smart cities and the ways connected devices are going to improve how society functions.
In the UK, the emergency services are taking full advantage of the benefits developments in tech are bringing, thanks to the likes of Motorola Solutions.
Last week, Motorola Solutions launched its new London Innovation Centre, based in Victoria. As part of the launch, it showcased how trends such as augmented reality (AR) and artificial intelligence (AI) are at the forefront of the work it is doing alongside the UK's police forces to make them safer and better.
Eduardo Conrado, MS's chief strategy and innovation officer, told Verdict:
AR is the one we're pushing for right now.
The company has been developing AR technologies in fire settings. Conrado explains:
In the US if there's a multi-alarm fire happening, you have a lot of units on the scene. And the commander is sitting with a whiteboard, where he's tracking firefighters and units. What we envision is: you overlay the AR digital components with a map of the building [onto the fire scenario] and you can track everybody that's coming into the scene, and their oxygen levels.
Conrado also thinks this technology could be used in other emergency situations, such as a utility worker responding to an emergency in a piping environment, feeding the information back to a command centre of engineers who can provide extra guidance.
Virtual reality (VR) is cool but it's so immersive, you can't be out and about with a headset on. But with AR, you can actually see this working in a commercial setting. It's going to explode.
Here are the other ways Motorola Solutions is using technology to change policing in the UK.
Pronto Forensics mobile app
The Pronto Forensics mobile app has been developed by MS to increase the efficiency of police forces in the UK.
The West Yorkshire Police's Crime Scene Investigations (CSI) unit uses Pronto to make it faster and easier to record evidence.
Usually, the system of collecting, labelling and processing evidence at police stations is time-consuming and has many stages that are prone to human error. Now, investigators can use Pronto to create and print labels from their smartphone whilst on the scene, with key information accessible on the platform.
This removes the need to return to the station in between jobs and improves the sharing of information and resources to speed up the justice process.
West Yorkshire Police's chief inspector for digital policing, Ian Williams, said:
Now evidence is making its way into the criminal justice system in minutes, not hours.
Internet of Things technologies
Motorola is a big fan of internet of things technologies (IoT) and is using developments in this area to arm the UK's police officers.
As part of its "connected police officer" vision, the devices a police officer carries are boosted with sensors that connect to their smartphone and the Pronto app. This assists the police officer in an incident.
For instance, if an officer had to use their taser when they pull it out of its holder, a sensor would cause the connected bodycam on their shoulder to take a picture of the scenario.
Say the picture contains an image of the person the officer is going to taser. This image will end up on the live log feed in the Pronto app on the officer's phone.  Motorola says this is creating "automatic contextual nugs".
This image is then transmitted back to the control room at the station. Staff on duty can analyse the image and try to identify the person involved, see if they have been in an incident before.
As well, this also sends an alert to a dispatcher that the officer may need potential support in the area. This saves the officer having to put out a call for backup.
Motorola said this tech is inspired by mobile apps such as If This Then That (IFTTT).
Artificial intelligence and machine learning
One thing the Motorola Solutions team were really excited about was the use of AI and machine learning techniques to predict crime.
A few years ago, MS established two teams of data scientists, one in the US and one in Israel, to work on public safety applications. By developing these intelligent innovations, the data can be analysed for trends and behaviours to identify and spot high priority threats.
Conrado said:
We're creating data all the time, and these are assets that public services can use for safety. In the US, we have 240m crime records and by working with the algorithms, we could predict crime by location time.
It's not just prediction that AI can be used by emergency services. Identification is another key area.
In terms of identification, most 999 calls come from a smartphone. Images and videos can be sent to operators to show what's going on. Conrado explained how police officers can use AI when images get sent in.
The idea is that the AI does the sifting. What they're looking for is: is there a gun in the image? Is there a person on the ground? Can you detect an explosion happening? Or, if you now you're looking for a person in a hood or with a backpack, can the AI pick that up?
Whilst AI does have its benefits; it's fast, it can deal with huge sums of data, and it can make sense of those huge amounts of data, but it's not without its issues. Recently the technology has been criticised for having biases, particularly relating to gender and race.
On this topic, however, Conrado said:
We want to use [AI] to go through vast amounts of data to get to the important components as soon as possible and then given them to a human to make that decision.
It may sound slightly Big Brother-esque that the police are using technologies like AI in this way. However, Wiliams explained that it's about public safety.
The government and the media have a duty to get that message out.