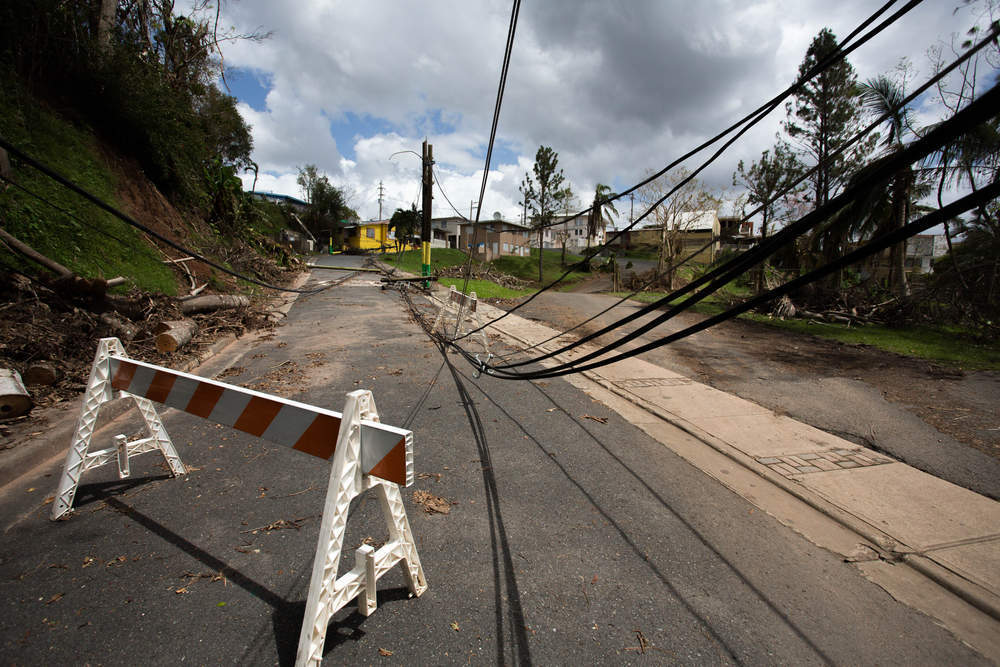 Puerto Rico is once again suffering an island-wide blackout, after a freak accident last night.
In September, Hurricane Maria – the worst natural disaster on record for the island – caused widespread destruction, leaving most residents without electricity and clean water.
In the seven months since, Puerto Rico has struggled to recover its damaged infrastructure and power grid, at a cost of almost $2.5 billion. Yesterday morning, Puerto Rico Electric Power Authority (Prepa) boasted that less than 3% of its customers remained without power, concluding the biggest power failure in US history.
This act of hubris was, seemingly, punished.
A few hours later an excavator working on a fallen tower in south Puerto Rico caused an electrical fault by getting too close to a high-voltage line. Power was knocked out to almost every home and business on the island, affecting close to 3.4 million people, and the outage could take up to 36 hours to restore.
The excavator responsible for the fault was operated by D Grimm, a subcontractor for Cobra Acquisitions.
Governor Ricardo Rossello called on Prepa to cancel its contract with them, especially after the company also caused a small outage affecting 870,000 customers last week.
I am committed to push for and enact trailblazing reforms that will ensure the transformation of our energy sector and give our people a state of the art electric power system as we rebuild a stronger, more resilient Puerto Rico.

— Ricardo Rosselló (@ricardorossello) April 18, 2018
Meanwhile, a new turnaround plan from the US federal overseers of Puerto Rico's recovery is estimated to generate a surplus of $6.7 billion, before debt repayments.
This is around $400 million more than Rossello predicted earlier in the month.
The plan is set to be approved by a Congress-backed panel later today.
The panel will have the power to impose measures on the government of Puerto Rico, which is a territory of the US.
The multi-year plan intends to financially restart the island, which filed for bankruptcy to deal with a $73 billion debt before Hurricane Maria.
Measures include an average 10% cut in pension benefits for some retirees, reduced spending for schools and municipalities and plans to foster economic growth. The plan requires $62 billion of federal aid.