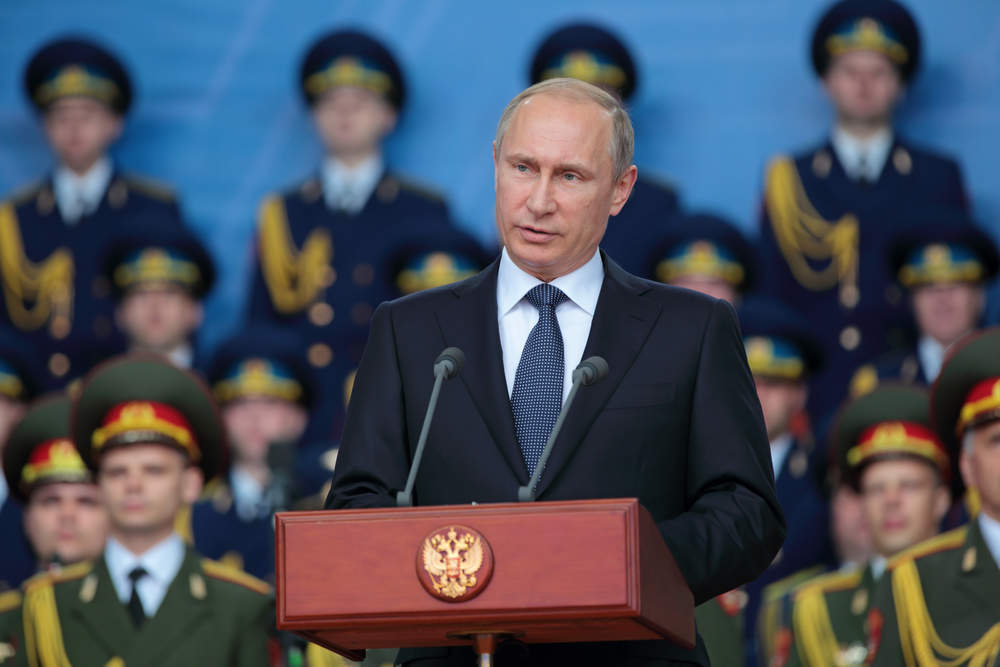 Russia's president Vladimir Putin has delivered his annual state of the nation address, boasting of economic growth, improving living standards and invincible missiles.
Putin is trying to shore up support ahead of an election he is expected to win in 17 days' time, which would be his fourth presidential term.
Looking to the future, Putin said the government's main goal was a "breakthrough in Russia's development" through economic growth.
Putin wants Russia to be among the world's top five global economies and increase GDP per capita by 150%  within the next decade and higher than the global average.
According to Putin, economic growth would be facilitated by reducing the share of state-owned businesses in the country's economy.
The first step would be to privatise those banks who were rescued by the central bank during the global recession.
He said:
We have not reached the necessary level in terms of people's well-being.
On defence and invincible missiles
Meanwhile, Russia has developed an inter-continental ballistic missile (ICBM) called Sarmat to replace ageing missiles and a hyper-sonic missile called Kinzhal which can be launched from an aircraft or nuclear warhead and destroys anti-aircraft systems.
Putin said he could "reach anywhere in the world".
A video demonstrating the defence tech described the missile as a "low-flying, difficult-to-spot cruise missile… with a practically unlimited range and an unpredictable flight path, which can bypass lines of interception and is invincible in the face of all existing and future systems of both missile defence and air defence".
The country has also developed a nuclear reactor that can be mounted on a sea-launched or air-launched cruise missile to boost its range and an underwater drone which can counter enemy aircraft carriers and attack shoreline defences.
On living standards and development
Putin also revealed plans for Russia's urban development based on modern technology, especially in the architecture, transport and communication sectors, aiding rural development.
Putin pledged to double the amount of money spent on developing infrastructure. Strategic state-assisted investments were predicted to be the main source of economic growth in the next few years.
Russia has been using icebreakers in the Arctic to mine oil and gas and Putin said it was important for Russia to have the strongest nuclear icebreaker fleet in the world.
The country is expected to spend $60bn (3.4 trillion roubles) to support families and demographic growth in the next six years.
Life expectancy would be boosted to over 80 years old. According to The World Bank, life expectancy in Russia in 2015 was 65 years.
He aims to halve the poverty rate within six years through the government ensuring real incomes grow and reducing mortgage rates towards 7% to solve housing issues.
This would be accompanied by cheaper bank loans and housing development projects, as well as reforms of the national healthcare and education system.
Putin believes that a shrinking labour force fcould curb Russia's economic growth.
He said:
"This trend will stay for the coming years and will become a serious limit to economic growth."
Putin wants Russia to be more open to the world and new ideas by implementing a more creative and free environment for its citizens.
He said economic freedoms and the rule of law in the business world would also be improved. This included severity of punishment for economic crimes being reduced.
Russia should also reform its rules for giving citizenship to talented and skilled people who are willing and able to live in Russia.
During the two-hour televised speech Putin said that if Russia or its allies were threatened it would be prepared to use its nuclear weapons.
He said:
"We would consider any use of nuclear weapons against Russia or its allies to be a nuclear attack on our country."

"The response would be immediate."
According to Putin these were not hangovers from the Soviet era but are new, modern weapons systems.
On the US
President Putin warned the US it had failed to "keep Russia down".
"Everything you wanted to stop through your policies has already happened.
Despite this, Putin also said if the US or the EU were to seek an equal partnership with Russia then Moscow would be responsive.
He noted that the country has a good record of forming constructive, cooperative relations with China and India.
How did this year's address compare to last year's?
The main highlights from last year's state of the nation address were seeking international cooperation, particularly with the US, stimulation of the banking sector to develop lending, and refining the tax systems and mechanisms.
Speaking last year Putin said:
"Obviously, only healthy banks with solid capital can develop lending…this is a good basis for a quick recovery of the economy, for the development of lending to the real sector."

"We don't want confrontation with anyone, we don't need it. We are not seeking and have never sought enemies. We need friends."

"We are ready for cooperation with the new US administration.. on the basis of mutual benefit and equality."

"We hope to join efforts with the United States in the fight against a real rather than dreamt up threat – global terrorism."