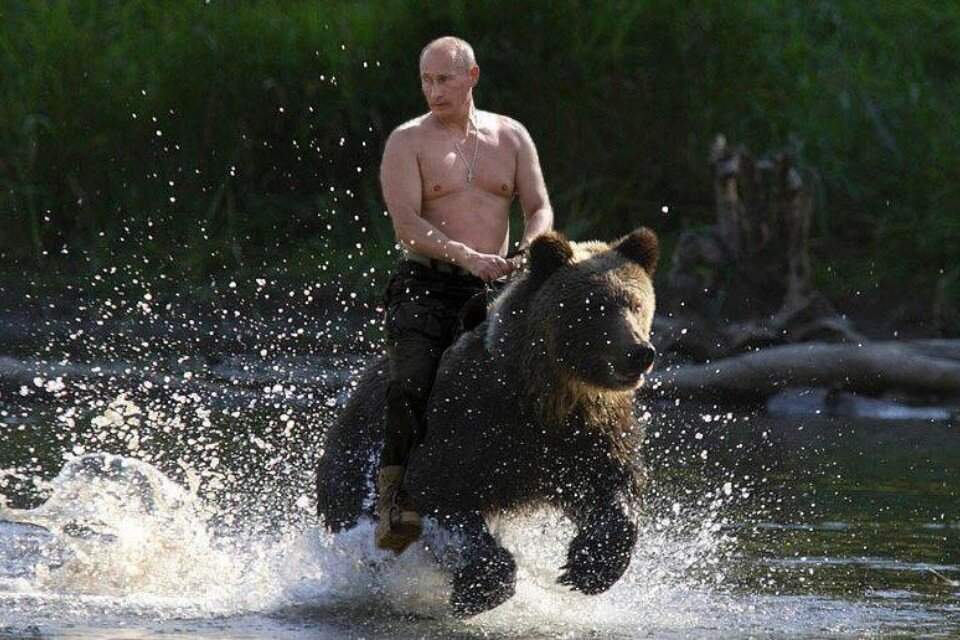 Russians head to the polls this Sunday to re-elect Putin. The Russian President has no real opposition so he will almost certainly be re-elected.
But what is it about Putin that makes him so irresistible to Russians?
A poll released in 2006 by World Public Opinion in the US concluded:
Russians generally support Putin's concentration of political power and strongly support the re-nationalisation of Russia's oil and gas industry.
There's also the state-controlled television to factor in. TV is by far the most important means of communication for Russians.
In addition, the top three television networks, Russia 1, Channel One and NTV are all majority (if not wholly) state-owned. Putin's tight grip on the media allows him to quash dissent before it threatens to topple him.
How well do you
really

know your competitors?

Access the most comprehensive Company Profiles on the market, powered by GlobalData. Save hours of research. Gain competitive edge.
Company Profile – free sample
Thank you!
Your download email will arrive shortly
Not ready to buy yet? Download a free sample
We are confident about the unique quality of our Company Profiles. However, we want you to make the most beneficial decision for your business, so we offer a free sample that you can download by submitting the below form
By GlobalData
According to Pew Research, 87% of Russians have some confidence or total confidence in their leader.
Of course, aside from actual political accomplishments, there's plenty of more oddball PR stunts that have cultivated a certain cult of personality around Putin. Here's just a few of these wacky antics from the Russian president.
Hot and spicy Putin: Sex sells
The oldest trick in the PR book is that old adage, sex sells. And Putin knows how to make it work for him.
The Russian president is one of the few world leaders who is more than happy to get his nips out whenever the situation requires it.
Even when the situation doesn't require it; he'll do it. Here are just a few of Putin's most infamous topless moments.
Putin is riding a horse topless in Russia laughing right now as McCarthy I mean Nutty Nunes is now going after the State Dept with his "memos." #NunesMemo #p2 #MAGA pic.twitter.com/uyrHyhmCzd

— Sheree Sheree Bo-Berry (@shereedre10) February 5, 2018
A topless religious ceremony is Putin's perfect election-year photo-op https://t.co/UEcBAWKDSZ in @qz pic.twitter.com/Ipn82tPsPc

— HealthIT Policy (@HITpol) January 21, 2018
When you have a brother living in #Moscow #Russia ??? #HappyNewYear #NewYearsPresent #ThankYou #Topless #Putin #OMG pic.twitter.com/UjPnRXtpsO

— Virginialicious (@Virginia_Delish) January 2, 2018
Everyone, please stop complaining about Russia posting topless photos of Putin
It could be worse! Trump could go golfing without his bra pic.twitter.com/vfYofA6Oh2

— Ed Krassenstein ? (@EdKrassen) October 17, 2017
Also, yes, if you were wondering, there is an official Putin calendar.
It's a well-known fact that Putin is big on promoting sex in his country (the heterosexual kind that is, gay sex will get you locked up and possibly murdered.) That's because, according to the Moscow Times, he believes an ever-increasing population to be "the key to Russia's internal security".
One time he actually hired famed American crooners, Boys II Men, to perform in the Russian capital just before Valentine's Day. The express intention of the whole affair was to get Russians feeling frisky!
Vladmir Putin, animal lover
Few world leaders are as well-known for their love of the animal kingdom as Vladimir Putin. The Russian leader loves a photo-op with animals. Here's just a few of Vlad's best animal moments:
Here he is releasing a leopard cub back to the wild:
Persian leopard with Vladimir Putin pic.twitter.com/M0Hoqhe92i

— Time Machine (@oldsnapshot) September 10, 2017
And here's Putin sedating a polar bear for a study, he was later filmed hugging the animal:
Good night everyone. Let Vladamir Putin sedating a polar bear fill your dreams… and possibly your nightmares. pic.twitter.com/6nvwYCkcnq

— My name is not Drek (@Jones_SodaCo) April 9, 2014
Meeting the real Australian ambassador:
Australian Koala Intelligence Operatives suggest Putin is a Smoocher who charmed and beguiled Trump into a Russian Bearhug. pic.twitter.com/pLLtBbWCmA

— Seraph (@agnoi) January 6, 2017
Preparing for a paragliding flight with cranes:
way we share our nuke technology today." Always showing his kinder, gentler side: who can forget Putin hang-gliding to help cranes migrate pic.twitter.com/T3fZMfjmT3

— Noon in Korea (@NoonInKorea) September 5, 2017
Releasing some critically endangered Przewalski's wild horses back into the wilderness:
Photo: Putin released Przewalski's horses into the wild https://t.co/K7JKC7eX4u pic.twitter.com/GXkQFwNNy1 #news #Russia

— Auto News Feed (@Rus_Eng_News) October 3, 2016
Putin is also reported to have saved a TV camera crew from a tiger attack while attending the release of a tiger into the wild.
Allegedly, the animal, its sedative having worn off, turned to attack the film crew and Putin, in Bond-like fashion leapt into action to dart the tiger with a tranquilliser and save the day.
While this event was widely reported on Russian state media, there is no evidence to suggest it actually took place.
Putindiana Jones, treasure hunter
One of the more bizarre PR stunts Putin ever took part in was his supposed discovery of some 6th Century BC Greek pottery while scuba-diving in the Black Sea. A pretty impressive find, there's no question about that.
What people did question though, was how Putin managed to 'find' some lost treasures that had been hidden in plain sight for over 2,500 years. Why hadn't anyone discovered them before?
Ultimately, Putin's communications chief Dmitry Peskov had to admit in an interview on the Dozhd TV channel that the whole thing had been staged:
"Look, Putin didn't find down there jugs that had lain there for many thousands of years. It's obvious.

"Of course, they were found in the course of an expedition several weeks or days earlier.

"Of course, they were left there or placed there. It's completely normal. There's no reason to gloat about this and everything else."
Then again, this whole thing sort of begs the question as to why they felt the need to stage it if it was all so obvious.
But once you start going down the rabbit hole of why any of these bizarre PR stunts happened, you'll find yourself going mad before you reach a conclusion.
Putin's got the X-factor, singing sensation
Seeing world leaders singing isn't exactly unheard of. Most of them are forced to sing their own national anthems at one stage or another. Few are what you'd call charismatic performers but that's why they're politicians not musicians.
What's slightly more unusual is to see a world leader singing for fun. And yet that's what Putin did in 2010 at a charity event. The Russian president performed his own rendition of Fats Domino's 1950s classic, Blueberry Hill.
Puce Lee, martial arts master
Another of Putin's most famous hobbies is his love of judo. He's gone toe-to-toe with the Russian national judo team on more than one occasion.
However, the really interesting thing about Putin and his judo obsession is the published works that have sprung from it.
In 2008, the Russian leader released Let's Learn Judo With Vladimir Putin, an educational DVD where the president showed off his judo chops. Putin also co-authored Judo: History, Theory, Practice, a book all about his love of judo.
The entire DVD's contents are available online. They make for some interesting viewing:
Dial-A-Putin, talkshow host
Every year Putin holds a citizens' call-in show live on national television. While not totally dissimilar from programmes like Question Time in the UK, the 2016 edition of the show was quite wacky.
Putin had staff members dressed like they were aboard the USS Enterprise from Star Trek and was filmed in front of a live audience.
There were some political lines of questioning, but with a distinctly oddball twist. At one stage he was asked whether he'd save his Hungarian or Turkish counterparts from drowning (he didn't answer.)
He also answered some more softball questions including why he eats oatmeal for breakfast every day.
The Vladchelor, every woman's fantasy
Another wacky shenanigan Putin pulled back in 2016 was his weird bridal fantasy. The whole thing rather defies explanation so let's just present the facts. Every September, Moscow celebrates its history with a huge parade.
As the president, Putin was involved in the parade in 2016. While strutting through the Red Square, Putin was accosted by a group of starstruck women in bridal gowns. All were on their way to their weddings, apparently (despite there being not a groom in sight.)
Because he's such a hot stud (see topless photos mentioned above) the women were clamouring for a selfie with Putes. He took a picture and sent them on their way.
The whole thing was totally a random coincidence and you should absolutely ignore the social media posts from the brides while they rehearsed the stunt totally real, authentic moment.
Suited, booted, Puted, fashion icon
Of course, in all these appearances and PR stunts, the most important thing to remember is that Vladimir Putin is a fashion icon. Here's just a few of his looks from over the years:
White cape/puffer jacket:
Putin ally said to be in touch with Kremlin, Assad before his mercenaries attacked US troops – Washington Post https://t.co/OaHKu9Ogak pic.twitter.com/SwyvXPYJ56

— Best Fashion (@Best_Fashion_UK) February 23, 2018
Paragliding casual look:
putin is in the white crane costume results on google pic.twitter.com/IiA3sVvgz3

— bagel (@tsurumeme) January 12, 2016
Submarine captain realness:
#Putin latest stunt: after tranquilizing tigers & flying w/cranes, he plunges in the #BlackSea http://t.co/kot7Hp3pLl pic.twitter.com/2hmYW9SF9t

— Bilyana Lilly (@BilyanaLilly) August 19, 2015
Feelin' cosy:
Topless Putin joins Orthodox Christians Bathing In Icy Waters – https://t.co/tD5BdKHEPS – Kollman Report – https://t.co/wAcUXEgXUx pic.twitter.com/ObTWUhKq4X

— Kollman_Report (@KOLLMAN_REPORT) January 19, 2018
#Twinning:
Trump fashion: Donald matches Putin, Melania goes long https://t.co/k5GOCk28kY pic.twitter.com/mMC6CfjjGi

— Mercury News (@mercnews) November 10, 2017
Nip slip:
REAL RUSSIANS DON'T WEAR SHIRTS aka Yuri needs to stop taking fashion cues from Putin pic.twitter.com/ObuXl3Bgpu

— Chrissy (@chrissyischaos) October 28, 2017
Important reminder:
While Putin might seem friendly and fun with all his wacky antics it's important to remember a few things about him and his government:
The state which he runs basically controls the media

They ban LGBT people from being open about their sexuality in public

They propped up Assad

His government invaded Ukraine illegally

He jailed his chief rival and banned him from running against him

Journalists and political rivals often die in 'mysterious circumstances' after criticizing him

They're accused of interfering in global elections
Safe to say, you shouldn't believe the hype. Putin's antics may be funny, but they're designed to mask a deeply disturbing regime.