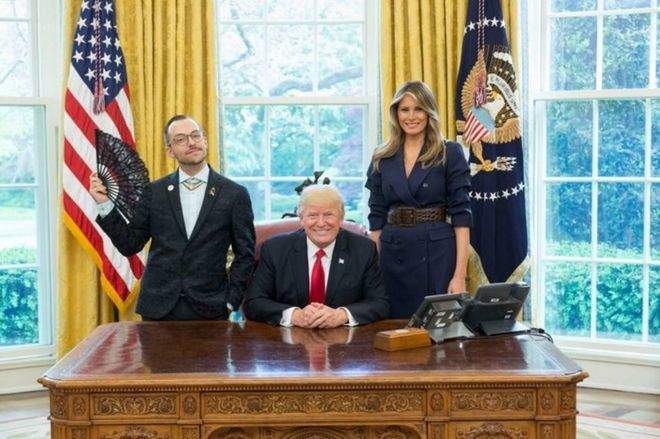 Nikos Giannopoulos, a gay 29-year-old teacher, was crowned Rhode Island Teacher of the Year on Saturday.
Along with teachers from every state in the US, he was invited to the White House to meet the president Donald Trump.
However, Giannopoulos stood out from the crowd.
Sporting a rainbow LGBTQ pin on a blue print jacket, he walked into the Oval Office in style.
With a silver and gold statement necklace around his neck and a nose ring, he stood next to Trump and the First Lady, Melania, ready for his official photograph.
https://www.facebook.com/NikosG/posts/10104845101260173
He also brought a fan with him to mark the special occasion, which Trump liked.
"Oh, he [Trump] loved it [the fan] ! I popped it open when I walked into the office because I'm a very sassy person. And [President] Trump complimented it right away. He said, "I love the fan!" And he told me I had great style," Giannopoulos told NPR in an interview.
"Then, when I was ushered in for my private photo with the president and Melania [Trump] I was told I should put it away. So I just folded it up and held it at my side. But when it came time for the photo, I just asked the president, "Do you mind if I use the fan for the photo?" He said, "Absolutely go for it." So I popped my fan and did my pose," he added.
Giannopoulos immediately posted the photo of him next to Trump and the First Lady in the Oval Office on Facebook. 
It went viral, garnering over 15,000 likes.
On being named Rhode Island's Teacher of the Year, he told NPR:
I just want to say that the teaching profession has been the greatest thing that's ever happened to me. Every single day I go to the classroom energized and thrilled to be there and to have been elevated to represent all of the teachers in my state.
Queering up the White House for the LGBTQ youth of Rhode Island! #NTOY17 @Y_P_I @CCSSO pic.twitter.com/m8dsDOGNNA

— Nikos Giannopoulos (@BeaconMrG) April 26, 2017