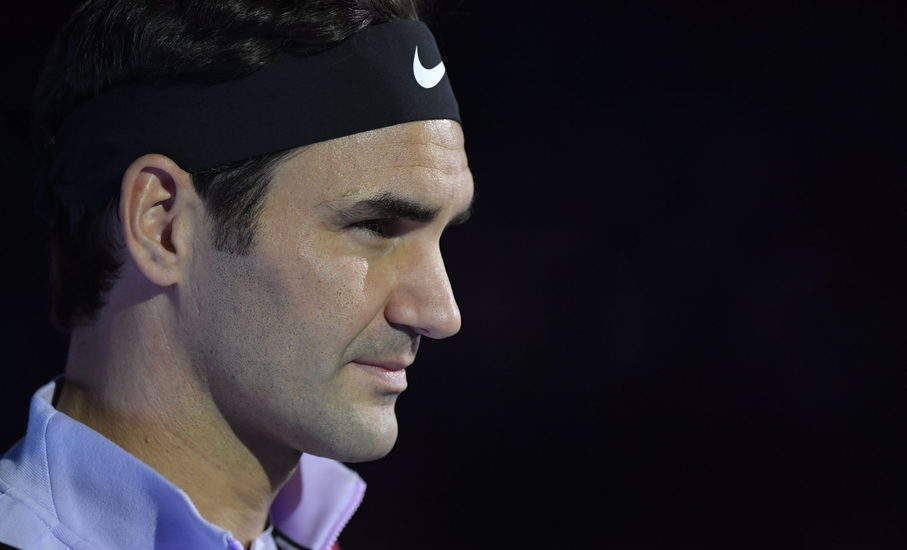 There were fears that Roger Federer was beginning to decline this time 12 months ago, but the Swiss tennis star proved his doubters wrong by claiming his 20th Grand Slam victory at Wimbledon. He has since added a sixth Australian Open title to his record earlier this year, putting to rest any suggestion that he is on his way out.
The likes of Federer, Rafael Nadal and Serena Williams are expected to challenge for the Wimbledon trophies once again this year. However, while the old guard holds strong, it will still be a case of out with the old and in with the new.
Federer has dropped kit supplier Nike to sign a bumper new deal with Japanese fashion brand Uniqlo, ending a 20-year relationship with the leading sportswear brand.
Reportedly worth $300m over a ten-year period, Federer will be earning three times as much as he was with Nike. That puts him level with the likes of basketball's LeBron James and football's Cristiano Ronaldo, who both earn $30m annually with Federer's former kit supplier.
The new deal will push Federer closer to the number one spot as the highest-earner in sport. The tennis ace ranked seventh on Forbes' latest annual World's Highest Paid Athletes list with total earnings of $77.2m, but how much of that is sponsorship money and who are the brands paying to endorse him?
Roger Federer sponsorship money
According to Forbes, Federer made $65m from endorsements in 2017. Approximately 85% of his total earnings came from sponsorships.
Following the confirmation of the Uniqlo deal, that percentage is likely to be higher in 2018. Based on his level of performance over the last five years, we would expect Federer to make somewhere in the region of $7.8m from tournament winnings in 2018. He has already made $3m of that from his success at the Australian Open.
However, the additional $20m that he will receive from Uniqlo will likely push his earnings from endorsements up to around 92%.
In total, sports market intelligence company Sportcal estimates than Federer will earn $89m from endorsement deals in 2018. This will undoubtedly be the most lucrative year of his career, with total earnings close to $100m.
While Federer's tournament winnings are less steady, his sponsorship earnings have been consistently above $50m each year since 2013.
Roger Federer's sponsorship deals
According to Sportcal, in the 20 years since Federer turned pro, he has signed a total of 30 sponsorship deals with 14 different brands across 14 different industries.
As things stand, 12 of those deals remain active and many are expected to run until long after Federer hangs up his racket. The Uniqlo deal, for example, will run until the end of 2027, by which point Federer will be aged 46.
As a star of the tennis world and an athlete that brands can trust to deliver at least a few tournament wins a year, he has no shortage of suitors hopeful of profiting off of his success.
Federer counts many of the biggest brands in the sports, fashion and luxury industries among his partners.
The most lucrative
At $30m annually, the Uniqlo deal is by far the largest sum of money that Federer will earn from a single deal. Likewise, his previous deal with Nike, worth $10m a year, was his biggest earner before that.
However, Italian food company Barilla also pays him vast sums of money. The two parties agreed an $8m deal in 2017 that will run for four years, earning Federer a total of $40m.
He also holds an $8m deal with Rolex. He has counted the Swiss watchmaker among his sponsors since 2006, but saw his annual earnings from the deal climb from $1.5m to $8m in 2017. With no end date reported, Federer will continue to earn from this deal for the foreseeable future.
He also has a deal with champagne maker Moet & Chandon. The French brand has been paying Federer $6m since 2012 and opted to extend the deal this year at a cost of $8m.
Active deals
Aside from Uniqlo, Barilla, Rolex and Moet & Chandon, Federer is also currently paid to endorse the products of seven other brands.
These brands include luxury car manufacturer Mercedes-Benz, which extended its deal with Federer in 2018 for $5m. The company has now been sponsoring Federer for over a decade.
Chocolate makers Lindt also rely on the Swiss star. In return, Federer acts as a global ambassador for the brand. Keen to keep fit as he approaches the back-end of his career, Federer probably doesn't eat too much chocolate, but for $7m a year he's more than happy to promote the company.
After ditching Nike, his partnership with sports equipment maker Wilson is now his longest-running deal. Federer has called Wilson his official equipment supplier since he turned pro in 1998. He currently earns just $350,000 a year to use Wilson rackets when he plays. However, while there are likely better offers available, having agreed to a lifetime deal with the brand, there is little chance of him jumping ship.
Federer's other active sponsors include American Express, home appliance brand Jura, private jet company NetJets, Swiss telecommunications company Sunrise and financial services supplier Credit Suisse.