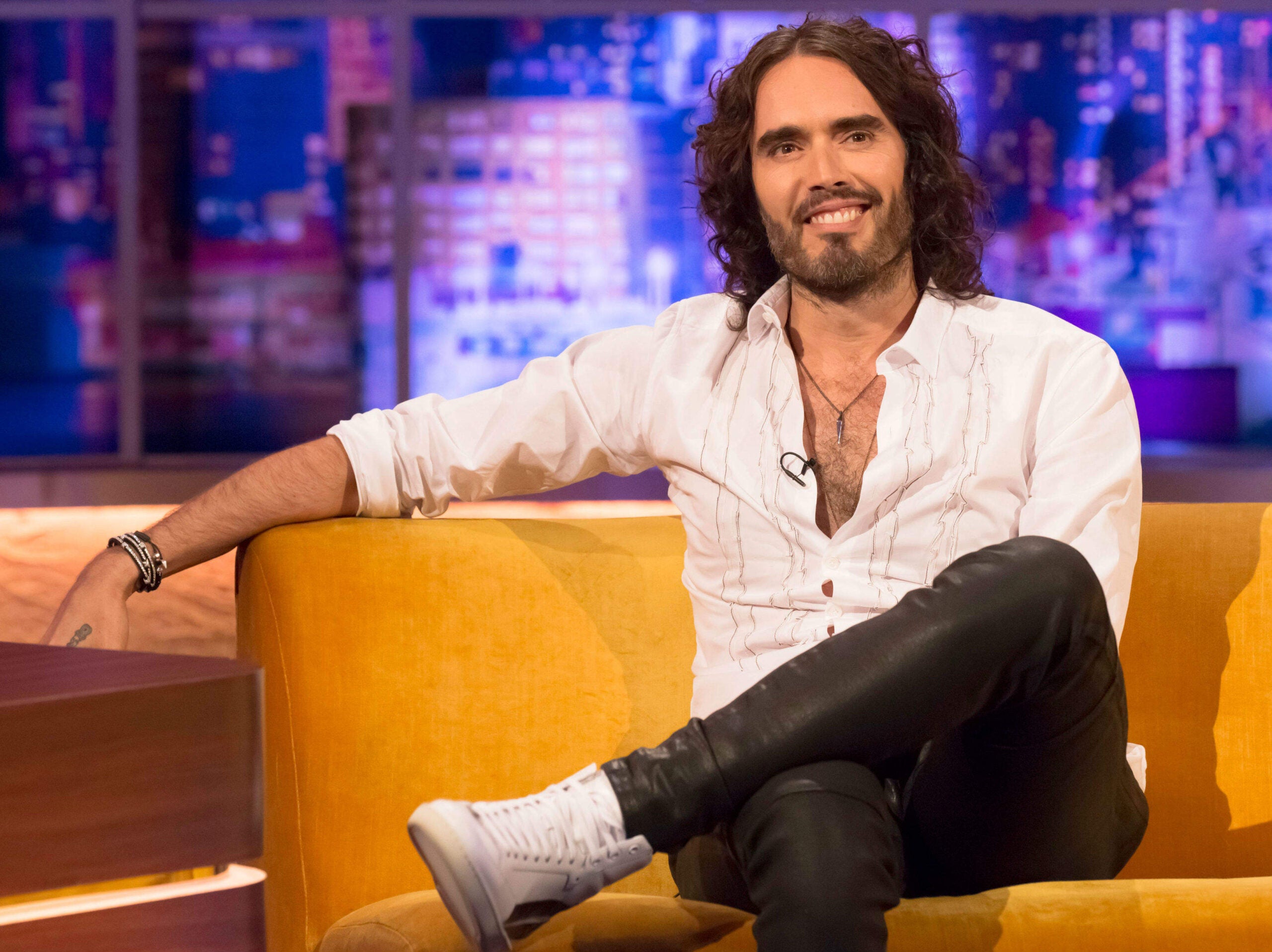 Only a few years ago, Russell Brand was spiralling into the pit of addiction, all in the public eye. Now, on a sunny afternoon, he's sitting in front of me sipping a green juice and grinning.
Recovery, the title of Brand's new book, sums up the very bumpy journey he's been on. Yet today he seems better than recovered, he seems like a new man altogether.
Now living in the countryside with his 60,000 bees, a baby girl and a new wife, Brand's life couldn't be further away from the drug-fuelled party days he became known for. He doesn't even use Twitter anymore, which is hugely surprising news to anyone who has followed him over the years.
Yet after a step away from politics, is he about to make his return? I wanted to find out what's going on inside Brand's head.
Are you still politically engaged? Or have you given up the fight?
Yes I definitely am still politically engaged. I'm an opinionated person. I just have so many opinions, that's one of the main things about me. I think we are experiencing a lot of change around identity at the moment with people not wanting to be categorised. Particularly with things such as people wanting to be known as gender fluid and things like that. This is now having political inflexions. My personal belief is that if you start to change the way people see themselves, then political change is inevitable. Starting with how people view their own lives, and life full stop, is the first step.
How well do you
really

know your competitors?

Access the most comprehensive Company Profiles on the market, powered by GlobalData. Save hours of research. Gain competitive edge.
Company Profile – free sample
Thank you!
Your download email will arrive shortly
Not ready to buy yet? Download a free sample
We are confident about the unique quality of our Company Profiles. However, we want you to make the most beneficial decision for your business, so we offer a free sample that you can download by submitting the below form
By GlobalData
Brexit is also a huge indicator of this change. It really is very obvious what Brexit means. It's all about fracture and dissatisfaction and it shows politicians' inability to correctly interpret what people are thinking and feeling.
Would you run for Prime Minister?
I don't know if I would consider running for Prime Minister actually because for the first time I can remember, we now have a politician in Jeremy Corbyn who I feel relaxed about.
I'm very happy to support Corbyn. When I said "don't vote" it wasn't even an opinion really, it was just that no one I know votes. It's accepted that voting is bollocks. However I did vote for Jeremy Corbyn this time because he was talking about normal stuff.
What are your thoughts on Jeremy Corbyn and the current state of the Labour party?
One of the most amazing things about him is that he has been in Parliament for years and years. When you watch him he isn't fazed by someone grilling or going in on him, he's easy with it and can handle that sort of stuff. He can talk to people too – you see him talking to JME and people at hospitals and he really normal. Jeremy Corbyn doesn't seem like some peculiar Quentin Blake character come to life who just terrorises people like Theresa May.
I wouldn't call a second referendum because I don't think I'd need to. The situation with our government will take care of itself to be honest. An election will happen and Labour will win.
Would you like an active role in Parliament? Could you see yourself working at Corbyn's advisor?
I don't think he needs my advice! What I would like to do is participate in the movement to bring power closer to the people and I think Corbyn is all about that. Would I go and work on the coaching team at West Ham? Yes. It's the same with working with Parliament, I'd like that yes, but I don't know how realistic it would be.
How has moving out of the city changed you and your perspectives on things?
Moving out of London has changed me massively. A city is not a normal place for a human being to be living. Living in the countryside is far more relaxing. One day maybe they'll invent something so you can see what mental activity looks like. Everyone in traffic about to kill each other, people at junctions so close to getting out and stabbing each other. It's all too much. I don't have a house in London anymore I just have a house in the country. I don't know if I'll move back to London. It's the first time in my life where I just don't know what's going on and it's brilliant.
Why did you decide to write a self-help book?
Someone said to me once that all books are self-help books, because otherwise what's the point in them? I do like people that write about spirituality and people who can put these things into terms which are accessible and relevant. As I'm in recovery, the way that I live my life through my work and my relationships is how I understand and receive life. I try not to look at other people as commodities. I try to recognise that my working life is only of a certain amount of use. Then I try to devote my life to something higher than my psychologically manufactured self. You know I want to make a lasting impression before I die.
Why do you think social media addiction is such an issue in society today?
It's hard to leave phones alone isn't it? I don't even know my Twitter password anymore, I just said here you go to someone else that I work with. What's the point? I always think now, if something important happens, you'll find out. The creeping world of social media is coming for us. The people who run those social media platforms are masters in stimulus and response. We live in an addict culture. We are all addicted. If you are doing something that doesn't make you feel good, but that you can't stop, then the word addiction applies to that.
If you're on your phone all the time, why? What's it doing for you? You sometimes read those articles about 'the average human being spends 13 years of their lives on the toilet' and you think fucking hell that's a waste of time. If you found out how long you spend on social media you'd think fuck what was I doing?!
What is the 'Russell Brand secret to happiness'?
I feel brilliant at the moment. I've got such a lovely baby and a beautiful wife. If you do believe that the material world is an illusion, and that the only real thing is love, then it's all a relief.
In a way it's all about waking up. It's not about thinking oh I don't take heroin or I don't gorge myself with cake and then puke it up. It's not about that. It is about are you awake and present in your own life?
If you look at what is going on culturally, if we turn on the TV, everything is nested in commerce. We need to get away from that. My mate Matt said ages ago that television is just a table with Cornflakes on it. Whatever the television is telling you to do is just buy this, buy that. There are no ethical considerations. It's just all commerce and commodification.
Are we all addicts?
I was trying to make a self help book that would help not only individuals but society and humanity. A lot of addicts are very self-centred people, but I think we live in a self-centred time. In fact, I think that consumerism and materialism require of us that we become self-centred. We perceive reality through the lens of what makes us feel better. A lot of that is about commodification. In my experience of addiction, I found that I get attached continually to external phenomena or little behaviours.
I suppose I've always subconsciously been thinking that they will help me. However what I've actually realised is that belonging to communities is what helps me. Being of service to others and connecting spiritually, not materially. I think this book asks people to look at life differently. Not just their own lives, but life full stop. If you change people's perspectives then you can change everything. Perspective really is everything.
Do global events influence us more than they should?
With the Charlottesville thing recently, people may say they don't want immigrants, but what they really mean is that they don't feel valued in their own lives. They don't feel happy or connected. People listen to the crap that's in the air and the ether. Yet you have to peel past all that and ask what the actual problem is. We all play our roles in the system and I think that it's easy to make people selfish.
Our biochemical drives are about survival and procreation and status. If you have a culture that stimulates procreation, like how all adverts are about sexual desire. The media uses fear constantly and it's too much – people can't think straight. When I am frightened I don't think straight. People live in a perpetual state of anxiety and desire.
For me the line between the political and the spiritual is an imaginary line. Politics is the manifestation of essence and spirit. Culture is consciousness materialised. Change consciousness, change culture. Change the way people feel and you change politics. It's an interconnected, woven and wedded – people, life, spirituality, addictions and politics. That is the message I want to get across.
For more information on Russell Brand's book – Recovery: Freedom from our addictions, click here.