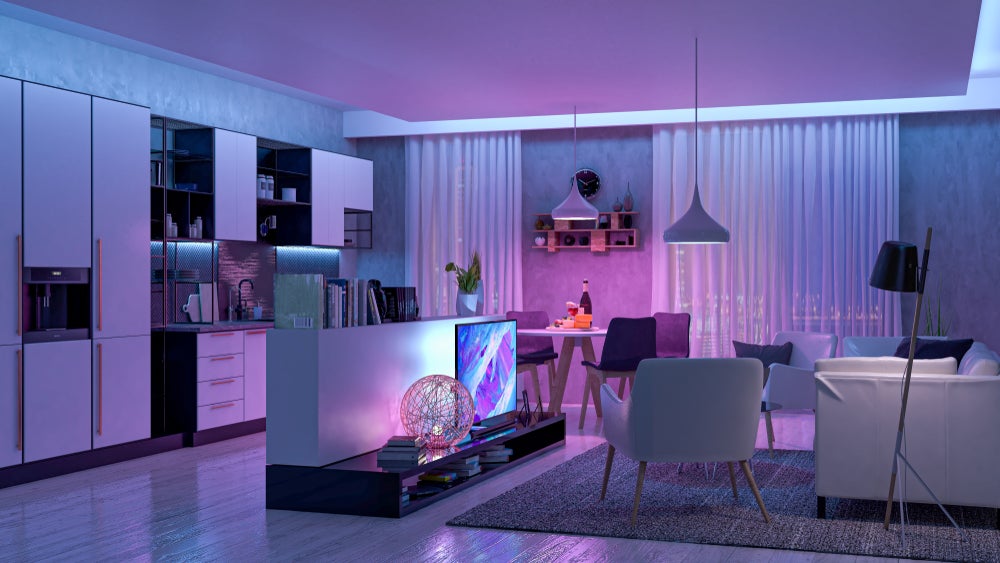 Smart home companies raked in millions of dollars across several huge venture financing deals in 2022, bringing the vision of the house of tomorrow into reality.
Seventy years ago Tax Avery directed a short movie called The House of Tomorrow. It featured innovations like an indoor raincloud, an automatic sandwich maker and a chair that adjusted itself to the occupant. While they may have sounded like science fiction in 1949, many of those gizmos and gadgets have become a reality.
These days, there are smart fridges that allow you to view their content from anywhere, lightening and heating that can be adjusted with a swipe of a phone, automatic coffeemakers and even internet of things (IoT) connected salt shakers.
The advancement of smart speakers and voice activation had a significant impact on the industry's popularity. The easiness and fun factor of voice control, and the relatively low price of the devices make it an ideal entry point for curious customers.
This market is only set to grow. According to research firm GlobalData's forecast, consumers will spend $93m per year on home automation by 2024. It's also expected that smart security systems will be the most popular generating 38% of home automation system revenue, and smart appliances to contribute 25%.
The home automation industry is thriving.
Orvibo secured $158m in its Series E funding
Smart home technology company Orvibo secured the biggest investment deal in the smart home industry in 2022. It topped up its coffers with a whooping $158m Series E venture funding round in January last year, according to GlobalData.
The company provides full-house luxury smart systems and panels that simplify the coordination of customers' homes. Its portfolio includes smart gateways, switches, light systems, air conditioning, background music and many more features.
How well do you
really

know your competitors?

Access the most comprehensive Company Profiles on the market, powered by GlobalData. Save hours of research. Gain competitive edge.
Company Profile – free sample
Thank you!
Your download email will arrive shortly
Not ready to buy yet? Download a free sample
We are confident about the unique quality of our Company Profiles. However, we want you to make the most beneficial decision for your business, so we offer a free sample that you can download by submitting the below form
By GlobalData
Investors include China Renaissance, Soufeya, Fusen Noble-House and Tencent.
The tech company was gathering funds to improve its online retail presence, build its smart home ecosystems, and advance its artificial intelligence of things (AIoT) systems. AIoT is one step up from the IoT.
AIoT is based on the principle of the connectivity of devices, combined with data-driven knowledge from artificial intelligence (AI). Orvibo calls its new AIoT operational system "Home AI". The China-based company also serves offices and hotels with its technology.
Rokid raised $110m
Software venture Rokid raised the second-biggest venture funding deal in the smart home industry in March 2022. With the deal, it had raised $378m in total. GlobalData said Rokid planned to use cash injection for research and development, marketing and ecological construction.
Rokid has a versatile portfolio, with its main product being X-Craft, an explosion-proof augmented reality (AR) headband with a 5G module. X-Craft is designed for high-risk industrial environments, construction or mining. Its in-built artificial intelligence (AI) algorithm allows workers to automatically update information, making their job safer and more efficient.
The China-based company also develops AR glasses for museums and cultural experiences, education or logistics. Its current portfolio seems to be very different from other companies on the list, but Rokid started out by focusing on researching speech recognition and making speakers in 2015. It has developed software technology for speech recognition, which supports taking home automation to a new level. Nowadays it concentrates more on augmented reality.
The deails investors include Temasek Holding, IDG Capital, Credit Suisse, Haitong Security and Vision Plus Capital.
Sense Labs bagged $105m to expand globally
Smart home startup Sense Labs raised $105m in a Series C venture funding deal in April 2022. Following the round, it had raised $157m in total.
Blue Earth Capital led the capital top-up. Energy Impact, iRobot Corp, MCJ Collective,Prelude Ventures, Schneider Electric and Telus Ventures also participated in the raise.
Sense Labs' portfolio includes smart energy management solutions, energy monitors and solar devices. It offers a home energy awareness platform that allows customers to understand what devices are on and how much energy they consume. Its mobile app allows clients to manage their power usage.
The energy company would use its cash injection to enrich customer experience within its apps, to gain new clientele.
Twice on the list: Rokid with its $36m
Rokid made it to the list twice, as it topped up its cofferes with an additional $36m in a November Series D funding round.
Its investors were all China-based investment funds. The Series D round backers included Dunghong Assets, Cheers Investment, Chunxiao Digital Publishing Fund, Wuxi Haichuang Investment and Zhong.
Ambient Photonics bagged $31m
Climate tech startup Ambient Photonics aims to reduce the carbon footprint of the IoT with its photovoltaic cell.
Photovoltaic cells, also known as solar cells, are electronic components that generate electricity when exposed to light. Ambien Photonics claims its invention is three times stronger than any conventional indoor solar panel. The principle is that it produces energy from indoor lights as well.
The company's goal is to replace traditional batteries that are harmful to the environment. The deal enabled Ambient Photonics to open a manufacturing facility for its solar panels in California.
Ambient Photonics continued its expansion in 2022 by opening another European headquarter in Dusseldorf.
Amazon's Climate Pledge Fund led the raise. Other investors included the Miami-based Squared Capital, Ecosystem Integrity Fund and Future Shape, which has since become the Build Collective.,
Fresco secured $20m
Fresco, previously known as Drop Kitchen, went through a rebranding last year. The company recognised the niche of home cooking in the industry.
A survey shows that one in four people can only cook three recipes, and the most favoured ones are the simplest ones such as beans on toast, and sausages and mash. Fresco developed a web and mobile app that guides clients through cooking step by step.
It also connects to the consumer's home's voice integration system such as Alexa or Google Home to seamlessly become part of their home environment.
Fresco apps have an intelligent recipe system that converts any recipe into a smart recipe. Instant Brand led the raise. Other investors include the German Vorwerk as well.
Remotelock raised $18m in Series B funding
Remotelock is a smart door and lock systems developer. Since the raise it has launched a cloud-based software enabling multiple users to connect to each other and create a system with vacation and residential homes and other properties as well.
The company is present in 65 countries and manages over 100 million doors every year.
UnitLeader led the raise. Iron Gate Capital and Kozo Keikaku also participated in it.
Zhejiang Prism Holographic bagged $15m from Series A+ funding
Zhejiang Prism Holographic is a China-based company. It uses nano-optical imaging technology and micro-structured light field technology to separate the image from the medium and present a holographic image in the air.
Holograms are three-dimensional pictures that reflect a real, physical object. The difference between usual 3D projections and hologram is that users don't need special glasses for it, it's visible without any supporting tool.
Prism Hologram's goal is to build a smart living space. The company doesn't have a special emphasis on home automation, but its vision of the future includes hologram technology in every aspect of our lives, and the AI and software its developing would be part of our environment just as much in the home as outside of it.
The investors were Geely Technology Group and Qianhe Investment.
Minut raised $14m
The Sweden-based Minut is a smart home alarm startup that raised one of the biggest funding deals of the industry in 2022.
Customers can monitor different features of their entire property through its app, including inside and outside noises, camera pictures, humidity, or the crowdedness of the street. They offer services for rental properties as well.
Minut has "Response Partners" in the UK,which means that the system detects if the noise level is too high in an apartment, and sends a message both to the occupants and the owner.
If they don't comply in 10 minutes, the company sends a responder, to deal with the problem.
With this round, the company has raised $25m in total.
The investment partners were Almaz Capital Partners, HAX, Karma Ventures, KPN Ventures, Swiss Immo Lab AG, Verve Ventures and Zenith Venture Capital.
Yunlu Smart Door bags $14m in pre-Series A venture funding
China-based Yunlu Smart Door does exactly what it says on the tin: it develops smart door technology. Instead of keys, Yunlu leverages face recognition technology to unlock door.
This deal was one of the most important AI deals in China last October.
Investors included Chongqing Tongliang, ShunWei Capital and Xiaomi Group.
GlobalData is the parent company of Verdict and its sister publication.