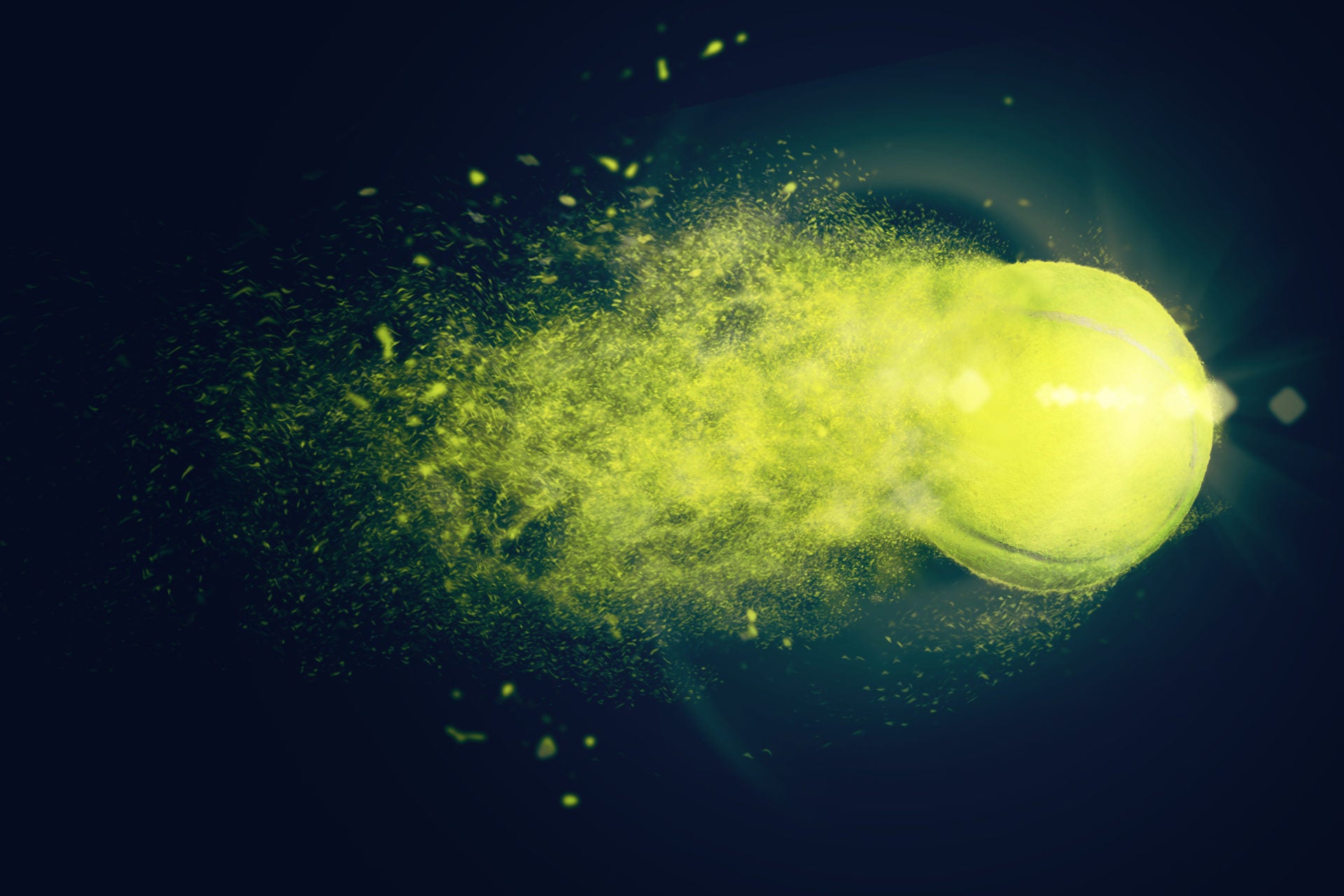 For many, tennis may conjure up images of traditional tennis whites, manicured lawns and Pimms-drinking. However the sport, which has its origins in the 12th century, is waking up to the goldmine of data generated during a match as it embraces the 21st century.
The Nitto ATP Finals, the biggest tennis event of the year aside from the grand slams, concluded earlier this month, with a surprise win from Alexander Zverev who beat world number one Novak Djokovic in front of crowds at London's O2 Arena.
However, behind the scenes, equally exciting things were occurring. This year saw the further incorporation of cutting-edge technology into the tournament, as the sport continues to harness the benefits of big data for players, coaches and fans.
Since 2015, ATP has been in a global partnership with information technology consulting company Infosys, which is due to continue for another two years. Utilising the company's data expertise to analyse four decades worth of data, including millions of data points, ATP is getting closer to unlocking what makes a winner through technology in tennis.
Hosted on the cloud, the platform can extract huge volumes of data and provide insights almost instantaneously. NIA, Infosys' artificial intelligence platform, enables coaches to analyse historical data about player performance to predict behaviour and shot selection, and even the outcome of the match itself.
Ajay Vij, senior vice-president at Infosys explains how data analytics in tennis is being used to gain insights into numerous aspects of play:
How well do you
really

know your competitors?

Access the most comprehensive Company Profiles on the market, powered by GlobalData. Save hours of research. Gain competitive edge.
Company Profile – free sample
Thank you!
Your download email will arrive shortly
Not ready to buy yet? Download a free sample
We are confident about the unique quality of our Company Profiles. However, we want you to make the most beneficial decision for your business, so we offer a free sample that you can download by submitting the below form
By GlobalData
"Data has become a fundamental bedrock of this partnership…[the platform] ingests volumes of data across the match, across the previous years, and looks at the correlation, the trend points, how each game is getting impacted, and how players are getting impacted with the sort  of game they are playing."
Today's tennis is embracing cutting-edge technology
ATP is not the only organisation within tennis increasingly looking to data to enhance the sport. Earlier this year, Wimbledon, the most famous tennis tournament and also the one most associated with the trappings of tradition, used IBM's Watson, an artificial intelligence computer system, in the creation of highlights reels for each match.
IBM's technology was even able to analyse player emotion through facial expressions in order to put together highlights reels of the most exciting moments of the tournament.
Although tennis was one of the early adopters of data technology, with live scoring available since the late 90s, it has fallen behind in recent years with other sports investing more in innovation, such as goal-line technology now used in football. However, Iranian-American umpire Ali Nili explains how the sport is making up for lost time:
"Historically we've been very proactive, we were one of the first to have live scoring, have this kind of data collected. But then there was a period of time where we fell behind most other professional sports. They started having a lot more data points and statistics available to the public than us. And we've been trying to fill that gap."
Pushing the boundaries of coaching
One of the insights gained through the partnership is the analysis of players that have finished number one in the world each year going back to 1991. Craig O'Shannessy, strategy analyst for the ATP World Tour and a coach for 20 years explains how data can be used to pinpoint exactly what goes into winning a point:
"A new data point in our sport is rally length," he explains. "We've looked at all of these primitive datapoints in the past, like unforced errors, but rally length is a big deal. The longer rallies are the ones fan remember but they have little to no impact on who wins."
He believes that it is this level precision that is having a considerable impact on the sport. He explains that data analytics in tennis can be used to spot trends that even the most experienced coach might miss, and how this can then be passed onto players at the top of their game:
"As a coach I look at forehands and backhands. I looked at the London tour finals 2010-2014 so there was six players, Novak was one of them, that played all six years. So Novak, and Ferer, and Berdych, Roger, Raffa. Those players combined to hit 75% of forehand winners, and 25% backhand winners.

"Novak, who has the world's best backhand during that period, hit 72% forehand winners. So when I work with him I can say 'Novak, when a ball comes slightly you you're backhand you're better off running around and upgrading to a forehand.' When he says 'Why Craig?' I use the data. I show him that you hit more winners off that side….the forehand is by far the most dominant shot in our sport and we would not know that with our eyes, but we do know that with the data."
O'Shannessy explains how technology in tennis is driving a shift in coaching by helping players use data on their opponents' game to their advantage. He believes that this access to data is pushing the boundaries of what is possible in coaching and in turn the sport itself:
"How you match up against an opponent is everything. So a lot of the data is to figure out what you do well but also the other side of the court. I think that's been a huge paradigm shift globally with coaching as we've spent too much time focused on ourselves, and we see the data now is helping us to understand the opponent, to understand how to put that strategy together…from my perspective I see the new data in our sport changing and evolving and improving the coaching industry globally."
Technology in tennis still leaves room for the human element
One of the main concerns surrounding AI is the threat it poses to human jobs, and sport is no different. Some have voiced fears that technology could become advanced enough to make the role of coach or umpire redundant. O'Shannessy disagrees. He believes that backing up coaching decisions with concrete evidence in the form of data analytics in tennis is impacting coaching for the better, making the emotional intelligence of coaches still a vital aspect of the sport:
"If you've got the video, and the data analytics to go along with it you become a better coach, you become a more educated coach."
Nili shares this view. Despite ATP's use of automatic line-calling appearing to threaten the role of future umpires, Nili believes that technology such as Hawk-eye, which uses computer-linked cameras around the court to track the path of the tennis ball, will make the umpire's job easier, avoiding infamous on-court scuffles long associated with players such as John Macenroe and others:
"Before Hawkeye, we would have a player who would be upset about a disputed call that was actually correct, and wouldn't be able to let it go for two sets. They would continue talking about that call. At least now they show the call is correct or incorrect and the player wouldn't even think about it. So it's helped us a lot and it's probably helped the players even more."
And is there a risk the sport could become predictable due to an over-reliance on technology in tennis? O'Shanessy believes that the a variety of playing styles, as well as unpredictable outcomes, will still remain a key part of what makes the sport so popular:
"One of the beauties of our sport…is the variety of playing styles.  You can be 6-foot plus like Kevin Anderson or 5'11 like David Ferer, you can be left handed, you can be right handed, you can hit tonnes of spin, you can hit with no spin at all…I think a massive strength in our sport is the variety in these guys and there are analytics that run through both players."