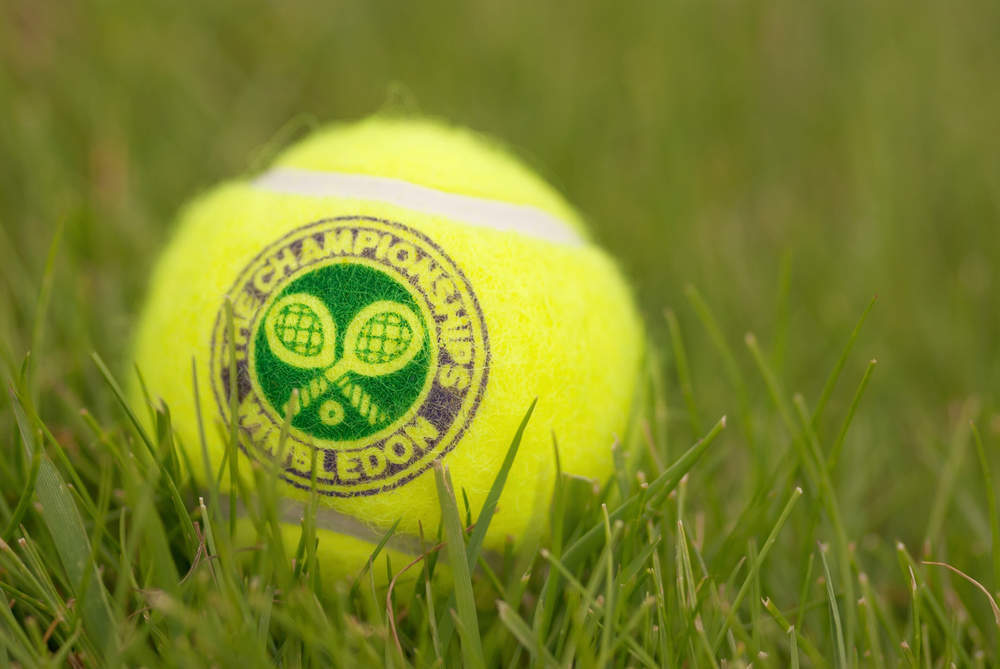 Players dash around Centre Court in their all-white outfits, while those in the Royal Box sip Pimm's and snack on strawberries in their designer suits and fancy hats. The grass must be natural and ball boys and girls must be dressed in green or purple.
Many of Wimbledon's traditions have been practiced for more than a century and are unlikely to be consigned to the history books any time soon.
And yet, for an event that's so stuck in the past, Wimbledon tennis leads the way for tech innovation in the sports world.
Alexandra Willis, Head of Communications, Content & Digital at the All England Club, told Verdict:
"We are privileged to be viewed as a very traditional and historic brand that resonates around the world. But it's just as important to us to be viewed as a forward-thinking brand, one that keeps its traditions relevant through innovation, that develops and broadens its audience, and that's why our partnership with IBM is so important."
Watson at Wimbledon
Among Wimbledon's 470,000 spectators this year will be IBM's Watson, an artificial intelligence machine originally developed to win the American game show Jeopardy!. IBM has now repackaged its technology as a tool for businesses that can be trained to speed up or streamline operations.
How well do you
really

know your competitors?

Access the most comprehensive Company Profiles on the market, powered by GlobalData. Save hours of research. Gain competitive edge.
Company Profile – free sample
Thank you!
Your download email will arrive shortly
Not ready to buy yet? Download a free sample
We are confident about the unique quality of our Company Profiles. However, we want you to make the most beneficial decision for your business, so we offer a free sample that you can download by submitting the below form
By GlobalData
Using machine learning, where it is fed huge amounts of data to identify patterns and make decisions without the need of human help, Watson has already learned how to assist in areas such as healthcare, customer service, and education.
Now it is being used to put together highlight reels at Wimbledon that capture the most exciting moments from each match.
Watson will watch a game and analyse player gestures, match data and crowd noise to assign each moment in a match an "overall excitement" score. Almost every shot in a match will be immediately analysed in real-time and sent to the AI highlights dashboard, accessible by Wimbledon's editorial team. This can then be used to pick out the best moments from the game and quickly put together highlights.
This won't be the first time that Watson is deployed in this capacity at the tournament. However, the AI has been busy learning over the past 12 months, meaning the time that it takes to process videos has been reduced from 15 minutes to five. This means that fans will have access to the most exciting highlights in a shorter period of time.
IBM and Wimbledon
IBM has been the official technology partner of the Wimbledon Tennis Championships since 1990 and has continued to bring innovation to Wimbledon ever since.
While Wimbledon tends to attract an older crowd, their partnership with IBM is largely focused on targeting a younger audience.
So far, it seems to be working. According to a case study following Wimbledon 2016, IBM concluded that its cognitive technologies helped to drive 70 million people to the tournament's digital platforms. Likewise, the tournament's social media audience grew by almost 25%.
IBM and the tournament organisers hope that the AI-powered highlight reels will persuade even more fans to engage with Wimbledon's social media profiles this year. However, this isn't the only way that they're hoping to build their following and offer a better experience to fans.
Willis told Verdict:
"AI has become a big focus for us because it has so many underlying applications – from fan engagement to workflow efficiency, security, data analysis and more, but we have also tried different things with VR – in both live and on demand, and this year will be experimenting with AR so we are looking forward to seeing how it turns out."
IBM has also updated its analysis capabilities, which is presented to fans through their SlamTracker technology. Using real-time data from courtside statisticians, umpires, radar guns, balls, players and social media, IBM is able to provide detailed insights into the game, a player's style of play and shifts in momentum throughout a match.
Likewise, IBM will bring its Wimbledon chatbot, initially released last year through the Wimbledon App, to Facebook Messenger. Fred, named after British tennis icon Fred Perry, can converse with fans about scores and tournament news. Likewise, it can also provide information on restaurants, attractions and other services in and around the Wimbledon area.
A history of early innovation
The changes and upgrades made this year are minor in comparison to some of the technology that has made its way into sports in recent years.
Much has been made of the implementation of goal-line technology in football, and more recently the use of video assistant referees to review questionable decisions made by the on-field referee. However, this technology is far from new or innovation. Plenty of sports have been using this technology for years to challenge and overrule incorrect decisions.
However, tennis was one of the first. In fact, this video technology has been in use at Wimbledon for over a decade.
Hawk-Eye
As each match is played, cameras are dotted around the court watching the action. These track along each court line to capture when a ball bounces in or out.
Players are given a set amount of times that they can challenge a call. The officials then review the Hawk-Eye footage, which provides a conclusive decision on the play. If the referee's initial decision was incorrect, the challenge doesn't count towards a player's limit. However, if the initial decision was correct, the player loses one of their challenges. A player's challenge limit resets at the start of each set.
Hawk-Eye technology is currently being used at this summer's FIFA World Cup. However, tennis was ahead of the game for tech-assisted refereeing. Hawk-Eye wasn't implemented by another sport until it was trialled by the International Cricket Council the following year. It wasn't tested in football until 2012 and only became widely used in 2017.
Data tracking
IBM's first job as Wimbledon's official technology partner was to implement the Championship Information System. This paved the way for the collection and use of details match statistics in sport.
Courtside statisticians recorded match data via a specially designed Data Entry Keypad. This information was then passed on to the press, broadcasters, players and, in some cases, the public. The main purpose of this technology was to provide interesting snippets of information to fans. However, it also proved useful in aiding players in highlighting areas where they needed to improve.
IBM has continued to improve their data-collecting technology over the last decade. Now known as SlamTracker, IBM's technology now uses more than 41 million data points to analyse all elements of the game.
Virtual reality
Much of the innovation at Wimbledon focuses on improving the fan experience for those at the tennis club. However, the All England Club has also been partnering with other brands and companies to ensure that those that can't make it down to the tournament have access to the best possible viewing experience.
Virtual reality was still fairly niche tech back in 2016. More than ten million headsets sold that year. However, the vast majority of them were low-quality Google Cardboard and Samsung Gear products. Just over one in ten was a high-tech Oculus, HTC or PlayStation headset. However, that didn't stop Wimbledon organisers from using the tech to promote their event.
Tournament sponsor Jaguar put on a VR experience at Waterloo Station in London during the tournament. This allowed tennis fans to step into the shoes of British number one Andy Murray. Likewise, the 2017 singles finals were both streamed live in virtual reality via sports, music and entertainment VR company NextVR.
While other sports seem to be stuck in their ways, tennis always seems to be willing to change with the times. That is particularly clear at Wimbledon, a competition where new frequently meets old.
However, while innovation is always in show at Wimbledon, it has always been about doing things right, rather than doing things first.
"I wouldn't say that we are ahead – the sports landscape is changing all the time and we learn from what others do all of the time.

"Our principle is to try to make sure that we are not necessarily first adopter, but best adopter, as best we can be."
Read more: World Cup wearables: Teams are turning to performance trackers in pursuit of World Cup glory