In 2015, industry analysts CCS Insight tipped wearable technology to become a $25bn industry by 2019. With just six months to go until that deadline, the wearables market is worth less than a quarter of that at $5.8bn.
Wearables were set to be the next big thing as Fitbit fitness trackers and the Apple Watch hit the market. Smartwatches were at one point tipped to be as widely used as the smartphone. However, this technology has largely failed to live up to the hype. High prices for quality items, ugly designs and generally just a lack of actual purpose are just some of the reasons why consumers failed to take to this new tech.
To get an idea of the consumer wearables market's decline, just take a look at the Fitbit stock price.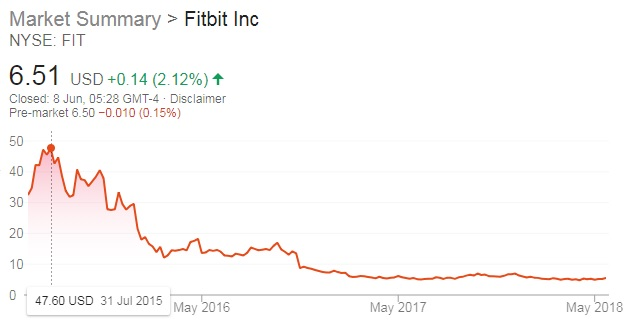 However, while consumers haven't taken to wearable tech, it's still being tipped as the future of sports science. If this summer's World Cup is any indication, wearable technology is already an indispensable part of the beautiful game.
How wearable tech took Australia to the World Cup
Australia had the toughest qualification campaign of the 32 teams that made it to the World Cup finals.
The Socceroos played in 22 matches, more than any team in the history of World Cup qualification. They visited 22 countries and travelled more than 250,000km in the process.
Craig Duncan, the Australian nation team's head sports scientist, told CNN Sport:
"Asia is a difficult qualification series because of the distances, the change in climate and change in cultures that you have to go through."
It should have taken its toll on Australia's professionals. However, wearables helped to ease the nation's stars through such a gruelling campaign.
Duncan has been using Apple Watches to keep track of his player's vitals and fitness levels. Likewise, players are also required to log data via a mobile app following training sessions, which allows the coaches  to keep track of both their players' physical and mental health.
It is this that allowed Australia to keep such a close eye on the condition and fitness of its crop of stars heading into each game, as they manoeuvred past the likes of Jordan, United Arab Emirates and Syria to secure a spot in the finals.
Unearthing the next generation
Unlike Australia, the US was unable to secure a place at the 2018 World Cup finals. Four defeats and three draws in ten qualifying games saw them miss out to Mexico, Costa Rica, Panama and Honduras. This will be the first time that they aren't present at football's biggest tournament since 1986.
However, the United States Soccer Federation has since set about ensuring that this doesn't happen again.
Earlier this year, a deal was announced with Northern Ireland-based sports analytics company STATSport, which will see US-based soccer players provided with performance monitoring units. Reportedly worth over $1.5bn, more than 6,000 athletes will be provided with APEX tracking devices free of charge. This is likely the largest contract ever signed in the sports wearables market.
In return, the US's football pyramid will gain access to what James Bunce, high-performance director at US Soccer, claims to be the "most accurate" performance tracker on the market. The organisation hopes that the data these devices provide will help in the development of future players, coaches and referees.
The Apex device is capable of tracking and calculating more than 50 metrics in real time. Stats tracked include total distance travelled, current and maximum speed, sprint distance, heart rate, step balance, stress load and fatigue.
Neither first nor last
Australia's qualification feats may be a good indication of the benefits of fitness tracking. However, they aren't the first national team to have used this wearable tech to their advantage.
According to Darcy Norman, a performance analyst for the German national team, it was data provided by Adidas' MiCoach fitness trackers that won them the World Cup last time out.
Speaking at the Consumer Electronics Show in 2015, Norman confirmed that Germany had been wearing MiCoach tech during training sessions leading up to and during the World Cup tournament.
Like STATSport's Apex, Adidas MiCoach uses a small fitness tracker to collect valuable performance-related information. According to Norman, Germany manager Joachim Low was able to see exactly how players performed during certain training drills. This provided an indication of how they might perform in certain match situations.
It was this data that persuaded Low to send on midfielder Mario Gotze in the 88th minute. Germany eventually overcame Argentina in extra-time, courtesy of a goal from Gotze.
Adidas' director of product creation Simon Drabble described this as "a great example of how technology helped train the best of the best to be number one in the world".
A level playing field
However, it won't be quite so easy this time around. Following Germany's success in Brazil, rival teams will be looking to mimic their feats in Russia this summer.
Catapult Sports, another leader in the sports performance wearables market, told Verdict that its tech will be used by a host of teams competing at the 2018 World Cup. The company counts Egypt, Sweden, Uruguay, Serbia, Iran, South Korea, Japan and Switzerland among its clients. Australia has also seemingly added Catapult's wearables to their arsenal.
PlayerTek, a GPS tracking system that analyses performance and helps teams and players to improve their game, and other Catapult devices, are trusted by more than 1,500 teams around the world.
The likes of England, Belgium, Brazil, Germany, Portugal, Poland, Denmark and Morocco will be putting their faith in STATSports' wearables.
Regardless of which tech company different teams have opted to use, what's clear is that wearables in football have become far more common over the last four years.
World Cup wearables
For the first time ever, teams will be able to make use of what FIFA call its Electronic Performance & Tracking System (EPTS) during the 2018 World Cup.
Most teams will fit their players with special shirts designed by companies like Catapult. This will allow them to track their players movement and vitals during games. FIFA permits two members of staff from each team to make use of this data. This will include one pitch-side coach and one analyst in the stands.
With such a short space of time between games, trackers will help to avoid overexertion and lower risk of injury.
The players won't be the only ones taking to the field during the World Cup with wearable devices.
With goal-line technology set to feature at the prestigious tournament, referees will wear Hublot Big Bang Referee 2018 FIFA World Cup smartwatches. These specially modified devices will notify officials when a goal is scored.
Read more: Technology in sport: how innovative tech is updating the sports fan experience