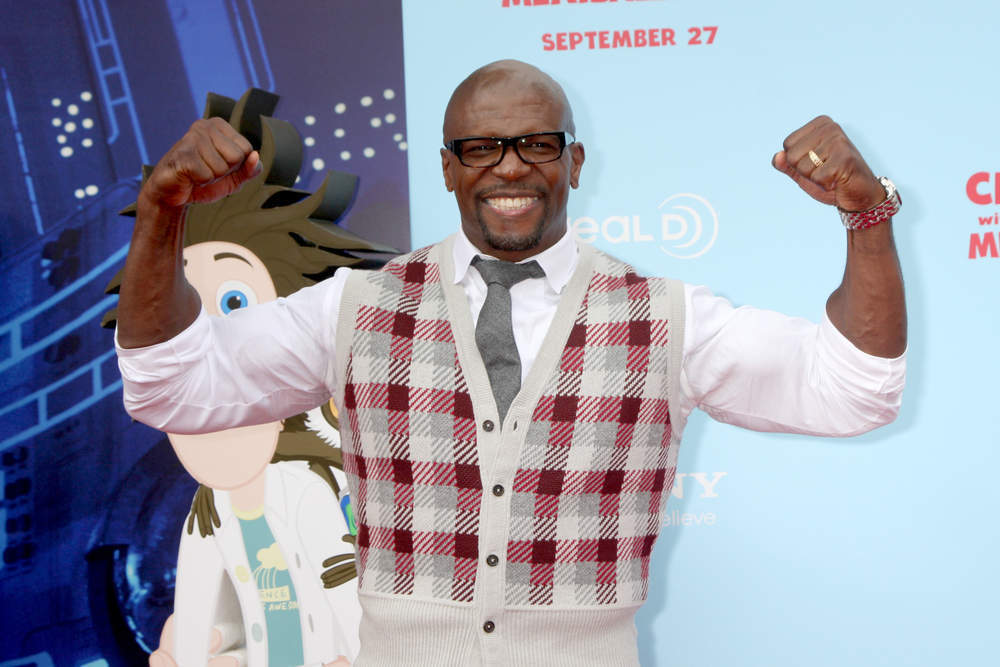 Terry Crews is the talk of the town at the moment. From starring roles in Brooklyn Nine-Nine and The Expendables, to his activism, Crews' star is simultaneously established and also on the rise.
But Crews' road to the top is full of twists and turns, more so than most actors. From a promising art student to a professional American football player to film and television actor, Crews has done it all.
The reason Crews has been in the headlines recently is due to his involvement in the #TimesUp movement.
In the wake of the Harvey Weinstein scandal, Crews came forward with his own story of sexual assault. The actor revealed that a Hollywood executive grabbed his genitals at a party in February 2016. He says he did not come forward about the incident until late 2017 for fear of backlash. He was named as one of the Silence Breakers in TIME's person of the year edition.
In June 2018, Crews appeared in front of a Senate Judiciary Committee to testify about his experience and to advocate for the Sexual Assault Survivors' Bill of Rights. The bill is intended to codify certain rights for the victims of sexual assault. This includes having forensic testing subsidised and rape kits preserved. The bill was passed in 2016, but Crews was speaking out about its next steps and how it would be implemented.
In his testimony, Crews spoke eloquently about the impact of sexual assault on men. He also spoke about toxic masculinity in men's culture:
"I have to say the silence is deafening when it comes to men coming forward. As I told my story I was told over and over that this was not abuse. That this was a joke. That this was just horseplay. But one man's horseplay is another's humiliation."
He also discussed how, as an African-American, he felt even more pressure to keep the assault to himself. Asked why he not respond with violence towards the attack Crews revealed his fear that he'd lose his job and be seen as nothing more than an angry black man.
I asked @TerryCrews why he didn't use his considerable strength to fight back when he was sexually assaulted. His answer is a powerful reminder of how victims are too often forced into silence to avoid damaging their careers or reputations. We need to hear the truth. pic.twitter.com/8xSxnhXj91

— Senator Dianne Feinstein (@SenFeinstein) June 26, 2018
Crews claimed he lost his part in The Expendables 4 as a result of refusing to drop the case against the man who assaulted him. Crews is currently involved in a civil law suit against the perpetrator.
Aside from some unfortunate comments made by rapper 50 Cent, Crews' testimony has been met with acclaim. Activists of every gender have praised Crews for speaking out about his assault, proving that sexual assault is far from just a "women's issue".
Crews' has fans in all corners because of his wealth of experience across the entertainment industry. In many ways the actor is the embodiment of 21st Century stardom. Far from just being known for one talent, Crews is known for his work in various fields.
Humble beginnings:
Unlike many modern actors, Crews does not come from a wealthy or privileged background. The actor was raised in Flint, Michigan. In his autobiography, Manhood: How to Be a Better Man or Just Live with One, he reveals that his was an abusive alcoholic. It was left to his mother to raise the family.
As a young man, Crews distinguished himself as an artist. After graduating high school he won a scholarship at the Interlochen Center for the Arts in Michigan. Around the same time, Crews was working as an 18-year-old courtroom sketch artist on the trial of six-time murderer Terry Morris. He credits this position in the entertainment industry.
After his education at the Interlochen Center for the Arts, Crews won an Art Excellence scholarship at Western Michigan University. He also practiced American football and won a a full-ride athletic scholarship for football at the same university.
During his time playing for West Michigan University Broncos, Crews helped his team win the 1988 Mid-American Conference Championship.
Career as a football star:
After graduating university with a major in art, Terry Crews was drafted by the Los Angeles Rams. He played with that team for two seasons then bounced around between a host of other teams.
During his football career Crews played for the San Diego Chargers, the Washington Redskins, and the Philadelphia Eagles. He also briefly played in Germany for Rhein Fire in the World League of American Football.
However, even during his years as an American football player, Crews continued his artwork. In fact, he claims he had to rely on his painting skills to supplement his income at times. In an interview with Jimmy Kimmel in 2014, Crews explained:
"I would get cut from a team… so I would go back into the locker room and ask the players if they wanted their portraits painted. That's how I survived… Humility gets you far. You gotta make some money, you gotta humble yourself…I would literally take me about two months to do a painting, and they would give me like $5,000 and I would survive off that, my whole family survived off that."
In 1996, Crews' passion for the entertainment industry came to the fore. He co-wrote and co-produced an independent film about Detroit drug cartel group, Young Boys Incorporated. Speaking to Diana Saenger of Reel Talk Reviews, he explained:
"It's a prodigal son story about two kids who got involved in the drug game. I had plenty of friends and family members involved in drugs, and I saw what could go wrong. I wanted to help people avoid that. We shot it all in Detroit and I spent my own money. The movie was horrible, but I got the bug."
Then he moved to LA in 1997 to pursue his long-standing dream of a career in the entertainment industry.
Moving into acting:
Crews' first big break as an actor was on Battle Dome, a game show similar to Gladiators. Crews played T-Money, a character on the show who would compete against contestants in athletic championships. The role was similar to one of a pro-wrestler in that he played a character presented as a real person. The show ran for two seasons and Crews appeared on both.
His time on Battle Dome made clear to Crews that acting was his passion. In his conversation with Saenger he said:
"I never took acting classes, I'd just ask myself, 'what would you like to see,' and it worked. Making movies isn't easy, but it's something I'm born to do… But once I found my calling, I wouldn't want to do anything else."
Unfortunately, after his time on Battle Dome, Crews struggled to find work. He took a variety of other work in Hollywood, including working as a bodyguard for Ice Cube. In an interview, the latter once recounted how Crews would talk at length about his passion for acting.
Speaking up paid off, as Crews managed to get his first big break in Friday After Next, a film written and produced by Ice Cube. Crews' hulking body made him the ideal actor for physical comedy contrasting his size with his gentle, friendly personality.
It wasn't long before Crews booked roles in White Chicks, Soul Plane, Starsky & Hutch, Baadasssss!, Malibu's Most Wanted, Deliver Us from Eva, Friday After Next, Serving Sara and The Sixth Day.
His performance in White Chicks attracted the attention of Adam Sandler. At the time, Sandler was a respected name in comedy. He offered to rewrite a part in his upcoming film The Longest Yard. The film was a hit and catapulted Crews to a whole new level of fame.
A jump to television:
Still, while Crews has and continues to make a huge impact in Hollywood, he is perhaps best known for his television roles. His first major television role was in Chris Rock's semi-autobiographical sitcom Everybody Hates Chris. Crews played Rock's father, Julius, a role for which he was nominated for many Outstanding Supporting Actor awards.
When that television programme ended in 2009, Crews reunited with Ice Cube for a role in Are We There Yet? He played another father figure here for three seasons, winning further acclaim.
After Are We There Yet? ended Crews took one of his most well-known roles to date. He plays Sergeant Terry Jeffords on the hit police sitcom, Brooklyn Nine-Nine opposite Andy Samberg and Chelsea Peretti. The role has showcased Crews' comedy skills and given him an opportunity to lean into using his physicality for the show's action sequences.
And while his acting is what has helped Crews develop an international fanbase, in his home country, he's also a well-known reality star. Crews' has appeared on Real Husbands Of Hollywood and his family's own reality TV series The Family Crews. He also showcased his presenting chops as the host of Who Wants To Be A Millionaire? and Ultimate Beastmaster.
Even so, Crews has not given up his film work with a recurring role in The Expendables franchise too.
Voice-acting:
As if Crews' resumé wasn't already packed enough, the star has also branched out into voiceover work. In an interview with Ebony, he shared his enthusiasm for the practice:
"I love voiceover work. Basically, for a year or so, I've gotten most of my satisfaction from animated projects… Some of the greatest stuff being made right now is in animation. So I went to my agent and said I want to do more."
In 2013 he had a guest role on Marvel's Ultimate Spider-Man cartoon where he played Blade. He also provided a reference for the animators, so his take on the legendary superhero even looks like the actor.
His voice also appeared in American Dad! and Cloudy With A Chance Of Meatballs 2.
This led to videogame appearances as well. The star first appeared in a videogame adaption of The Expendables 2 before appearing in a starring role in Saints Row IV. Most recently, he was cast to play the lead in Microsoft's Crackdown 3. Crews did some motion capture to help with the character's look too.
https://www.youtube.com/watch?v=k_9fG8hPCi0
The ultimate 21st Century icon:
It's clear that whatever challenge is thrown his way, Terry Crews is the man for the job.
There is almost no fields the star hasn't got involved in. He's been an artist, a sports star, a director, a producer, a movie star, a television hero, a presenter, a reality television personality, and even a videogame character. Oh, and he's the face of Old Spice.
Not only has Crews spent years refining his craft, but he also shares a vulnerability which most men in his position would fear to. His discussion about toxic masculinity and sexual assault aside, Crews has also spoken out about other issues.
In his autobiography he discusses his pornography addiction and how it affected his family. He now speaks out about the condition and treatment for it.
Crews has also spoken eloquently on what it means to be black in 21st Century America. Speaking to HuffPost he said:
"The big thing I've encountered is that people expect a guy like me to always be tough. But, the thing is, as a black man, the only time you're really recognized as being victimized is when you're dead. Otherwise you don't get hurt, you don't get tired … it's like people think you're supposed to jump through the air and dunk from one place to the next."
In an age when we're expecting more and more from our stars, it's obvious why a figure like Crews inspires so much respect. He is a man who has more experience in his craft than most and uses his platforms to engage and inspire others.
Terry Crews net worth:
All the work across the years has clearly paid off for Crews.
While Crews does not publicly discuss his financial status, Celebrity Net Worth estimates Terry Crews' net worth at $20m. The Squander reported a similar figure based on Crews' earnings as an American football play and his subsequent acting work.
However, this could be a lowball figure. Other sources have suggested that Crews could be worth up to $24m or $25m.
The actor obviously makes his money through his acting jobs and through his design company Amen&Amen.