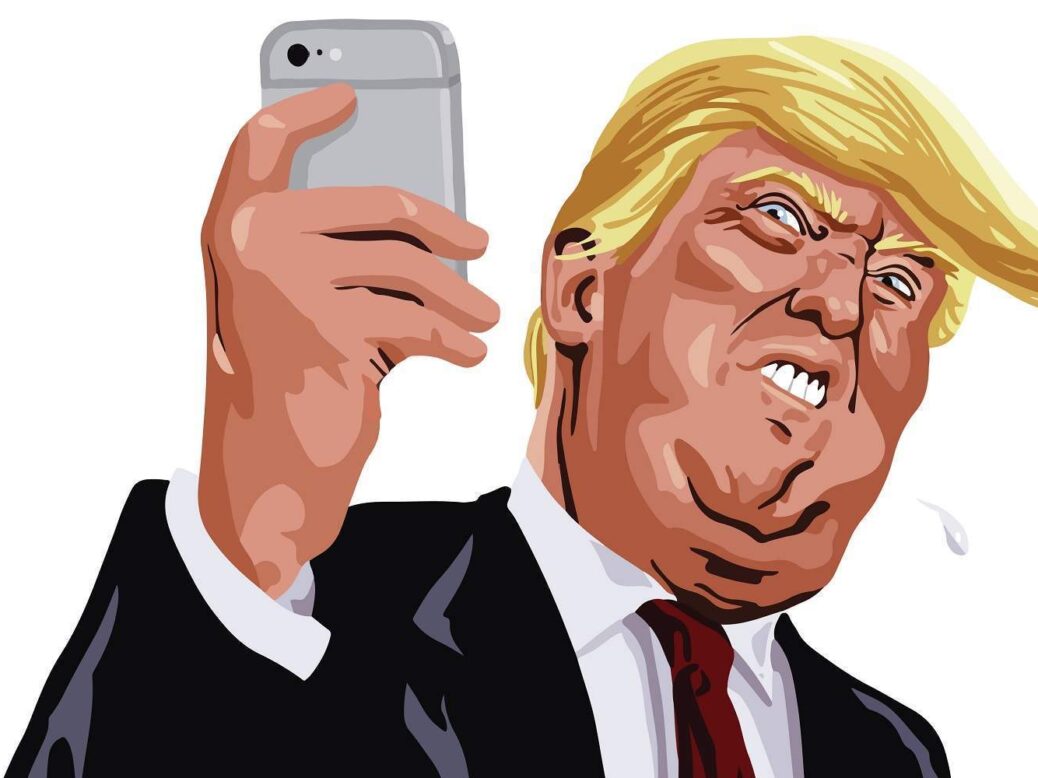 When Obama was in the White House it would be no surprise to hear that staff members composed his tweets.
The story with President Donald Trump is quite another. The president's bombastic, bellicose manner is his signature, especially on social media.
However, with South Korean denuclearisation and averting a trade war with China on his plate, Trump has less time than ever to spend on his favourite social network.
The Boston Globe reports that Trump's staffers are actually behind some of the president's tweets, on his personal @realDonaldTrump account, not just the official presidential one. The paper claims to have spoken to two staffers familiar with the process of composing Trump's tweets.
Allegedly staffers assigned to write the tweets aim to imitate Trump's particular style: replete with exclamation marks, words capitalised for emphasis, and full of loosely connected ideas.
Still, up until recently it hasn't been difficult to spot the fakes. Trump's genuine tweets usually came from an Android device which the president uses. Meanwhile, the staff tweets were usually posted from an iPhone.
In recent weeks, though, Trump seems to have jumped onto an Apple device, or simply stopped tweeting personally at all.
As it stands, unfortunately there's no way to know which are genuine Trump tweets and which are imitations.
However, Andrew McGill, a writer for the Atlantic has developed a Trump Or Not bot to detect which of Trump's tweets are genuine and which weren't written by the commander-in-chief.
The bot works by comparing the language used in Trump's tweets. It analyses the tweets which we know to have been posted by Trump himself with the ones widely assumed to have been posted by staffers.
McGill explains that genuine Trump tweets are much more likely to tag his own account. They're also more likely mention @FoxNews, include extra spaces, and mention the term 'media'. Meanwhile, staffers were five times more likely to use hashtags than Trump himself.
Here are a few of the Trump Or Not bot's recent results:
This tweet was sent via Twitter for iPhone. I compute a 25% chance it was written by Trump himself. https://t.co/2dReUEUnyi

— Trump or Not (@TrumpOrNotBot) May 19, 2018
This tweet was sent via Twitter for iPhone. I compute a 98% chance it was written by Trump himself. https://t.co/Yq4u7GVTMz

— Trump or Not (@TrumpOrNotBot) May 20, 2018
This tweet was sent via Twitter for iPhone. I compute a 96% chance it was written by Trump himself. https://t.co/TOtozajrnS

— Trump or Not (@TrumpOrNotBot) May 20, 2018
This tweet was sent via Twitter for iPhone. I compute a 49% chance it was written by Trump himself. https://t.co/KEzgeD8iFp

— Trump or Not (@TrumpOrNotBot) May 20, 2018
This tweet was sent via Twitter for iPhone. I compute a 88% chance it was written by Trump himself. https://t.co/IE1UAJzmq5

— Trump or Not (@TrumpOrNotBot) May 20, 2018
This tweet was sent via Twitter for iPhone. I compute a 49% chance it was written by Trump himself. https://t.co/xxowtqz9aP

— Trump or Not (@TrumpOrNotBot) May 21, 2018