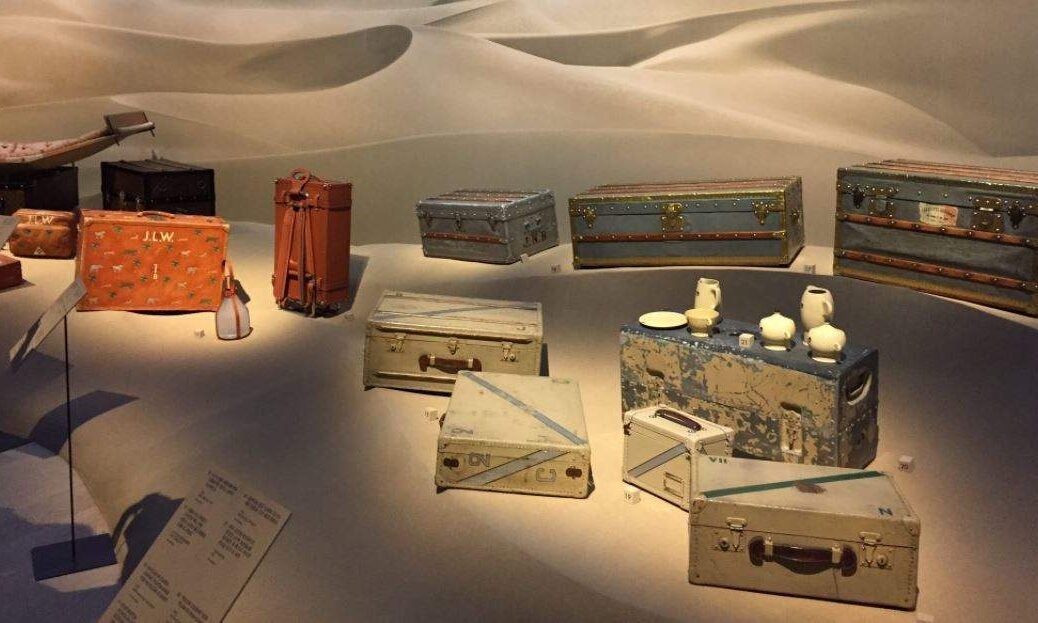 Louis Vuitton's newest exhibiton, Volez Voguez Voyagez X Louis Vuitton, gets underway tomorrow in New York.
With 163 years of history on display, Louis Vuitton's travelling exhibition will take visitors on a journey through the company's rise from travel trunk manufacturer to luxury fashion brand.
The exhibition has been curated by experienced fashion curator Olivier Saillard, previously of the Marseille Fashion Museum and Museum of Decorative Arts in Paris. Borrowed from various galleries and museums, items on show will be dated from 1854 through to the present day. These items have been woven together into a "historic journey" by Canadian opera director Robert Carsen.
What to expect from Louis Vuitton's travelling exhibition
Starting with the brand's iconic trunks, those in attendance will also get to see a selection of portraits, memorabilia, clothing and fashion items spread out over two floors of the former New York Stock Exchange.
Playing on the brand's focus of travel during its early years, Carsen has divided the exhibition into different travel categories. There are rooms and displays for a number of categories, such as trains, boats and planes. Carsen explains —
"Since the beginning of the story of Louis Vuitton himself, it is about travel, about bringing something with you in your trunk, in your bag," Carsen said on his inspiration for the exhibition. "That is for me, the soul of the brand."
The early items will take centre stage. However, there will be plenty of rare modern pieces on display too. Notable items include Wes Anderson's 2007 The Darjeeling Limited luggage collection. Likewise, you will also get to see Alicia Vikander's hand-beaded 2016 Oscar dress and a limited edition LV X Supreme skateboard.
Volez, Voguez, Voyagez exhibition details
Following two years of hard work, the exhibition will open its doors at 86 Trinity Place, New York City on Friday, 27 October.
The exhibition will remain open until Sunday, 7 January 2018 before shutting shop and relocating. Having already stopped off in Paris, Tokyo and Seoul, who knows where it will go next.
The New York event will open at 10am each day from Monday-Saturday and close at 8pm. The organisers will stop admitting attendees after 7:30pm. The Volez, Voguez, Voyagez will also be open on Sundays, opening at 11am and closing at 7pm.
Are tickets required?
Louis Vuitton has put on this exhibition for free. You don't need a ticket in order to view the wonders on display.
However, you should book in advance if you want to guarantee your entry. You can just turn up on the day and it is highly likely that you will be allowed in, but those that have reserved their spot will be given priority so expect to wait.
Reservations can currently be made via the Louis Vuitton ticketing website. The event is currently fully booked, but LV will be adding new dates each day, so keep checking back regularly.