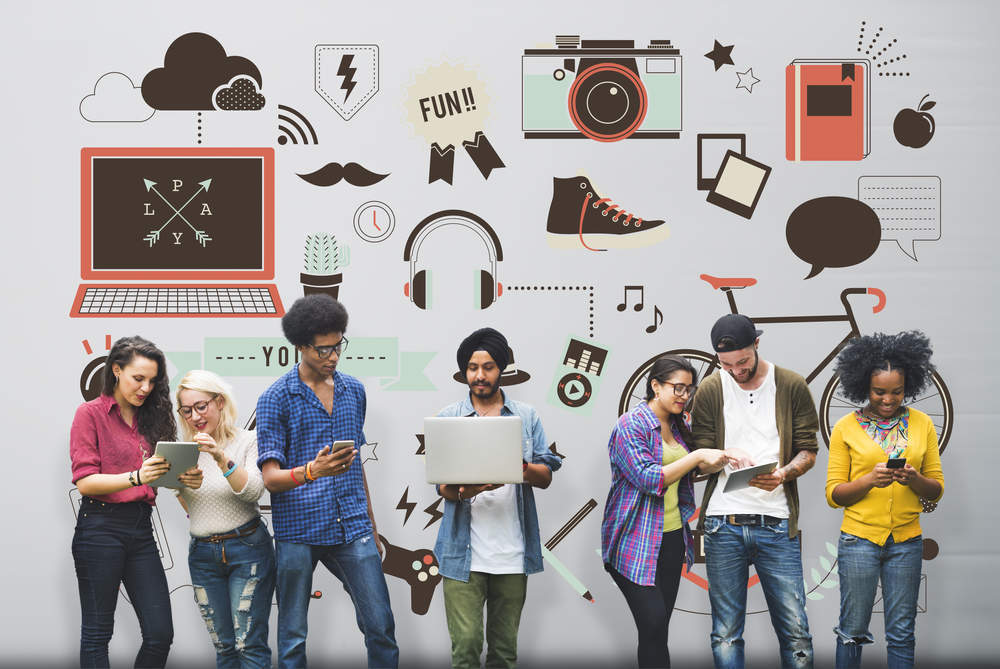 While the media is still busy listing all the things that millennials have ruined, a new generation is entering the workforce.
Generation Z (sometimes also known as iGen) is here and ready to work. And chances are, you've probably already got one or two in your business.
While certain quarters (usually filled with Baby Boomers) still infantilise millennials, it's worth remembering that the oldest of that cohort are now in their mid-30s.
Even the youngest millennials are around 23 or 24 by now.
That means the most recent crop of university graduates who entered the workplace are Gen Z. And according to some experts, they'll expect very different treatment from millennial forebears.
Of course, drawing arbitrary lines between generations is always somewhat ridiculous, so plenty of this advice will also apply to younger millennials and in another ten years will no longer apply to that year's Gen Z workers.
How well do you
really

know your competitors?

Access the most comprehensive Company Profiles on the market, powered by GlobalData. Save hours of research. Gain competitive edge.
Company Profile – free sample
Thank you!
Your download email will arrive shortly
Not ready to buy yet? Download a free sample
We are confident about the unique quality of our Company Profiles. However, we want you to make the most beneficial decision for your business, so we offer a free sample that you can download by submitting the below form
By GlobalData
Still, here's a few ideas on how to work with the Gen Z employees entering the work place and what makes them different to those who've come before.
When does Generation Z start:
Experts tend to disagree about when exactly Generation Z starts. Some argue that Generation Z starts from 2000 or 2001, but the general consensus is that children born between 1995 and 2014 are Gen Z.
Those born between 1982 and 1994 are generally thought to be millennials, but these lines are decidedly arbitrary.
The good news about Generation Z:
The best news for managers working with Generation Z is that they're extraordinarily hard-working. Jean Twenge, the author of the snappily-titled iGen: Why Today's Super-Connected Kids are Growing Up Less Rebellious, More Tolerant, Less Happy – and Completely Unprepared for Adulthood points to a yearly survey of American high school graduates.
In 2016, the study found that 55% said they'd be willing to work overtime to see the job gets done. The same survey in 2004 found that 44% of millennials would do the same.
The same study also found that Generation Z are genuinely happy to be at work. They were apparently more likely to tell the survey that they'd work even if they didn't financially need to. They also believe work will become a central part of their lives.
Twenge also suggests that Generation Z are less prone to entitlement due to a general lack of self-confidence.
They're also risk averse, looking for job security in stable industries. Gen Z might be less interested in working at start-ups or doing freelance work.
It's also worth noting that Generation Z are some of the first to have mostly grown-up with the internet. Facebook was launched in 2004 and the iPhone came out in 2007. This is a generation who, since they were very young, have taken social media, smartphones and the internet as the norm.
That should help them fit seamlessly into a digital workplace. Unfortunately, there are downsides to this reliance on technology which we'll discuss later.
Before that, there's something to be said for the emotional intelligence of Gen Z. They have been brought up in an age where it's much more acceptable to discuss emotions and feelings. This will have given them stronger abilities to identify personal issues and resolve them.
The downsides of working with Generation Z:
As with every generation, Gen Z has its downfalls and blindspots too.
Having grown up in the age of the internet, they prefer quick, easily accessible answers to complex problems.
Speaking to Forbes, Jeff Corbin, CEO & Founder of APPrise Mobile, a mobile employee communications and engagement solution platform said:
"Gen Z grew up with a mobile device in their hand and, as a result, there is a tendency and expectation for everything to be available immediately. In addition, their world has been about tweets and sound bites of information rather than carefully crafted sentences and deliberate presentations…

"… the habits that differentiate their working style, above and beyond being green, are inextricably tied to these factors – a desire for quick, accessible answers (rather than a drive to think through problems) and informality in communications (both written and verbal)."
Twenge adds that a lack of self-confidence is just as much a weak spot for Gen Z as it is a strength:
"More young people now arrive in the workplace with less experience with independent decision-making. Give them careful instructions for tasks, and expect they will need more guidance. Managers who learned to be cheerleaders for millennials will find they are more like therapists, life coaches, or parents for iGen'ers."
How to successfully manage Gen Z employees:
Bringing Gen Z employees into your business:
The first step to reaching out to Gen Z employees is through the application process. Jason Dorsey, president of the Center for Generational Kinetics tells the BBC:
"We tell employers, if you can't apply for a job through a mobile device, then you're not going to get Gen Z to apply."
He also explains that Gen Z will use social media to seek out potential employers, and scope out those businesses. It's worth having a strong and professional social media presence to impress Gen Z.
That also means scrubbing up your reviews on sites like GlassDoor. Expect Gen Z to have done their homework on you in advance.
Offer a more adaptable and flexible working environment:
Twenge notes that Gen Z are happy to work, and eager to do a good job. You can trust them to get on with their work, even if it might not be in quite the way you might expect.
Trevor Yu, an associate professor of business at Nanyang Business School in Singapore, explains:
"Expect a more adaptable workforce. Adaptable to changes in technology and the way people work. The boundary-less nature of work will be even more relevant to this generation, with administrative control, temporal, and physical boundaries that have defined work in the past century set to be even less relevant."
That might mean allowing Gen Z employees to work beyond the confines of an office occasionally, or take advantage of variable shift patterns.
Expect and encourage a diverse workforce:
A 2017 report from research firm 747 Insights found that Gen Z are, by far, the most diverse generation yet. More Gen Z people label themselves as a sexuality other than heterosexual than ever before. They're also much more racially diverse than previous generations, 48% of American Gen Z people are non-Caucasian.
Dorsey says they'll expect acceptance and want to see diversity at work too:
"They will expect more diversity all the way up the organisation."
With this in mind, it's more important than ever to foster an open, tolerant, and accepting workplace. Acceptance in the workplace is the bare minimum of what Gen Z will expect from their employers. And with their intuitive grasp of social media and online communication, expect them to rain down fire and fury on employers who do not meet those standards.
Support Gen Z employees in finding role models within the company who are as diverse as they are.
Reassure and praise the accomplishments of Gen Z:
With their lack of self-confidence, Gen Z might prove more timid than previous generations. To get the best out of them, make sure they feel supported and mentored. Try to avoid feeling frustrated at Gen Z employees who seem to be taking extra time over tasks.
Chances are they know what they're doing and just want to make sure their work is of the highest quality before they submit it.
While, in some cases, this might lead to tasks taking longer than usual, you can expect a much more polished piece of work by the end of it.
Do not attempt to micro-manage Gen Z employees:
According to 747 Insights' report, less than half of Gen Z respondents said they were used to their parents following through with disciplinary procedures, and only 26% got parental help with homework.
This doesn't necessarily mean that Gen Z will expect to get away with murder in your business. However, it does mean that they are used to a certain amount of leeway and independence.
Combine this result with the previously observed point that Gen Z don't mind working hard, and you have a potent mix. Leave your Gen Z employees alone and they will work. (But do be on hand to reassure and help them when they need it.)
Work socials might not be such an important part of working life:
Workplace comedies like The Office and Parks And Recreation tend to hinge around the idea of strong social bonds between employees. Do not expect this to hold true for Gen Z employees.
Twenge writes that the number of the Gen Z workers who say it's important to 'make friends' or 'be in contact with a lot of people' while at work was at an all-time low.
With that in mind, don't be offended if Gen Z employees are more reluctant to form workplace friendships or attend work socials, and don't try to force them.
Equally, if you've been holding friendly conversations via email or Slack with a Gen Z employee, don't necessarily expect that warmth to translate into real life. Gen Z employees are used to different modes of communication. They might be more comfortable talking online than in person or over the phone.
The ultimate advice for working with any generation:
Ultimately, no matter what generation they belong to, every employee is different. Each will have different ways of working and communicating.
A strong workplace is one which welcomes and champions each employees strengths. This allows employees' unique abilities and skills to complement one another.
Corbin sums it up in his advice to managers:
Be patient. Be excited. Embrace them. Learn from them.  At the same time, be prepared to teach them. Ignore stereotypes. Remember that there once was an older generation that viewed you with the same concerns.  And, be open to learning from everyone, younger and older.