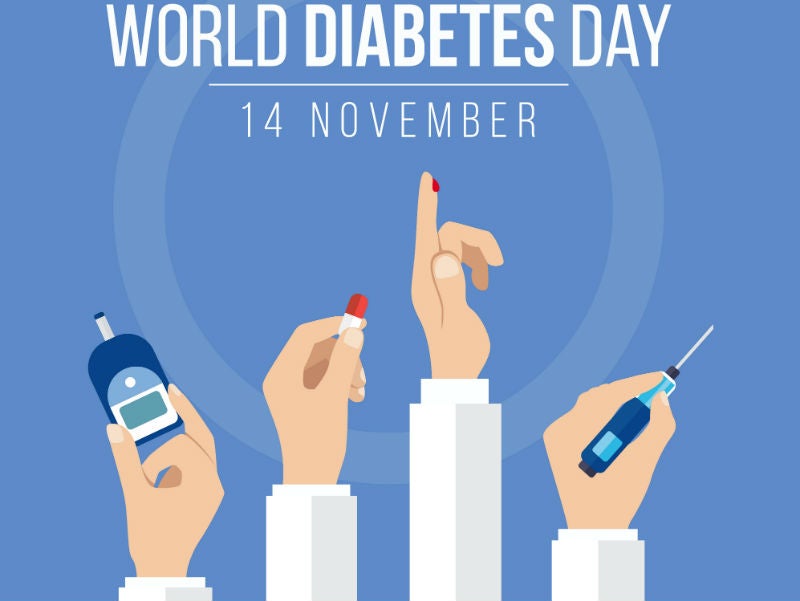 It's World Diabetes Day, a day that was created in 1991 by the International Diabetes Federation (IDF) and the World Health Organization (WHO) due to growing concerns about the increasing health threats posed by the disease.
World Diabetes Day is the largest diabetes awareness campaign in the world and reaches an audience of over a billion people in more than 160 countries. Each World Diabetes Day has a theme and this year the theme is 'The Family and Diabetes'. Through this theme, the IDF aims to spend the next two years raising awareness of the impact that diabetes has on families and the support networks of those affected.
This theme was selected for World Diabetes Day because new research from the IDF found that four in five parents would have trouble recognising the warning signs if their child had diabetes and that one in three wouldn't spot them at all. The company is using statistics like these to highlight why more awareness and education is needed.
Diabetes is one of the world's most serious and pervasive public health issues. The condition is a lifelong disease that causes a patient's blood sugar levels to become too high. There are two main types, referred to as type 1 and type 2. Type 1 occurs when the body's immune system attacks and destroys the cells that produce insulin. Type 2 is the result if the body doesn't produce enough insulin, or the body's cells don't react to insulin. Type 2 is far more common and 90% of adults in the UK who have diabetes have Type 2.
Symptoms of both types of diabetes include feeling very thirsty and tired, as well as weight loss, slow-healing wounds and blurred vision. If left untreated, diabetes can lead to patients having to have limb amputations due to nerve damage and can cause other conditions such as Alzheimer's, eye damage, heart and blood vessel disease and eventually death.
According to the World Health Organisation, the worldwide population living with diabetes reached 422 million in 2014 and the global prevalence among adults is thought to be at 8.5%. In 2016, diabetes was the direct cause of 1.6 million deaths globally.
Newest medical devices for diabetes
There is no known cure for diabetes so patients need to learn to monitor their condition with regular blood tests to ensure their blood glucose levels stay balanced. As medical technology continues to advance, this year alone has seen the creation and release of many medical devices to help diabetes patient monitor their condition.
Below are three of the latest medical devices which have been designed to aid diabetes patients.
Continuous glucose monitors
Continuous glucose monitors (CGMs), such as the Dexcom G6, are becoming increasingly popular with diabetic patients and can be worn day and night to keep an eye on glucose levels. These devices are popular primarily because patients can view their glucose levels with a quick glance and only have to use a finger prick blood test twice a day to check that readings on both devices are similar.
These real-time glucose level readings can help patients make more informed choices about the types of food, physical activities and medication they need on a day-to-day basis. CGMs rely on a tiny sensor inserted under a patient's skin which tests interstitial glucose levels every few minutes and sends this information to a monitor or smartphone. Patients receive alerts when their glucose levels need to be adjusted.
Management apps
Earlier this month, blood glucose monitoring solutions provider LifeScan launched a new version of its diabetes management mobile app OneTouch Reveal which now has new features. The app has been designed to automatically identify recurring highs or lows in blood sugar and then alerts users on their smartphones to any abnormal readings. It can be used alongside the OneTouch products such as the OneTouch Verio Flex metre which connects wirelessly to the app so there is no need for patients to manually input their blood glucose level results.
The app is currently available for use in a total of 24 countries, including Belgium, Canada, France, Germany, India, the US, Italy, Ireland, Spain, the UAE, Poland and the UK.
Credit: LifeScan. 
Insulin Pens
Several new insulin pens have been under development this year including Novo Nordisk's new NovoPen 6 and NovoPen Echo Plus which have been designed to replace the NovoPen 5 and NovoPen Echo. Last month, Novo Nordisk signed collaboration agreements with Glooko, Roche and Dexcom to support the future integration of its new insulin pens which are said to have digital health solutions.
The pens are set to be launched in the first quarter of next year and will be available in around 50 countries. As part of one of the agreements, Novo Nordisk will integrate dosing data from the connected insulin pens with IBM Watson Health and Glooko's open ecosystems and diabetes management solutions. Insulin data from the pens can also be synched with Roche's diabetes management platforms, such as mySugr and Accu-Chek Smart Pix. This data integration is expected to improve quality of care and allow for the creation of sustainable healthcare systems. In the future, Novo Nordisk plans to integrate its insulin dosing data with the Dexcom CGM data.
Credit: Novo Nordisk A/S.