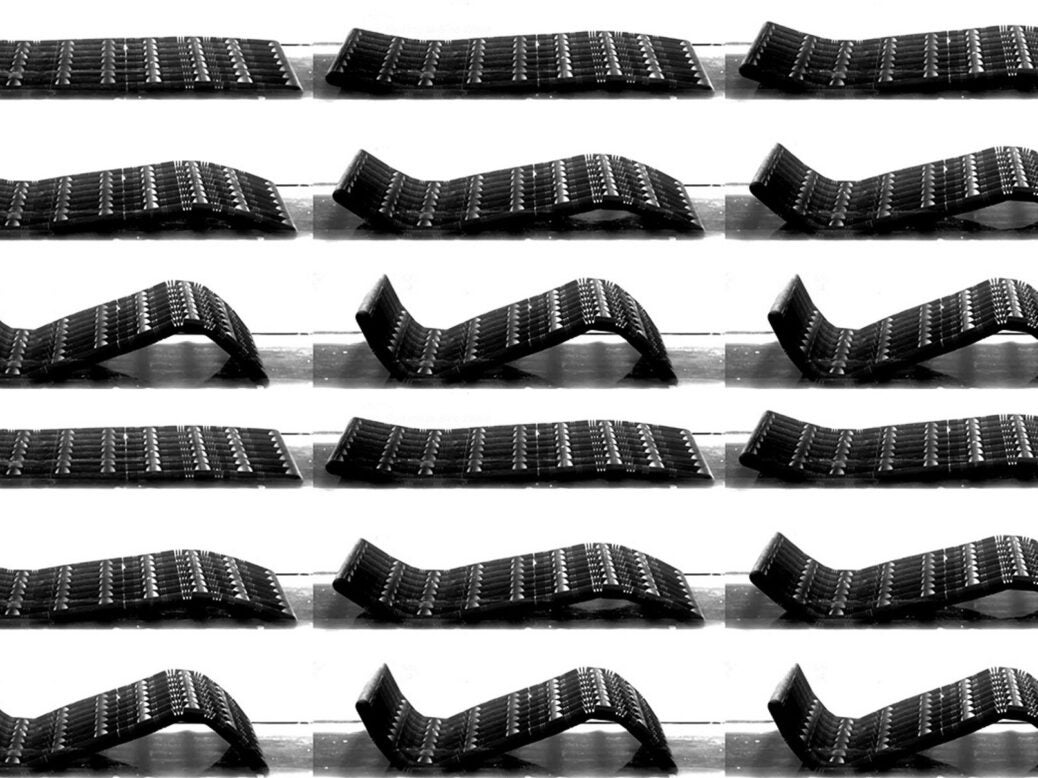 Imagine if your favourite pair of jeans could last forever, thanks to self-repairing polymer chains in the fabric. Star Trek style self-repairing clothes may be closer to reality than we think, thanks to the latest developments in materials science. Whilst 3D printing has captivated the minds of innovators and entrepreneurs for years, it is now beginning to be overshadowed by the latest buzz: 4D printing.
4D printing is the process of producing a 3D multi-material printed part that reacts to external stimuli, such as heat, moisture or sound, over time.
It is an area that is beginning to capture the imagination of scientific labs, leading tech vendors and investors.
In 4D printing, material is pre-programmed to have built in sensing and actuating abilities that allow the material to self-transform over time. When exposed to energy from heat, light or moisture, the printed component can morph into the chosen 3D shape. The part can also be returned to its original shape by applying the relevant stimuli.
Skylar Tibbits, the founder of MIT's Self-Assembly Lab, coined the phrase '4D printing' in his TED Talk on the subject in 2013. Since then, the MIT lab has developed a whole host of working prototypes and dreamt how revolutionary this technique could be in the future.
4D printing and the rise of smart materials
Smart materials will soon become ubiquitous; they will be found everywhere, from cars that adapt to the local environment, to shoes and clothes that adapt to our bodies. Some of the most disrupted markets will be construction, wearable tech, aerospace, military, healthcare and autonomous vehicles.
Scientists are currently developing self-healing roads that will detect and fix potholes; sports clothes that allow your skin to breathe in warm weather but form a waterproof layer in the rain; and cars that change shape to suit the driving conditions.
Tibbits believes that 4D printing will transform many industries, as it utilises 3D printing manufacturing techniques but offers us the ability to produce parts that can't be made in any other way.
Whilst 3D offers an alternative way of producing the same product that might have been created using Computer Number Controlled (CNC) machine or injection moulding, 4D printing allows us to create parts that traditional manufacturing methods cannot fabricate.
4D printing will allow us to access a whole range of functions that we were not able to develop before. It is possible to print non-static, highly intelligent, active parts that can sense and self-transform, without the need for heavy and expensive sensors or motors.
This ability will allow 4D printed products to thrive in the quest to form smarter, yet simultaneously more lightweight products. Removing external electrical components not only reduces cost and weight, but also reduces the potential and tendency for failure, enabling more reliable smart materials.
Using printing to rapidly design and manufacture parts also opens a whole new world of highly customisable complex parts. Smart materials are typically a niche area, and their fixed properties can make them difficult to implement. However, the highly customisable nature of 4D printed parts lends itself to a booming, consumer-focused industry.
Making 4D printing a reality
Despite these revolutionary applications, 4D printing has many challenges to overcome before we find these products in a mainstream consumer market.
Scalability may prove to be a challenge; whilst the Self-Assembly Lab and other research facilities around the world have produced successful prototypes, no one has yet been able to replicate this on a larger scale. The 4D printing market is still in an early R&D phase, meaning that there is currently no standard process or software for 4D printing, as labs around the world are developing different processes with unique outcomes.
Furthermore, as 3D printing has found, stringent regulations in sectors such as healthcare and aerospace can restrict the progress of scientific development in an effort to protect users from harm or unintended side effects. Given these challenges, commercialisation is at least 10 years away.
Nonetheless, Tibbits believes there are no fundamental hurdles which will thwart this industry, and it is only a matter of time and resources before 4D printing revolutionises our world.
In 2019, the 4D printing market was valued at nearly $65m and is expected to grow on a CAGR (Compound Annual Growth Rate) of 33.2% over the next 6 years, according to GlobalData. This means the market will be worth over $360m by 2025. It is estimated that the military and defence sector currently occupies the majority of the market, and that carbon fibre is the most commonly 4D printed programmable material.
For those dreaming of a 4D printed future, the outlook is extremely promising, with resources, scientists, funding, research applications and academic papers flooding the scene. Tibbits believes that the evolution of 4D printing will prove the springboard for a wider topic – programmable materials.
By helping us to achieve higher functioning, smarter, safer and more productive parts, without compromising on cost or weight, it will not be long before these smart materials revolutionise every aspect of a developing market.
---
Read more: "Our goal is to build a very substantial business": Why HP is finally investing in 3D printing
---