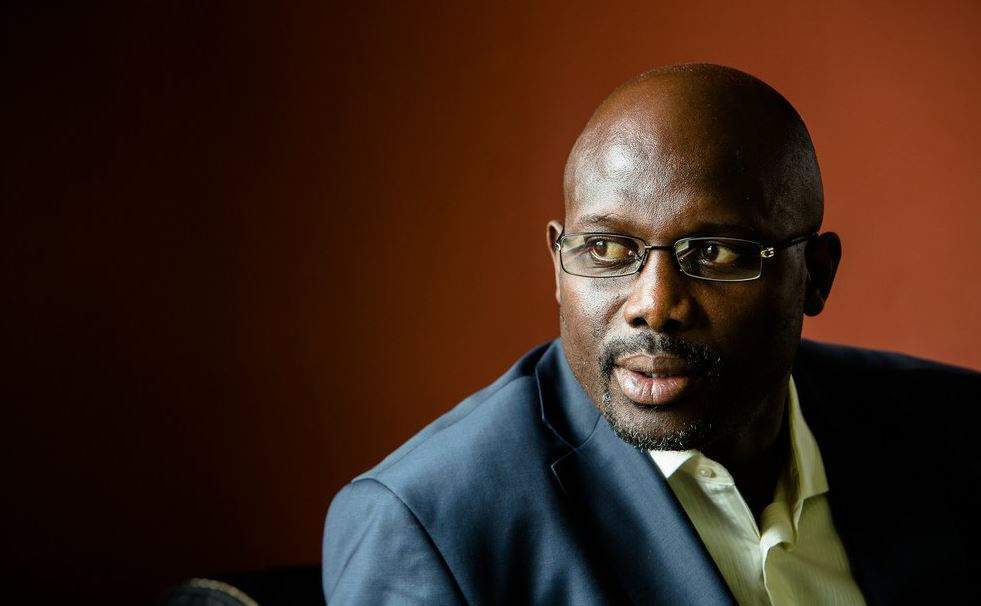 George Weah has been sworn in as the new President of Liberia after claiming 62 percent of support in a run-off vote against former Vice President Joseph Boakai.
Weah has promised to eradicate corruption, boost the economy and improve education – Liberians can now only hope that he is half as good at politics as he once was at football.
Voted FIFA World Player of the Year in 1995, Weah graced the pitches at Europe's top football teams. He turned out for the likes of AC Milan, Paris Saint-Germain and Chelsea during a two-decade career at the top.
However, since hanging up his boots, Weah has joined a long list of retired sports stars that turned to politics. Who are these noteworthy sports stars turned politicians and how did they fare in their new roles?
American Football
The most popular sport in the US has had its fair share of former players that have entered politics following retirement.
However, few have done so quite as successfully as Jack Kemp. The former quarterback spent 13 years playing across the National Football League, Canadian Football League and American Football League, before transferring his skills to the political arena.
After doubling up as part-time sports star, part-time Ronald Raegan staffer, Kemp became New York's member of the U.S. House of Representatives in 1971, just two years after retiring from sport. He remained in office until 1993, peaking politically as George H. W. Bush's Secretary of Housing.
Unlike Kemp, former NFL lineman Jon Runyan was unable to complete his transition from player to politician. After retiring with the title of dirtiest player in the NFL, Runyan switched his attention to politics.
However, after joining the House of Representatives for New Jersey's 3rd district, Runyan cut his tenure short to return to sports. Soon after, the NFL hired him to serve as their Vice President of the Policy and Rules administration.
Likewise, former Washington Redskins quarterback Heath Shuler enjoyed a short spell in the NFL during the 1990s and an equally as short spell as congressman for North Carolina's 11th district.
Steve Largent is also another big name and, unlike many others, he was successful both as a footballer and a politician.
The three times All-Pro and one time NFL Man of the Year winner fell into the position of Oklahoma's 1st District Congressman after Jim Inhofe resigned in the run-up to an 1994 election. Largent was re-elected three more times, receiving more than 60 percent of the vote on each occasion.
Football
Given football's status as the world's most popular sport, the best football players are known the world over. Many use their status to forge out new careers as models, business moguls and movie stars. However, former World Cup winner Romario opted to move into politics.
Now serving as Rio de Janeiro's Federal Senator, Romario de Souza Faria has teamed up with his former Brazil team-mate Bebeto to reform the debt-ridden state.
Within a month of retiring from football, Ukrainian star Andriy Shevchenko took up his place in Ukraine – Forward!, formerly the Social Democratic Party of Ukraine.
However, his political career proved to be about as good as his stint at Chelsea… He scored nine goals in 48 games for the Premier League club, while his party received just 1.58 percent of the vote at the 2012 Ukrainian parliamentary election.
Shevchenko isn't the only Ukrainian footballer to have tried his hand at politics. Former Dynamo Kyiv frontman Oleh Blokhin did both at once. Blokhin entered parliament while managing in the Greek Superleague shortly after retiring. Impressively, he continued to hold two positions throughout his political career.
Basketball
American football breeds congressmen, but basketball has produced an impressive list of mayors.
Former National Basketball Association star Kevin Johnson earned numerous awards over 12 seasons with the Phoenix Suns.
However, throughout his basketball career, Johnson was also dedicating to improve his local community with initiatives such as HOPE, an after-school program for children in Sacramento, California. Coupled with his status as basketball star, his community efforts helped him to secure a runoff vote majority over in the 2008 mayor of Sacramento vote. By continuing to focus on the community, Johnson secired re-election in 2012 and stay on for another term.
However, Dave Bing is basketball's standout career journeyman. The former NBA star has been there and done it all.
In 12 seasons in top-tier league, Bing earned his place in the sport's Hall of Fame. He then went on to succeed in the world of business. Soon after announcing his retirement, Bing founded Bing Steel. Acting as the middleman between steel companies and manufacturers, Bing's business was posting revenues of $40m seven years after he announced his retirement.
Not content with having succeeded in sport and business, Bing turned his hand to politics in 2009 at the age of 65, becoming the mayor of Detroit. The city was forced to declare bankruptcy during his tenure. However, Bing still managed four years in the role.
Just one former basketball, Bill Bradley, managed to make it into the United States Senate. The former New York Knicks shooting guard was elected at the New Jersey's Senator in 1979. He proved popular, holding on to the position for almost two decades. However, his popularity in New Jersey was unable to turn him into basketball's first president when he unsuccessfully ran to become the Democrat's presidential candidate in 2000.
Boxing
While the odd boxer has been politically vocal – Muhammad Ali, for example – few have used their fame as a leg up into the political arena. However, that has changed somewhat in recent years.
September 2012 saw Vitali Klitschko take to the ring one final time. Having postponed his retirement in the past, it was unclear whether the older Klitschko brother would stay out of the ring for good. However, the announcement that he would become the Mayor of Kiev less than two years later confirmed that a second comeback wasn't on the cards.
Despite the lucrative riches that boxing has had to offer in recent years, it seems Klitschko made the right decision. He has settled into the role well and remains in office to this day. Having turned down a parliamentary seat to stay on as the Mayor of Kiev, it seems that he is targeting a long reign at the top of Kiev, much like his stay at the top of the heavyweight division during the early 2000s.
Another boxer heading to the top of politics is former world champion Manny Pacquiao, who has stated his desire to one day become the President of the Philippines.
He has yet to hang up his gloves. However, Pacquiao already serves as the Senator of the Philippines, having first ran for a seat during the 2007 election. While he can't yet give politics his full attention, Pacquiao's status as one of the nation's top celebrities will likely take him to the top, much like Weah.
Other sports
The list wouldn't be complete without Arnold Schwarzenegger. The Austrian bodybuilder used his freakishly large muscles to catch his break in Hollywood. This in turn propelled him into the California Governor's Mansion in 2003. His time as Governor of California wasn't without error or scandal, but he did enough for the state to earn himself a second term in 2007.
Schwarzenegger isn't the only muscle man to have climbed up the US' political ladder.
Professional WWE wrestler Jesse "The Body" Ventura already reached Governor status in 1999. Despite reforming Minnesota's property tax laws and building a new train line, much to the delight of locals, Ventura never ran for a second term.
Well trained in running a race, having won four Olympic medals during his time as a middle-distance runner, current Athletics Federation president Sebastian Coe turned to politics following his retirement. He served as Falmouth and Camborne's Member of Parliament between 1992 and 1997. He then worked as William Hague's Chief of Staff before moving back into the world of sport.
What connects them all?
Do professional athletes have something that other people don't that makes them ideal candidates to lead? Has decades in the limelight trained them to serve as great role models, handle the media and make good decisions?
Maybe… We can't really say for sure one way or the other.  Plenty of athletes have tried their hand at politics and the results have been mixed.
What they do all have is big followings of loyal fans that likely play some part in the success of their political careers, at least so in the early stages.
Traditional politicians have been using celebrity endorsements to influence voters for years – one study found that Oprah Winfrey's endorsement of Barack Obama earned him over 1m votes in the 2008 election.
However, now these stars are using their own influence to put themselves in positions of power, rather than others.