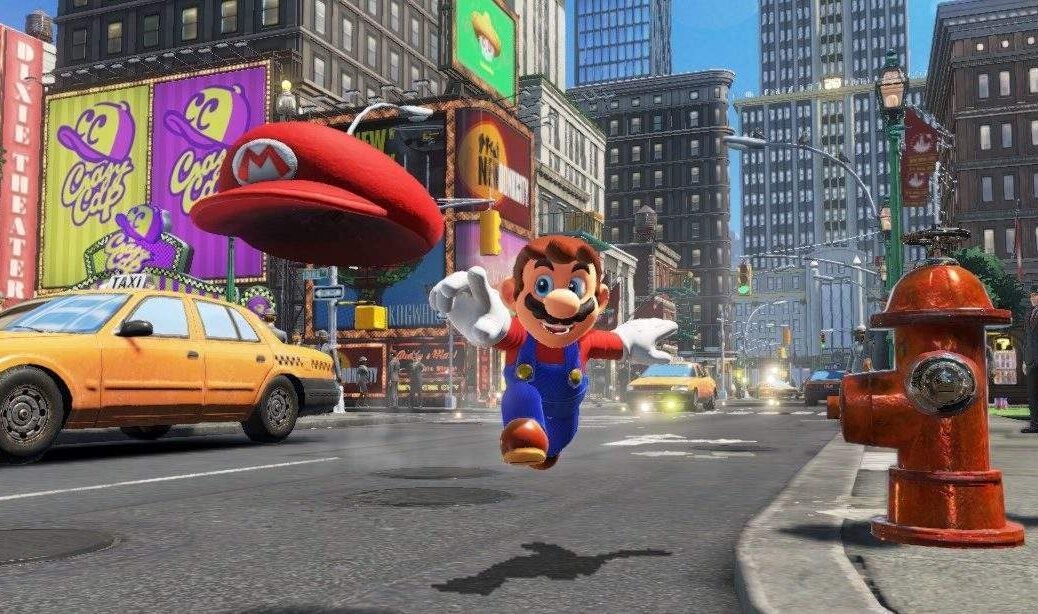 If you're a gamer then we've got good news and bad news. The good news is that there are literally dozens of incredible, major games coming out this Autumn. The bad news is that unless you're raking in some serious dough, you might not be able to afford everything that's on offer!
Whether you've got a Nintendo Switch, Sony's Playstation 4, or Microsoft's Xbox One, there's going to be a lot to play. In fact, this might be the strongest Autumn line-up of games we've seen in years.
So without further ado, let's see what's coming and when!
Best video-games autumn 2017
Destiny 2 (PS4/Xbox One) 06/09
https://www.youtube.com/watch?v=LSxElWwWVFE
A long-awaited sequel to the 2014 smash-hit. Destiny 2 places players in the heart of a cosmic war between human guardians (who you play as) and various alien races. The game's selling point is its online-only multi-player pedigree. You can travel about with other players you meet online or battle against them in a combat area called the Crucible. If you like space battles and first-person shooters, this one should be perfect for you.
Pro Evolution Soccer 2018 (PS3, PS4, Xbox 360, Xbox One, Windows) 12/09
At this point, everyone who enjoys soccer has picked a side. You either play FIFA or you play PES. There is nothing in between. As you'd expect, PES allows you to play football on your console. It might not be revolutionary, but it's sure to sell like hotcakes!
Dishonored: Death of the Outsider (PS4, Xbox One, Windows) – 15/09
This one sounds absolutely amazing. You play as former-assassin Billie Lurk and aid your mentor in his quest to kill the Outsider, a supernatural creature who gave you magical powers. Sure, it sounds bonkers, but imagine Assassin's Creed but with superpowers and futuristic tech and you're probably not too far off.
Metroid: Samus Returns (3DS) 15/09
Few other video-game heroines have quite such a storied history as Nintendo's Samus Aran. This game is a reimagining of the 1991 classic Game Boy title Metroid II: Return Of Samus. However, this time players can enjoy sumptuous 2.5D visuals, free firing, and a range of new abilities. Early reviews from video-games journalists have been unanimously positive. If you love space games with a bit of heart, this is for you.
Marvel vs. Capcom: Infinite (PS4, Xbox One, Windows) 19/09
Imagine if all of Marvel's Avengers ended up battling classic video-game characters like Megaman, Ryu, and Chris Redfield. What you're imagining is this game. This is actually the sixth game in the Marvel vs. Capcom franchise. This game should be an ideal jumping on point as the creators say they designed it to be accessible, yet still complex.
Pokkén Tournament DX (Switch) 22/09
While this one is technically a remaster, chances are most people won't have played it before. The original was released as a Japanese arcade game, then ported to Nintendo's ill-fated Wii U. This one is Pokémon as you've never battled them before. Designed by the team behind Tekken, you play as one of 21 different Pokémon then duke it out in an ultimate arena championship.
Total War: Warhammer 2 (Windows) 28/09
Take control of an army of Lizardmen, Elves, and other races as you battle for world domination. Like all Total War games, this one combines turn-based strategy with real-time tactical battle simulation. You'll be required to do some quick thinking if you want to be the ruler of this fantasy kingdom!
Cuphead (Xbox One, Windows) 29/09
One of the most anticipated indie games in ages, Cuphead kind of looks like it was hand-drawn by Walt Disney himself in the 1930s. Unfortunately, that's not the case, but it was hand-drawn by the creators. You play as a man with a cup for a head who has lost a bet with the devil. You spend the game trying to repay that debt. The gameplay is designed to be challenging yet accessible, you have infinite lives and don't lose weapons between deaths. Still, that's only because you'll be dying a lot. The whole game is boss-fight after boss-fight!
Nintendo Classic Mini: SNES 29/09
Not a game but a new piece of hardware. This is basically a charming little emulator which looks like a miniature version of Nintendo's classic early 1990s console, the SNES. You'll be able to enjoy 30 different games on the system including the never-before-released Starfox 2. The only downside is that Nintendo has, once again, not produced enough consoles to match the demand, so this one might be tricky to get your hands on.
FIFA 18 (PS3, PS4, Xbox 360, Xbox One, Nintendo Switch, Windows) 29/09
Everything was said about PES applies here. However, FIFA 18 does have a few unique tricks. Famous football commentators provide, you guessed it, commentary, there's a cool-looking campaign mode which serves as a sequel to last year's one. Unfortunately the Switch version does not contain the latter, but who cares when you can play FIFA on the go?
Forza Motorsport 7 (Xbox One, Windows) 03/10
Considering this is the tenth title in the Forza series, you should know what to expect. It's a racing game where you race fancy cars around the world's best race courses. However, there are a few fun new additions including dynamic weather and customisable drivers, this time around.
Lady Layton: The Millionaire Aridone's Conspiracy (3DS) 06/10
Remember back in 2008 when everyone in the world was playing Professor Layton on their Nintendo DS's? Well, Lady Layton is a follow-up to that series, starring the good professor's daughter Katrielle. Originally released on iOS and Android over summer, this one is finally coming to 3DS in October. You play as Katrielle as she solves puzzles to try to discover the whereabouts of her missing father.
Middle-earth: Shadow of War (PS4, Xbox One, Windows) 10/10
If you're a Lord Of The Rings fan you might be missing Peter Jackson's movies. Since the ending of The Hobbit trilogy, we haven't had any new Tolkien films. Luckily, the Middle-earth series is the perfect answer to that aching need for more elves, orcs, and trolls. You play as a ranger (like Aragorn from the films) who shares a body with the spirit of an elf-lord. You must work together to forge a new Ring of Power in order to face Sauron. This will probably sound absolutely barmy if you're not a LOTR fan, but then again, if you're not, this probably isn't the game for you.
South Park: The Fractured But Whole (PS4, Xbox One, Windows) 17/10
A role-playing video-game written by the people who write South Park, what's not to love? You find South Park divided over a new superhero movie, and two factions go head to head to battle it out to decide who is the number one hero.
Fire Emblem Warriors (Switch, 3DS) 20/10
After the success of the last collaboration between Nintendo and the Warriors franchise, Hyrule Warriors, they're back again. This time you'll be battling through hordes of enemies from across the history of the Fire Emblem series. If you've never played a Warriors game before, they're basically button mashers. You fight through hundreds of enemies across a massive battlefield as you try to capture bases which will generate more soldiers for your army.
Super Mario Odyssey (Switch) 27/10
One of Nintendo's most anticipated games ever. Mario is back with his new friend Cappy, a denizen of the Cap Kingdom disguised as his hat. Mario can throw Cappy at almost anything in the world to 'capture' it. For example, you throw your hat at the frog then you're the frog. This means Mario will have more abilities than ever. And he's going to need them. Once again, Mario is journeying across the world to save Princess Peach who Bowser is trying to force into marriage. This time you'll be out of the Mushroom Kingdom and travelling to various other cool locations, including New Donk City, inspired by, you guessed it, New York City.
Assassin's Creed: Origins (PS4, Xbox One, Windows) 27/10
It takes a pretty strong competitor to stand up to Mario, but if anything can do it, it's Assassin's Creed. This time players will be travelling back to ancient Egypt to see how the secret order of assassins began. This will be the first time Assassin's Creed has gone truly open-world, so it'll be very interesting to see how that pans out. Combat has also been totally overhauled with a new focus on action, rather than just tapping the right button at the right time. Safe to say, this one looks absolutely beautiful!
Wolfenstein II: The New Colossus (PS4, Xbox One, Windows, Switch) 27/10
Like first-person shooters? Dislike Nazis? This is the one for you. Wolfenstein II depicts a future alternate-reality where Nazis have occupied America. You play as a member of the American resistance fighting to organise a second American Revolution against the Nazi regime. The game's developers probably didn't realise how relevant this would be when development started. The Nintendo Switch version isn't out until next year.
Call of Duty: WWII (PS4, Xbox One, Windows) 03/11
First-person shooter, set in World War Two. So far, so unoriginal. But this is actually the first Call Of Duty game set during WWII since 2008. It combines the modern franchise with some of the original gameplay that made it famous. You'll also be able to battle zombies, a Call Of Duty staple in a special side-mode to the game.
Sonic Forces (PS4, Xbox One, Switch, Windows) 07/11
Ever fancied playing through a war game as a super-speeding blue hedgehog? Nah, us neither. But still, that's what Sega apparently thinks the public wants. Sonic Forces has a lot to live up after the critically-acclaimed Sonic Mania released this summer. Sega is hoping they can do so with customisable characters, modern and classic Sonic sections, wisp-power ups. Early impressions have been pretty terrible, but maybe Sega can pull it out of the bag.
Mario Party: The Top 100 (3DS) 10/11 (US/Jan EU)
If you haven't wasted hours of your time playing Mario Party with friends, are you even a gamer? Nintendo obviously knows how much we love their party-game series too. This game, as you might expect, collects the top 100 most popular mini-games into one massive collection! We didn't know how much we needed this until now!
L.A. Noire Remastered (PS4, Xbox One, Switch) 14/11
A re-release of the 2011 Rockstar classic, with a range of new tricks. The PS4 and Xbox One versions have some shiny new visuals, but the really exciting one is the Nintendo Switch version. The latter will feature gyroscopic gesture controls, and make use of the console's HD rumble capabilities. The story is all the same as ever though. You play as a detective solving crimes and fighting the mob in 1940s LA. All the content from the original, plus DLC, and special edition features are included.
Lego Marvel Superheroes 2 (PS4, Xbox One, Nintendo Switch, Windows) 14/11
Something for the kids. This time the LEGO Marvel heroes are travelling through time and across dimensions in their quest to save the world from Kang the Conqueror. Each hero has his own LEGO-y abilities to help them save the day. This one looks sure to be packed full of that trademark LEGO humour and whimsy. It'll be sure to appear right at the top of many kids' Christmas lists!
Star Wars: Battlefront II (PS4, Xbox One, Windows) 17/11
We're so close to finally getting to see Star Wars: The Last Jedi but if you're struggling to make it through those final few weeks, you should probably pick up this. You'll be playing your way through some of the biggest battles in the Star Wars series as some of the most well-loved characters in the franchise. The single-player mode is set between Return Of The Jedi and The Force Awakens so who knows? You might even learn a little more about the film universe before you go to see Episode IX!
Pokémon Ultra Sun and Ultra Moon (3DS) 17/11
https://www.youtube.com/watch?v=ue-CBOrLnb0
Pokémon is returning to the Hawaii-inspired Alola region for a victory tour. As ever, you start as a beginning Pokémon trainer just setting out on your adventure. The aim is to catch 'em all and defeat the most powerful trainers to make sure you 'mon are the best in the world. An expanded version of their predecessors, Pokémon Sun and Moon, this time around you'll be learning more about the secrets of a dark, mysterious Pokémon called Necrozma. Sounds pretty scary!
Skyrim VR/Skyrim Switch (PSVR/Switch) 17/11
Since it's original release in 2011, Skyrim has won dozens of major awards, including over 200 Game Of The Year awards. It's also been released on seven consoles in various guises. The VR version is, obviously compatible with VR controllers. Meanwhile the Switch version features motion-controls and the chance to wear some Legend Of Zelda-themed armour over the course of your journey. If you have somehow managed to avoid playing this one, the plot is 'simple'. You play as a prophesised 'Dragonborn' warrior, travelling through a Viking-esque kingdom, trying to kill the dragons who are taking over the world. There's about a billion different quests, but that's essentially the gist of it.
Resident Evil Revelations/Revelations 2 (PS4, Xbox One, Switch) 28/11
Originally released as a 3DS launch title, Resident Evil Revelations made the jump the HD in 2013, and spawned a sequel in 2015. You play as the beloved series protagonists Jill Valentine and Chris Redfield who are off on a nautical zombie-slaying adventure. They're aiming to prevent a bioterrorist organisation from infecting Earth's oceans with a virus. As you do!
Safe to say, there's plenty to play this Autumn! Better make sure to save those pennies!