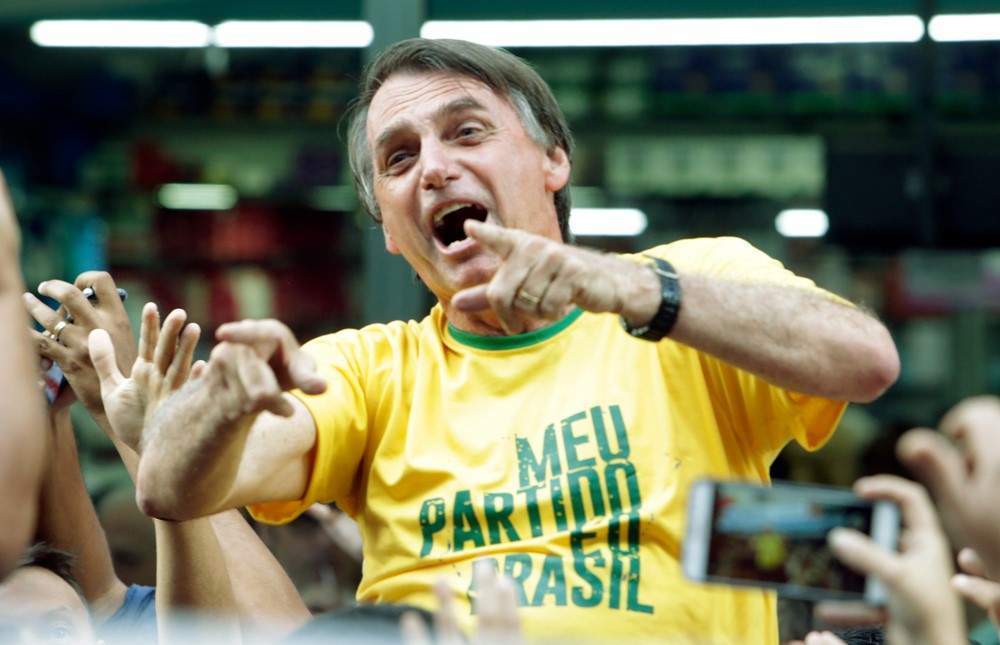 Following a contentious year of campaigning, the first round of the Brazil election for President on 5 October saw far right candidate and former army captain Jair Bolsonaro of Social Liberal Party (Partido Socialista Liberal, PSL) win 46% of the vote.
Since he failed to reach the 50% threshold for an outright win, the election will progress to a second round on 28 October in which he will face the dominant Workers' Party's candidate (Partido dos Trabalhadores, PT) Fernando Haddad, former mayor of São Paulo.
Haddad only became the PT's candidate in September after Brazil's electoral tribunal barred former President Luiz Inácio Lula da Silva from running since he is in prison for corruption.
Polls suggest that Bolsonaro will win the second round relatively comfortably. A recent Datafolha survey conducted by the São Paulo-based newspaper Folha gave Bolsonaro 59% of the vote in the second round and recorded that 47% of Brazilians said they would never support Haddad.
Shift to Brazil election campaigning via social media
In addition to the particularly aggressive, derogatory nature of Bolsonaro's campaign – he is known for his racist and misogynistic comments – and the election as a whole, what has marked this electoral campaign from previous ones has been the extensive use of social media.
Research has found that most of 147.3 million voters in Brazil will make electoral choices this year based upon what they have seen on social networks and instant messaging applications such as WhatsApp.
How well do you
really

know your competitors?

Access the most comprehensive Company Profiles on the market, powered by GlobalData. Save hours of research. Gain competitive edge.
Company Profile – free sample
Thank you!
Your download email will arrive shortly
Not ready to buy yet? Download a free sample
We are confident about the unique quality of our Company Profiles. However, we want you to make the most beneficial decision for your business, so we offer a free sample that you can download by submitting the below form
By GlobalData
The polling agency IBOPE found that 91% of internet users in Brazil use WhatsApp, 86% use Facebook and 60% use Instagram.
Brazil's official statistics institute Instituto Brasileiro de Geografia e Estatística (IBGE) found that in 2018 Brazil has 120 million WhatsApp users compared with approximately 109 million in 2016.
Political scientist Antônio Lavareda told national news agency Agencia Brasil: "It has been speculated that this election may be the first election where the internet takes on a leading role."
Maria Abbot, co-founder of AJA Solutions, told Verdict: "In the beginning most of specialists in Brazil were certain that what would make a difference would be the TV and radio campaigns.
"But the TV debates didn't have an impact; the candidate with the most airtime was Geraldo Auckmin for PSVD. He had almost 45% of airtime on TV and radio, yet he got 3-4% of the vote."
Anya Prusa, programme associate of policy forum The Wilson Centre's Brazil Institute, attributes this to "the rising Brazilian distrust in institution includes the media. Social media has become a place where they trust a little bit more the information they receive, because it is coming from their friends or family."
Social media has been the campaigning method of choice for Bolsonaro, but some of the other candidates in the first round also utilised it. Social movements have also seized upon social media as a method to protest against Bolsonaro's hostile messages.
Prusa told Verdict: "We have been seeing a lot of activity both in terms of using social media to mobilise, but also with the spread of fake information; those are the two sides of the coin."
"Both sides are really turning to these platforms as a means of political campaigning."
She said candidates were using WhatsApp to "frequently text reminders saying things like remember to vote and this my platform. So I think they were using WhatsApp to get messages out too."
Bolsonaro's Trump-esque use of social media
Bolsonaro and his supporters have partly used social media platforms, such as Facebook, WhatsApp and twitter, to publicise his electoral messages.
The PSL's candidate's core electoral platform is that he is a political outsider, and therefore an anti-establishment candidate, despite the fact he has been a Congressman for 27 years.
This is an attractive to the Brazilian electorate since the majority of Brazil's political class has been embroiled in corruption scandals linked to the Lavo Jato (Operation Carwash) investigation, which began in 2014. Bolsonaro's success suggests that there is a deep desire for change in Brazil.
Therefore, Bolsonaro has been able to say "I am not part of the elite, I am not corrupt. if you elect me I will actually get something done," as Prusa notes to Verdict.
This is particularly important when his main competition is the representative of the PT, which has failed to admit any involvement in corruption scandals, as well as accept responsibility for the economic collapse and recession Brazil has experienced since 2016.
Bolsonaro has also pledged he will end the escalating levels of violence in Brazil and reform the failing pension system; both of these are incredibly popular policies that are appealing across swathes of Brazilian society.
Although his policies are populist and therefore likely to be successful however he presents them, interestingly he and his supporters have chosen to follow the lead of US President Donald Trump in presenting his message and attacking his opponents primarily via social media.
Abbot noted that Bolsonaro's son who is also a Congressman declared that his father's campaign had received advice from Steve Bannon, former executive chairman of Breitbart News and White House Chief Strategist in the first few months of Trump's term in office.
Prusa said: "I think Bolsonaro and his advisers probably saw what Trump did and are at least somewhat modelling themselves after that. They have learned from it. They are doing some similar."
He has focused on personally attacking the PT and its record in government, and branding Haddad as Lula's puppet; which is similar to Trump's personal attacks on his opponents in the 2016 election, for example 'Crooked Hilary' and a 'nasty woman'.
Abbot noted that Bolsonaro has used other general terms that directly mirror Trump's rhetoric such as 'Make Brazil Great Again' and 'Brazil, first', which Trump adapted from a Nazi slogan. After his lead in the first round, Bolsonaro wrote on Facebook: "Together we will reconstruct our Brazil."
She continued saying: "There have been reports in the Brazilian media showing he has a big network of WhatsApp groups that have been spreading fake news and a campaign of misinformation."
He has also regularly used bots according to AJA Solutions' weekly analysis, particularly in the last few weeks before the first round.
Bolsonaro's hostile use social media in the Brazilian election campaign has come under the limelight in recent days. This is due to allegations by the PT, which were published the Folha paper, that Bolsonaro's supporters paid for messages to be sent by third party agencies on WhatsApp, which slandered Haddad.
The former army captain has denied these allegations, which would represent a campaign finance violence; he wrote on Twitter "Where were the guardians of democracy when these cowardly lies were spread?".
However, this could severely damage his representation of himself as different from the rest of the corrupt politicians.
In addition to the detrimental impact these allegations could have on his electoral victory, if the electoral tribunal finds him guilty, he will be ineligible for election for eight years.
Social movements use social media to challenge Bolsonaro
Although some of his fellow presidential candidates have also used social media, Prusa believes the most successful actors regarding social media optimisation were protest movements that have been established to counter him and his platform.
For example, the EleNao, or Not Him, campaign, which is primarily created in response to his misogynist comments. For example, before the election campaign began, Bolsonaro told Congresswoman Maria do Rosário that he wouldn't rape her because she didn't deserve it and has branded female Venezuelan immigrants as prostitutes.
Prusa said the campaign was about "a group of women saying this is unacceptable, we don't want a politician who says these horrible things about us."
In August this year, a Facebook group was created titled 'Women United against Bolsonaro', which quickly gained around 2.8 million members. Its impressive success led to Bolsonaro's supporters first trying to close the group and then hacking the group and changing the name to 'Women United with Bolsonaro'.
This action led to the creation of a more general protest movement, involving marches across Brazil and pickets outside of voting stations, including the Brazilian Embassy in London.
Abbot believes this campaign was central to why Bolsonaro failed to win the first round outright, although he was certain he would do so.