British chancellor Philip Hammond has delivered his second Brexit budget today against a backdrop of tight public finances and political instability.
A supporter of a so-called soft Brexit, Hammond wants the UK to remain as economically close to the European Union as possible when it leaves the bloc but is now taking a slightly stronger stance — saying the UK would "run towards the future" of Brexit and that "no one should doubt our resolve".
Hammond said the tight economic landscape would not stop him being bold about Brexit and pledged to use some of the money that's been set aside for the UK's exit from the European Union.
He said:
An economy that continues to grow, continues to create jobs than ever before and continues to confound those who seek to talk it down. An economy set on a path to a new relationship with our European neighbours and a new future outside the EU. A future full of change, new challenges and above all full of new opportunities. And in this Budget, we express our resolve to look forwards not backwards.

To embrace that change to meet those challenges head on…and to seize those opportunities for Britain. The negotiations on our future relationship with the EU are in a critical phase. The prime minister has been clear that we seek a deep and special partnership, based on free and frictionless trade in goods and services…close collaboration on security.
Hammond announced that a further £3bn has been set aside for Brexit contingency planning, adding to his existing £26bn Brexit warchest.
Hammond — who has been accused by Eurosceptic MPs of being too pessimistic about life outside the EU — said he was also ready to allocate more cash if needed and that the government would prepare for "every possible outcome".
Despite Hammond's new found enthusiasm for Brexit the UK's economic outlook has lost its steam.
GDP is now expected to grow by 1.5 percent in 2017 – down from March's two percent forecast — 1.4 percent in 2018, 1.3 percent in 2019 and 2020, before experiencing an uptick in 2021 (1.5 percent) and 2022 (1.6 percent).
The chancellor put this down to poor productivity, which he said "continues to disappoint".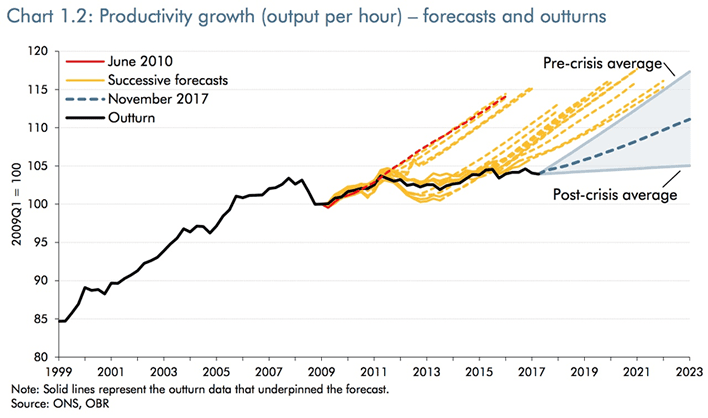 Other key pledges announced today
Stamp Duty will be scrapped for first-time buyers of all homes up to £300,000 as the kingpin of a £44bn string of housing measures designed to build 300,000 homes a year.

Freezing alcohol duty apart from an increase in duty on high-strength white ciders

A promise to fund a pay rise for nurses if one is recommended by an independent panel

Refunds on VAT for Scottish emergency services

£28m for Kensington and Chelsea council for counselling and regeneration in the aftermath of the Grenfell Tower fire

Spending £28m on homelessness projects in Manchester, West Midlands and Liverpool and aiming to eliminate rough sleeping by 2027

Extra cash to boost the numbers of students taking maths after the age of 16

Support for electric cars including a £400m charging infrastructure fund

£300m to connect HS2 with rail improvements in the North of England

A new railcard offering discounts to those aged between 26 and 30