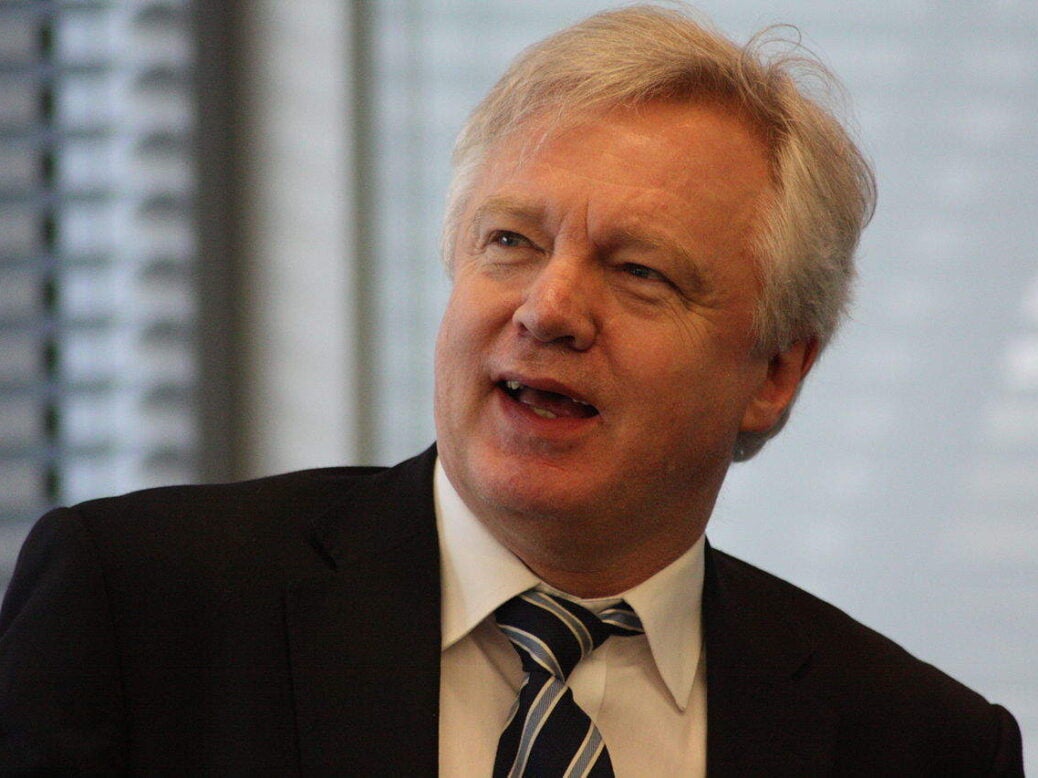 In terms of Brexit, there are few more important people than David Davis.
After Brexit, Davis was appointed secretary of state for leaving the European Union, a brand new title made just for him.
And, in terms of experience, Davis is a safe pair of hands to mastermind Brexit.
During his time in office, Davis has held numerous senior positions within government.
He was a minister of state for Europe from 1994 to 1997, chairman of the public accounts committee between 1997 and 2001, and shadow home secretary from 2003 to 2008.
Despite his opposition to abortion, fertility treatment, embryo research and LGBT rights, Davis is noted for his passionate support of civil liberties.
As shadow home secretary, he campaigned against the Labour government's plan to introduce national identity cards. He's also been unafraid to team up with Labour MPs, despite his Conservative background, to fight on issues of civil liberty.
In fact, once he felt so strongly that he resigned from being an MP in order to raise awareness of civil liberty issues and the UK government's involvement in torture.
What does David Davis think about Brexit?
Considered a passionate eurosceptic, Davis has nonetheless been on both sides of the Brexit debate at one time or another.
At the divisive signing of the Maastricht treaty (the precursor to the EU as we know it) he acted as pro-EU prime minister John Major's chief whip.
However, on the other hand, Davis has expressed anti-EU sentiment time and again. Essentially, Davis' opposition to the EU centres around his belief that Europe stagnates growth and trade for Britain. Writing for ConservativeHome, Davis outlines his opposition to the EU:
Economic growth on the continent has ground to a halt. Since the turn of the century, the EU has grown at a third of the rate of the global average, and the Eurozone has grown even more slowly than that. Europe's share of global GDP is falling, as is its share of global trade. This trend is expected to continue. When we last voted on our membership in 1975, trade with Europe was the vast majority of our total trade. This has fallen since then, and in 2008 the UK started to trade more with the rest of the world than with Europe. The fact is that Europe is becoming less and less important. The Euro has become a destroyer of jobs. Unemployment across the continent is running at almost 10 per cent, with youth unemployment double that at 20 per cent. For individual countries, these figures are even worse… Then there is the Schengen Zone. The passport-less travel area once held up as the pinnacle of European integration is crumbling before our very eyes. The migration crisis that has brought more than a million refugees to Europe's shores, with many more expected to come, is a stake in the heart of a borderless Europe… From the faulty European Arrest Warrant, that has led to innocent Brits being detained for months overseas in terrible conditions without trial, to the slow steady creep of the jurisdiction of the European Court of Justice, we are increasingly finding that our justice system is incompatible with the one on the continent. So the problems facing the EU are mounting up. Economic stagnation, high debt, high unemployment, high regulation, ineffective foreign policy and failing internal policies.
Essentially, there are few areas of the EU that Davis doesn't hold in contempt.
However, despite numerous oppositions to the European Court of Human Rights, he has also suggested he wishes the UK to remain within its jurisdiction.
He suggests that to leave the ECHR would encourage other countries with worse human rights records to do so too.
What will David Davis' role be in the Brexit negotiations?
While Theresa May and the rest of her cabinet (led by Davis) have been involved in working out general negotiating positions for Brexit, it is Davis who'll do the bulk of the actual negotiating.
It is him who'll be sitting down with EU leaders to hammer out the specifics of any deals between Britain and the EU.
In an article on ConservativeHome, Davis laid out some general policy positions:
"At the moment all businesses in the UK must comply with EU regulation, even if they export nothing to the EU. This impacts on our global competitiveness. Instead, we should look to match regulation for companies to their primary export markets."
"We can significantly improve our growth rate by stopping the flood of unnecessary market and product regulation."
"We should also continue with the programme of lessening the tax burden.  In particular, I would focus on reducing taxes that have a deleterious or distortive effect on growth. This Conservative Government has already done good work in this area, with corporate tax rates cut from almost 30 per cent to 20 per cent, and with plans to cut the rate to 15 per cent."
"This leaves the question of Single Market access. The ideal outcome, (and in my view the most likely, after a lot of wrangling) is continued tariff-free access. Once the European nations realise that we are not going to budge on control of our borders, they will want to talk, in their own interest. There may be some complexities about rules of origin and narrowly-based regulatory compliance for exports into the EU, but that is all manageable."
"European Union law will be transposed into UK law at the time we leave, providing certainty for workers, businesses and consumers. This will be an act of parliament which we intend to have in place before the end of the Article 50 process."
Of course, as it stands, much of the negotiating is going on behind closed doors but we know that the general plan is to pull the UK out of the single market and the EU custom's union, even during a transitional phase between Brexit and fully leaving the EU.