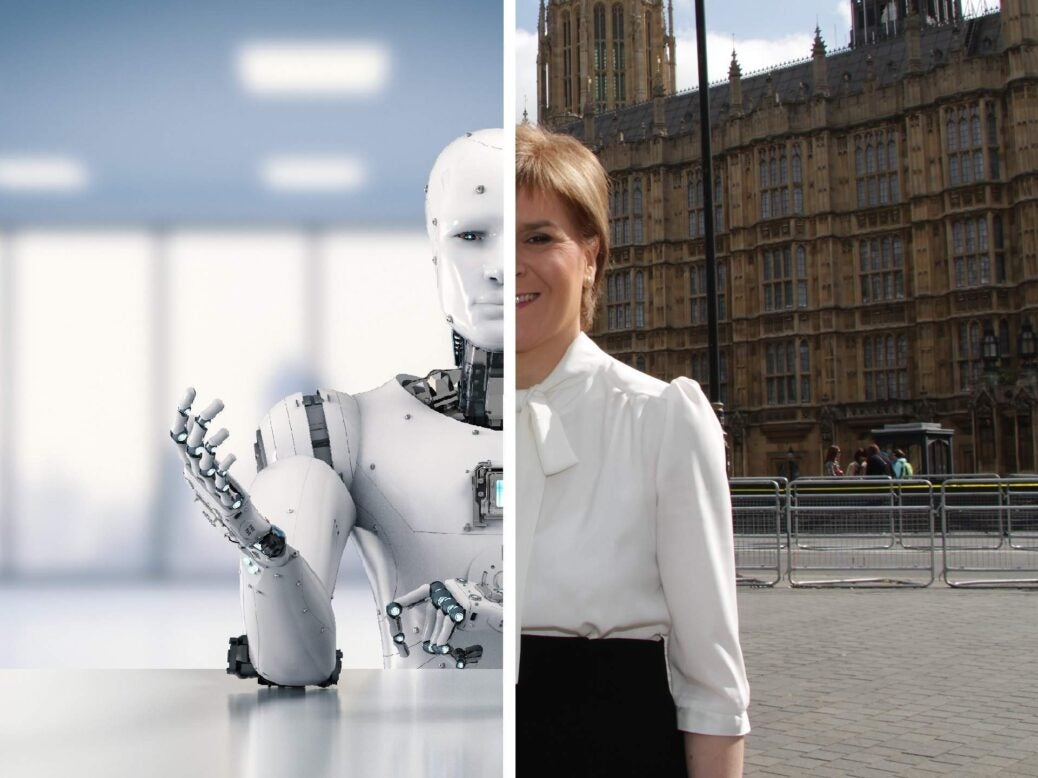 Brexit talks are in turmoil, with a number of key government officials handing in their resignations in response to Theresa May's Brexit strategy.
While those in London struggle to figure out what exactly they will do once we reach the Brexit deadline, Nicola Sturgeon is pushing ahead with plans to turn Scotland into a post-Brexit innovation hub.
Speaking at FutureFest, a tech and innovation festival ran by innovation foundation Nesta, the First Minister of Scotland outlined her plans to compete with the world's biggest nations in areas such as big data, artificial intelligence and renewable energies.
Sturgeon said:
"Innovation, of course, is in Scotland's DNA. It's a key part of our history. It speaks to our very senses of who we are as a people and as a country. [There have been] inventions and discoveries from Scotland down the generations, from James Watt's improvements to the stream engine, through to the telephone; the television; penicillin.

"All of these inventions demonstrate that Scotland has quite literally helped to shape the modern world.

"But innovation is not just about the past. It can't just be about the past. We know that innovation is central to our future prosperity, success and to our future well-being, and that's why we've made promoting innovation the central focus of our economic policy."
Exporting innovation
As part of the push towards being part of the future, the Scottish government is encouraging innovators and entrepreneurs with potential tech solutions to public sector problems to come forward to work with public sector experts to develop their products or services through a scheme known as CivTech.
Sturgeon's government sees this not only as a way to improve the lives of Scotland's population, but also a way to help the nation to find its place in the US and China-dominated tech market.
Sturgeon said:
 "At the very core of CivTech lies the ambition to solve big societal challenges collaboratively and then export the solutions to the rest of the world.

"We want Scotland in the future, just as we have in the past, to be inventing, designing and manufacturing the innovations and the products that will shape the world of tomorrow."
The nation will give forward-thinking companies with ideas that will benefit Scotland the financial support that they need to thrive and succeed.
Scotland is currently in the early stages of setting up a new national, publicly-owned investment bank. This will help to ensure that companies have access to long-term capital while they're developing their products. The bank, which the Scottish government hopes is operational by 2020, will provide £2bn in capital in its first 10 years.
"We want to provide the sources of long-term, patient capital that allows our most entrepreneurial and ambitious companies seeking to tackle the big challenges of our time the finance that they need to thrive and to succeed," Sturgeon explained.
We're all invited
As part of its push to become a leader in innovation, Scotland is hoping to attract new talent, both in the form of individuals with big ideas and forward-thinking companies.
The negatives of migration has been largely discussed in relation to Brexit and mainland Europe continues to talk over the ongoing migrant crisis. However, Scotland will welcome others in with open arms.
Sturgeon said:
"Scotland's openness to new ideas includes an openness to new people and to new talent. At a time when, in my very blunt view, too many politicians across the country and many countries in Europe, want to talk often erroneously about the negatives of migration and of people travelling across different countries, the Scottish government has a very different message that we want to spread far and wide.

"We want people to come to Scotland. We want people to do us the honour of making Scotland their home and joining us in building the forward-looking, positive, progressive country that we want to be."
Scotland: The new Silicon Valley?
Right now it's hard to sell anywhere other than Silicon Valley as the place to be for young startups looking to get noticed. There is more capital available in San Francisco, a fuller talent pool and access to better mentors and support. However, Scotland hopes that it can challenge Silicon Valley in key areas, such as sustainable energy and transport, through new initiatives and incentives.
ShareLab Scotland, a scheme ran by the government in collaboration with Nesta, is a fund aimed at attracting talent to Scotland. The fund, which will allow social entrepreneurs and innovators to apply for grants of up to £33,000, will provide financial support, mentoring and advice to organisations.
Sturgeon called ShareLab a "further way in which we can promote major economic and technological change,"
She hopes that by presenting Scotland as a place where companies can come to try new things and test new technologies, companies will flock to the country.
Sturgeon said:
"If we can create a market and offer Scotland as a platform for testing new ideas, we can encourage early investment in new technologies which can then be used around the world,"
Given the threat of stricter regulation in Silicon Valley in the wake of Uber's many controversies and Facebook's recent data scandal, tech companies could be more willing to take Sturgeon up on her office in the years to come.
Things more important than money
The success of a country is most often based on gross domestic product. Essentially, if a country is making money, it is doing well.
However, Sturgeon's new Scotland will measure success based on the happiness and wellbeing of its people. Scotland's aim isn't necessarily to create multi-billion dollar corporations, but companies that boost Scotland and benefit society.
Sturgeon said that she wants to "ensure that the economic advantages of new technology are captured, not just by the major corporations, or indeed entrepreneurs, but captured by society and for the benefit of society as a whole".
The Scottish government has recently released a new performance framework which it will use to track the nation's progress. It has put this framework together following consultations with people from all aspects of Scottish society. While economic growth is important, this framework also includes quality of life as a key success indicator.
Sturgeon said:
"We recognise that being a wealthier nation has to be the means by which we also become a fairer and a healthier and a happier country as well."
Read more: Which companies could leave the UK because of Brexit?