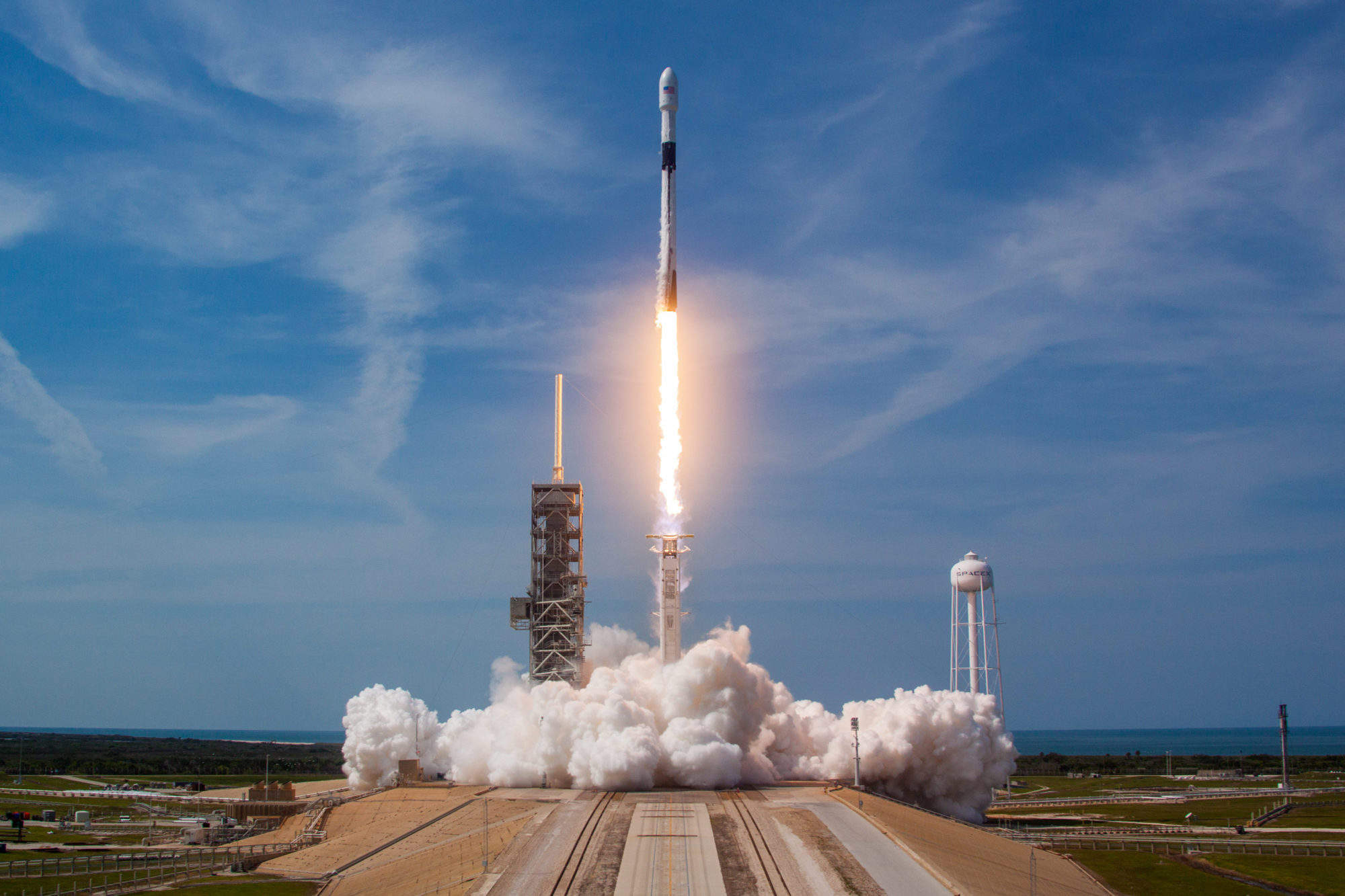 NASA has unveiled details of its first manned commercial trips to the International Space Station (ISS), reflecting growing support for commercial space travel.
Since NASA retired its fleet of space shuttles in 2011, it has been buying trips to the ISS on Russian Soyuz rockets.
But under NASA's commercial crew programme, private space companies Boeing and SpaceX will send astronauts to the ISS on rockets that they own and operate.
Uncrewed test flights are scheduled for late this year and early next year. If successful, the first manned trips to the ISS are scheduled to begin in mid-2019, with NASA awarding six flights each to SpaceX and Boeing.
NASA also announced the nine-strong crew who have been allocated to fly on the test flights and first missions.
Kathy Lueders, Commercial Crew Program manager at NASA Kennedy, said that the crew is already working on simulations on the flight systems.
How well do you
really

know your competitors?

Access the most comprehensive Company Profiles on the market, powered by GlobalData. Save hours of research. Gain competitive edge.
Company Profile – free sample
Thank you!
Your download email will arrive shortly
Not ready to buy yet? Download a free sample
We are confident about the unique quality of our Company Profiles. However, we want you to make the most beneficial decision for your business, so we offer a free sample that you can download by submitting the below form
By GlobalData
"They are providing input to the partners to help ensure the interior of the cabin is appropriately located and set up so crew can function and conduct key activities," she said.
"They're verifying crew layout, doing simulations where they're actually practicing their manoeuvres, and also checking out the software and the display systems, and everything else for the crew to be functioning safely in the spacecraft."
Trump likes space
The Trump administration has shown a keen interest in re-establishing the US' presence among the stars. In December, Donald Trump officially directed NASA to send astronauts back to the Moon after a 45-year hiatus.
With plans for space tourism and even a space hotel, it's about to get a lot busier up in the skies. That led to Trump announcing he would create a 'space force' to protect the US' extra-orbital interests.
It builds on an already healthy commercial space industry. When he's not sending his Tesla Roadster hurtling towards Mars, Musk's SpaceX transports cargo to the ISS using its reusable Dragon spacecraft.
These have all been unmanned missions, such as SpaceX's current contract with NASA to carry out 12 robotic supply flights for around $1.6bn.
Meanwhile, NASA paid Boeing $4.2bn to develop its CST-100 Starliner module. The spacecraft is designed to carry seven astronauts and has a similar cone shape to the Apollo spacecraft. However, its electronics are considerably more advanced than the craft that took man to the Moon.
"Our commitment has always been to provide NASA and those crews the highest level of mission assurance," said John Mulholland, vice president and program manager for Boeing's Commercial Crew effort.
"We believe the earliest time we can confidently do that will be in mid-2019 after flying an uncrewed flight test late this year or early next year.
"I'm incredibly proud of the progress our team has made, and it has been inspiring to watch them work through challenges quickly, while developing a brand new human-rated spacecraft that Boeing, NASA and the nation can be proud of."
NASA has said that SpaceX and Boeing have volunteered to perform uncrewed test flights of their rockets.
"This was above and beyond the NASA requirement in the contract," said Lueders.
"Both partners said they really wanted to have an uncrewed flight test to make sure the integrated rockets, spacecraft and re-entry systems are all working as designed to be able to ensure the integrated system is functioning."
Outsourcing to outer space  
The biggest driver for commercial space travel is the high cost associated with sending a rocket into space. SpaceX's focus on reusable craft has massively reduced costs per launch, with its Falcon Heavy costing just $90m per launch, compared to the hundreds of millions – and sometimes billions – spent by NASA.
Since 2012 the space agency has been outsourcing supply runs to private companies such as SpaceX and Boeing, renting its services like an extra-orbital Uber.
However, the cost may increase for NASA. A recent report found that SpaceX will increase its price by about 50% after new NASA requirements forced the company to redesign its Dragon spacecraft.
Private space stations and everyday space activities
It's not just space travel that is being commercialised either. Texan startup Axiom Space plans to send private space stations into orbit. With former program manager of the ISS Michael T. Suffredini at its helm and over 60 employees with NASA experience, it hopes to have its own space station in operation by 2022.
Commercial companies have long had a presence in space, with a constellation of over 1,700 satellites beaming telecommunications around the world. SpaceX has also been experimenting with internet satellites, which, if successful, could provide broadband internet service to people around the world.
James Muncy, founder of space policy consultancy PoliSpace and previous White House Office of Science and Technology policy adviser, said that commercial space travel is "vital" for humans to continue exploring space.
"NASA made this choice so it could focus on exploring beyond Earth orbit.  It has developed the planned Orion spacecraft and Space Launch System for exploring beyond Earth orbit, and they are prohibitively expensive to use for accessing ISS," he told Verdict.
"So more and more of the everyday activities in space must become commercial, with NASA focused on just the leading edge exploration. Having the government do everything with the American people just watching the government is not only unaffordable, but it's fundamentally undemocratic.
"Commercial crew, just like Virgin Galactic's suborbital Spaceship Two and Blue Origin's New Shepard, is a step forward in the democratisation and humanisation of space."
Commercial space travel: a boost for the economy
Total global space activity is worth around $330bn. Of that, 13% was from US Government space budgets. With the Bank of America Merrill Lynch predicting the space industry to be worth nearly $3tn in 30 years, private space companies are keen to establish themselves as frontrunners.
While only a select few have left the Earth's orbit, people around the world reap the benefits of space technology. Products made using such technologies include bridge shock absorbers, emergency blankets and baby formula. Studies also show that for every dollar spent during the space race, $7 to $14 were returned back into the US economy as the investment boosted innovation.
Over time, US government spending has decreased. NASA's 2017 budget was $19.5bn, which is 0.47% of total federal spending. This is significantly lower than the high of 4.41% from 1966.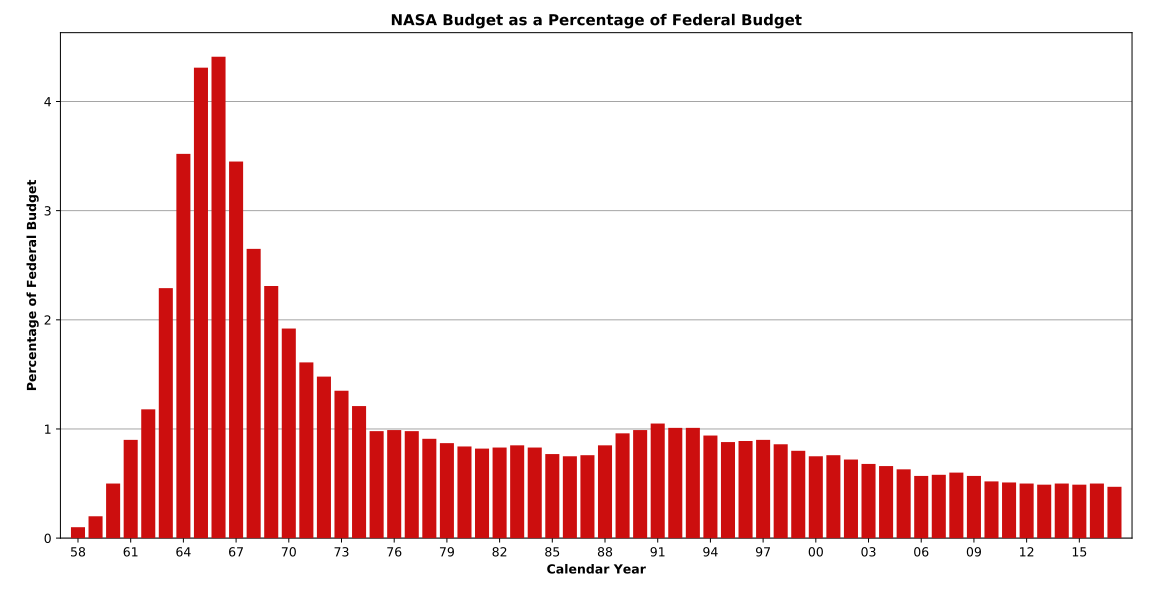 Private companies have been filling that gap, something that on Cowart, acting deputy manager for the Commercial Crew Program's Mission Management and Integration at NASA, believes will be to the benefit of future space travel.
"I see parallels between commercial crew and the early aviation industry, when government nurtured that commercial innovation," said Jon Cowart, acting deputy manager for the Commercial Crew Program's Mission Management and Integration office at NASA's Kennedy Space Center in Florida.
"In similar fashion, NASA is empowering private industry to gain solid footing in low-Earth orbit, which will allow NASA to explore new frontiers in deep space."