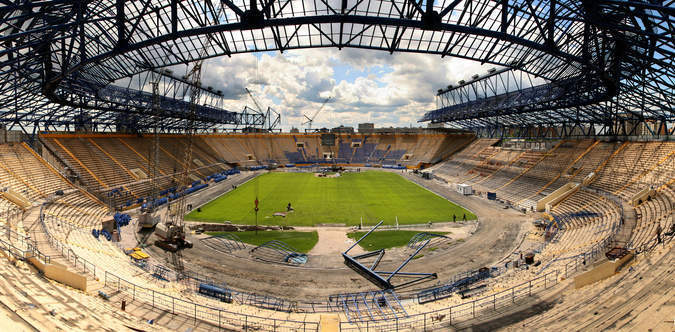 Hosting large sporting events is often seen as a win for city officials.
When the UK city of Birmingham was revealed as the host of the Commonwealth Games 2022 in December people were wary of the huge costs that would come with it and the often over-estimated benefit to a city's tourism industry and economy these events bring.
Politicians commonly rejoice at the news their city has been given the opportunity to host such a major sporting event; doing so supposedly brings a host of economic benefits and leaves a legacy – including increased tourism.
Ian Ward, the chairman of Birmingham 2022, has claimed the Games will "reset the profile and image of Birmingham".
The games will cost the government and Birmingham City Council an estimated £750m, though original budget estimates for such events are also commonly exceeded, or revised upwards.
London's initial estimated budget to host the 2012 Olympic Games was £2.4bn. And it might sound good that the final cost actually came in £528m under budget — only the final budget had been revised to £9.3bn – almost four times the original estimate.
But, the cost is supposedly justified by the economic benefits, which include a rise in tourism. Between 500,000 and one million additional tourists are expected to visit Birmingham over the 11 days the Games are in the city.
Major sporting events do attract tourists both internationally and domestically, and a rise in visitor numbers means a rise in spending levels which benefits local businesses, but, there is little evidence that the rise in visitor numbers is anything more than a short-term boost.
For the Rio 2016 Olympic Games, a number of new hotels were built to accommodate the surge in tourists, but occupancy rates have fallen since the city hosted the event as the rise has not been long-term.
In some cases, traditional tourists can be put off visiting while major events, such as the Olympics, are on due to increased prices and large expected crowds – this is known as "displacement".
A review of the London 2012 Olympic Games found that overseas arrivals for the third quarter of 2012 (the quarter the games were held) was 2.9 percent lower than the same period the year before.
Traditional tourist attractions in London also saw a fall in visitors of up to 60 percent while the Olympics were held in the city as tourists in London over this period were primarily there for the Games.
With such huge cost and dubious benefits, it's a wonder why UK politicians are still so eager to host such events. Other cities around the world have come to the realisation that doing so is not always worthwhile.
In fact, after the South African city of Durban could no longer host the 2022 Commonwealth Games after failing to meet financial deadlines, Birmingham and Liverpool were the only two cities to put in a bid. But, this doesn't necessarily make Liverpool the loser.