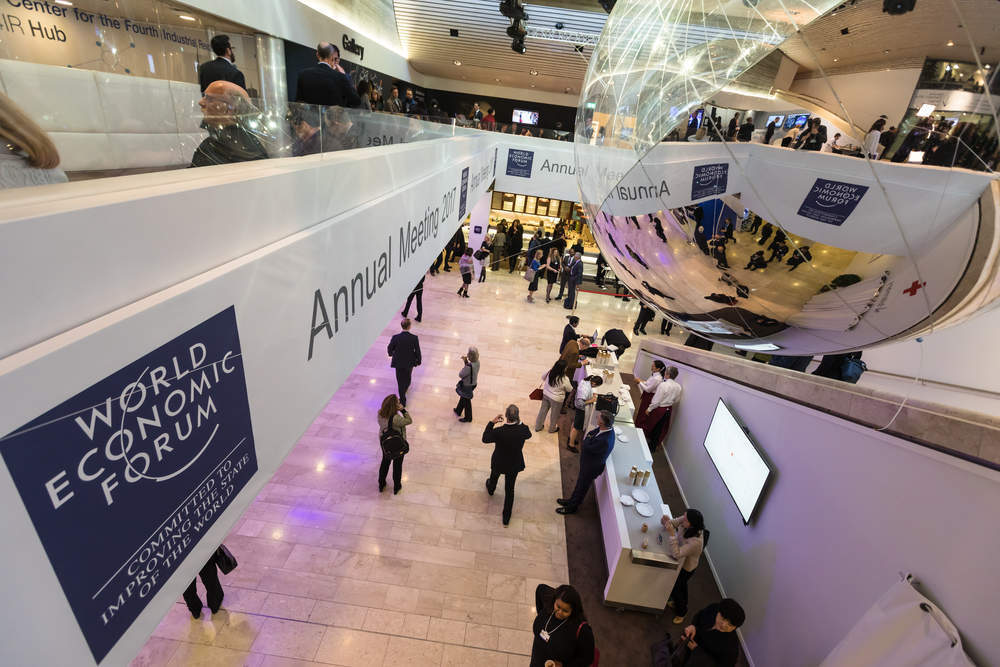 The World Economic Forum's (WEF) 48th annual meeting is coming to Davos, Switzerland next week. Here are the Davos attendees 2018.
The WEF's organisers are expecting a record number of leaders from G7 economies to attend, along with many other heads of state, leaders of government and international organisations, and business, civil society, academia, the arts and media, with some 400 sessions planned.
US president Donald Trump caused a stir when his administration revealed earlier this month he would be attending — while German chancellor Angela Merkel might also be there, potentially setting up a showdown between Trump and the world's globalist political establishment.
Read more: These are the biggest risks facing the world in 2018 according to the WEF
This year's opening address will be delivered by India's prime minister Narendra Modi, with Trump expected to deliver a keynote address before the close of the meeting.
Over 21 percent of participants at this year's meeting will be women, a higher proportion than at any previous meeting and the event will be chaired by seven women — the first all-female panel in its history.
The WEF 2018's all female co-chairs are: Sharan Burrow, general secretary of the International Trade Union Confederation; Fabiola Gianotti, European Organization for Nuclear Research's (CERN) general director; Isabelle Kocher, chief executive at Engie; Christine Lagarde, the International Monetary Fund's (IMF) general director, Ginni Rometty IBM chief executive, Chetna Sinha, founder of the Mann Deshi Foundation, and Erna Solberg, prime minister of Norway.
Read more: Davos 2018 attendee guide: live the life of luxury in the playground for the powerful
Other leaders from the G20 include Liu He, general director of CPC Central Committee of the People's Republic of China; Mauricio Macri, president of Argentina, Cyril Ramaphosa, deputy president of South Africa; Michel Temer, president of Brazil, and Alain Berset, president of the Swiss Confederation.
The recipients of the World Economic Forum's 24th Annual Crystal Awards are the actress Cate Blanchett, singer Elton John, and actor Shah Rukh Khan. The awards — presented on the evening of 22 January — celebrate artists who have "shown commitment to improving the state of the world".
The theme for this year's Davos meeting is Creating a Shared Future in a Fractured World.
Here's the full Davos attendees 2018 list
Shahid Khaqan Abbasi

His Majesty King Abdullah II ibn Al Hussein

David Abney

Enrique Acevedo

Paul Achleitner

Akinwumi Ayodeji Adesina

Stephen J. Adler

H.S.H. Prince Albert II of Monaco

Ilham Aliyev

Mike Allen

Sarah Al Amiri

Platon Antoniou

Frank Appel

Mercedes Aráoz

Johan C. Aurik

David Autor

Roberto Azevêdo

Mayssoun Azzam

Zeinab Badawi

Pascale Baeriswyl

Alice Bah Kuhnke

Gary Barker

Martin Baron

Maria Bartiromo

Inga Beale

Carol Becker

Anna Belkina

Marc R. Benioff

Alain Berset

Afsaneh Mashayekhi Beschloss

Shereen Bhan

Fatih Birol

Cate Blanchett

Henry Blodget

Rebecca Blumenstein

Michael C. Bodson

Rachel Botsman

Albert Bourla

Privahini Bradoo

Børge Brende

Jesper Brodin

Bruce Broussard

Patrick Brown

Nancy Brown

Tania Bryer

Erik Brynjolfsson

Thomas Buberl

Dan Buettner

Hessa Bint Eisa Buhumaid

Paul Bulcke

Elisabeth Bumiller

Sally Bundock

Sinéad Burke

Michael S. Burke

Ursula Burns

Sharan Burrow

Stewart Butterfield

Winnie Byanyima

Oliver Cann

Mauricio Cardenas

Mark Carney

Stephen Carroll

Ashton B. Carter

Juan Carlos Castilla-Rubio

Chan Chun Sing

Vikram Chandra

Natarajan Chandrasekaran

Jean-Yves Charlier

Chen Man

John Chipman

Benoît Coeuré

Alan D. Cohn

Vittorio Colao

Michèle Coninsx

Iain Conn

Michael Corbat

Steven J. Corwin

António Costa

Mary Cummings

Geoff Cutmore

Ray Dalio

Nico Daswani

Alexander De Croo

John Defterios

Kevin Delaney

Hailemariam Desalegn

Sue Desmond-Hellmann

Mariette DiChristina

Kirill Dmitriev

Paschal Donohoe

P. Murali Doraiswamy

Erbolat Dossaev

Andrzej Duda

Bani Dugal

Miriam Elder

Tony O. Elumelu

Mary Callahan Erdoes

Khalid Al-Falih

Fang Xinghai

Thomas Farley

Jeremy Farrar

H.M. King Felipe VI

Edward Felsenthal

Ben Feringa

Anthony F. Fernandes

Therese Fernandez-Ruiz

Christiana Figueres

Laurence D. Fink

Mary Flanagan

Stephanie Flanders

Jay Flatley

William Ford

Nicola Forster

Suzanne Fortier

John Fraher

Chrystia Freeland

Thomas L. Friedman

Adena Friedman

Ric Fulop

Orit Gadiesh

Hadley Gamble

Gao Jifan

Anwar Gargash

Katherine Garrett-Cox

Alice Gast

William H. Gates III

Atul Gawande

Paolo Gentiloni

Kristalina Georgieva

Mehdi Ghadyanloo

Tedros Adhanom Ghebreyesus

Carlos Ghosn

Fabiola Gianotti

Malusi Gigaba

Laurie Glimcher

Arancha Gonzalez Laya

Rajesh Gopinathan

Al Gore

Scott Gottlieb

Piyush Goyal

Filippo Grandi

Lynda Gratton

Mario Greco

Urs Gredig

Herman Gref

Michael Gregoire

Brian J. Grim

Dalia Grybauskaite

Ildefonso Guajardo Villarreal

Angel Gurría

Johannes Hahn

Seyed Salih Al-Hakim

Victor Halberstadt

Rami Hamdallah

Philip Hammond

Michael Hanley

Yuval Noah Harari

Jane Harman

John Harris

Ghassan Hasbani

Lars Heikensten

Mary Kay Henry

Karin von Hippel

Nobuyuki Hirano

Arlie Russell Hochschild

Frans van Houten

W. Lee Howell

Mishal Husain

Zeid Ra'ad Al Al Hussein

Jay R. Inslee

Omar Ishrak

Jayasree K. Iyer

Mohammed Al-Jadaan

Majid Jafar

Badr Jafar

Arun Jaitley

Philip J. Jennings

Jin Keyu

Jin Liqun

Jin Xing

Karan Johar

Elton John

Peggy Johnson

Adel bin Ahmed Al Jubeir

Jean-Claude Juncker

Jeremy Jurgens

Wanuri Kahiu

Joseph Kahn

Paula Kahumbu

Robert D. Kaplan

Majid Al-Kasabi

Ariella Käslin

Tom Keene

Dacher Keltner

Roula Khalaf

Sheikh Khalid Bin Ahmed Al Khalifa

Shah Rukh Khan

Risalat Khan

Dara Khosrowshahi

Jim Yong Kim

Isabelle Kocher

Chanda Kochhar

Kenji Kohno

Andrey L. Kostin

Nicholas D. Kristof

Neelie Kroes

Michal Krupinski

André Kudelski

Alexei Kudrin

Isabelle Kumar

Rajnish Kumar

Haruhiko Kuroda

Giorgi Kvirikashvili

Rachel Kyte

Francine Lacqua

Patrizia Laeri

Christine Lagarde

Carrie Lam

Corinna E. Lathan

Clifton Leaf

R. May Lee

Lee Geun

Donna Leinwand Leger

Bruno Le Maire

Rich Lesser

Helena Leurent

Maurice Lévy

Harris Lewin

Peter Limbourg

Xueling Lin

Ling Wen

Joanne Lipman

Carol Li Rafferty

Li Sixuan

Richard Liu

Liu Dashan

Liu He

Andrew N. Liveris

Li Xin

Jack Ma

Yo-Yo Ma

David W. MacLennan

Mauricio Macri

Emmanuel Macron

Kishore Mahbubani

Anand Mahindra

Cecilia Malmström

Pia Mancini

Emma Marcegaglia

Geraldine Matchett

Peter Maurer

Theresa May

Mike McGavick

Bill McGlashan Jr

Mark Meadows

Miriam Meckel

Mariam Mohammed Saeed Hareb Al Mehairi

Henrique Meirelles

Lorenzo A. Mendoza

Zanny Minton Beddoes

Min Zhu

Sunil Bharti Mittal

Emmerson Mnangagwa

Steven Mnuchin

Narendra Modi

Maryam Monsef

Mateusz Morawiecki

Alexey A. Mordashov

Jennifer Morgan

Brian T. Moynihan

Jan-Werner Müller

Patrik Müller

Timothy Murphy

Matthew Murray

Alan Murray

Louise Mushikiwabo

Elvira Nabiullina

Satya Nadella

Moisés Naím

Hiroaki Nakanishi

Takehiko Nakao

Arif M. Naqvi

Vasant Narasimhan

Abidali Neemuchwala

Michael F. Neidorff

Benjamin Netanyahu

Bronwyn Nielsen

Takeshi Niinami

Indra Nooyi

Alexander Novak

Omar bin Sultan Al Olama

Hilaree O'Neill

Naomi Oreskes

Hindou Oumarou Ibrahim

Trevor Paglen

Sara Pantuliano

Pedro Pullen Parente

Gavin Patterson

Muriel Pénicaud

Sundar Pichai

Steven Pinker

Linda Pizzuti Henry

Paul Polman

Ruth Porat

Petro Poroshenko

Dharmendra Pradhan

Matthew Prince

Becky Quick

Gideon Rachman

Alejandro Ramírez

Karuna Rana

V. Ramgopal Rao

Lars Løkke Rasmussen

Ren Hongbin

David Rhodes

Anne Richards

Louise Richardson

Vivian Riefberg

Neil Rimer

Chuck Robbins

Kenneth Rogoff

Ginni Rometty

Kenneth Roth

David M. Rubenstein

Gisbert Rühl

Mohammed Saleh Al Sada

Richard Samans

Ignacio Sánchez Galán

Juan Manuel Santos

Randy Sargent

Yasuhiro Sato

Kailash Satyarthi

Brian Schmidt

Dan Schulman

Klaus Schwab

Hilde Schwab

Stephen A. Schwarzman

Jennifer Zhu Scott

Davide Serra

Frances Seymour

Minouche Shafik

Daniel Shapiro

Lisa Sherman

Robert J. Shiller

Shu Yinbiao

Mehmet Simsek

Shailendra Singh

Chetna Sinha

Cecilia Skingsley

David J. Skorton

Soren Skou

James C. Smith

Bradford L. Smith

Robert F. Smith

William Smith Stubbs

Jim Hagemann Snabe

Erna Solberg

Erik Solheim

Arne Sorenson

Andrew R. Sorkin

Sir Martin Sorrell

Jens Spahn

Ulrich Spiesshofer

Linda Spilker

Jes Staley

Lynn St Amour

Guy Standing

Francesco Starace

Konrad Steffen

Joseph E. Stiglitz

Tarek Sultan Al Essa

Rajeev Suri

William Lacy Swing

Feike Sybesma

Heizo Takenaka

Tan Chorh Chuan

William Tanuwijaya

Mattar Al Tayer

Michel Miguel Elias Temer Lulia

Jonathan Tepperman

Kaan Terzioglu

Gillian R. Tett

Richard H. Thaler

Mohammed Bin Abdulrahman Al Thani

Tidjane Thiam

Nicholas Thompson

Charles Nainoa Thompson

Peter Thomson

Helle Thorning-Schmidt

Tian Wei

Jean-Pascal Tricoire

Justin Trudeau

Alexis Tsipras

Mark Tucker

Peter Kodwo Appiah Turkson

Mohammad Al Tuwaijri

Bernard J. Tyson

Muhamad Iman Usman

Leo Varadkar

Ali Velshi

Mark Vernooij

Ursula von der Leyen

Wai Wai Nu

Jimmy Wales

Lynette Wallworth

Dominic Kailash Nath Waughray

Axel A. Weber

Christophe Weber

Mark Weinberger

Devin Wenig

Theresa Whitmarsh

Susanne F. Wille

will.i.am

Bill Winters

Martin Wolf

Peter Wolodarski

Ngaire Woods

Xiao Yaqing

Xu Jinghong

Kwiri Yang

Yang Yanqing

Malala Yousafzai

Afsin Yurdakul

Hamza Yusuf Hanson

Saadia Zahidi

Fareed Zakaria

Javad Zarif

Ya-Qin Zhang

Feng Zhang

John Zhao

Zhu Ning

Alois Zwinggi