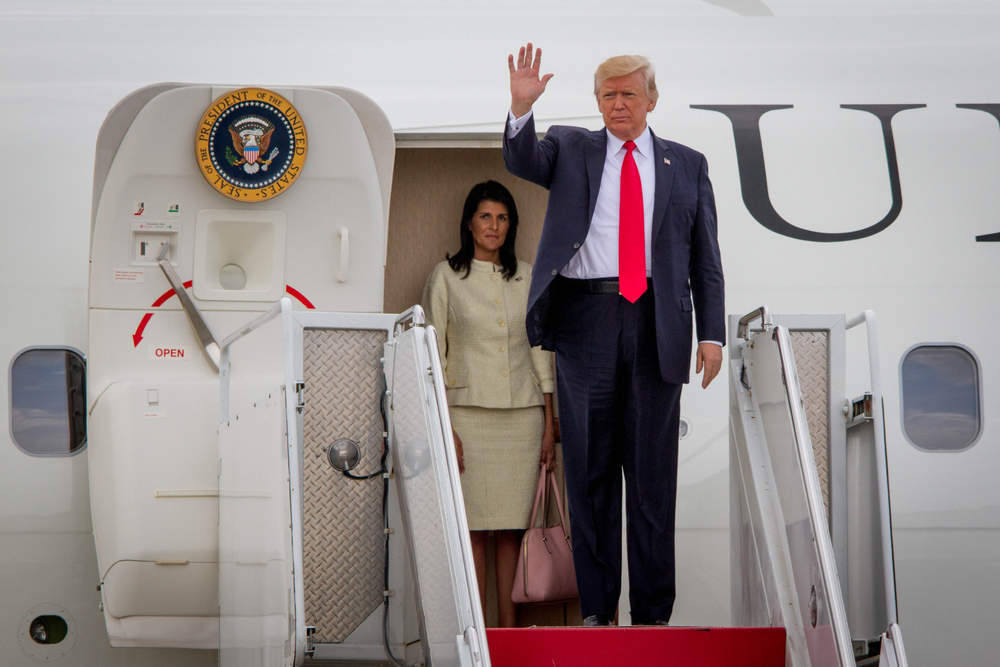 US president Donald Trump is going to be in Davos later this month for the annual World Economic Forum — an event known for its globalist ideals and elite attendees.
White House press secretary Sarah Huckabee Sanders said the president was looking forward to attending the economic symposium in the Swiss ski resort.
She said in a statement to the press:
The president welcomes opportunities to advance his America First agenda with world leaders. At this year's World Economic Forum, the president looks forward to promoting his policies to strengthen American businesses, American industries, and American workers.
The 48th World Economic Forum will take place between 23 January and 26 January in Davos-Klosters, Switzerland under the theme Creating a Shared Future in a Fractured World.
The even organisers say they want to "make a case for renewed commitment to international collaboration as a way of solving critical global challenges".
Klaus Schwab, founder and executive chairman of the World Economic Forum, said:
Our collective inability to secure inclusive growth and preserve our scarce resources puts multiple global systems at risk simultaneously. Our first response must be to develop new models for cooperation that are not based on narrow interests but on the destiny of humanity as a whole.
Read more: Davos 2018 attendee guide — live the life of luxury in the playground for the powerful
US presidents have traditionally eschewed the elite event that sees the world's richest businesses people and celebrities discussing global issues.
Trump's predecessor Barack Obama never went, nor did George Bush or his son George W Bush.
However, Obama's vice president Joe Biden attended the forum on behalf of Obama in 2017, just days before Trump's inauguration.
Former US president Ronald Reagan appeared in Davos for the World Economic Forum several times — but only via video link, while the first sitting US president to appear in Davos was Bill Clinton in 2000, at the forum's 30th anniversary session.
Clinton has also attended a number of Davos meetings after his tenure in the White House.
Last year Chinese president Xi Jinping offered a vigorous defence of free trade at the World Economic Forum in a speech that underscored Beijing's desire to play a greater global role.
Xi also cautioned other countries against blindly pursuing their national interests, in an apparent reference to the America first policies of Trump.
Here's who Trump will be rubbing shoulders with in Davos
India's prime minister Narendra Modi will travel to Switzerland on 22 January on a two-day visit where he will deliver a keynote address.
Pakistan prime minister Shahid Khaqan Abbasi is also expected to attend as is Norway's prime minister Erna Solberg.
International Monetary Fund managing director Christine Lagarde and IBM CEO Ginni Rometty will chair an all female forum this year.
The other co-chairs are Sharan Burrow, general-secretary of the International Trade Union Confederation, the world's largest trade union; Fabiola Gianotti, director-general, European Organization for Nuclear Research (CERN); Isabelle Kocher, CEO of ENGIE, and Chetna Sinha, founder of the Mann Deshi Bank, which provides microfinance to women in India.
Some 2,500 people from 100 countries are expected to participate in over 400 sessions during the event that attracts the world's top CEOs, celebrities, monarchs and intellectuals.