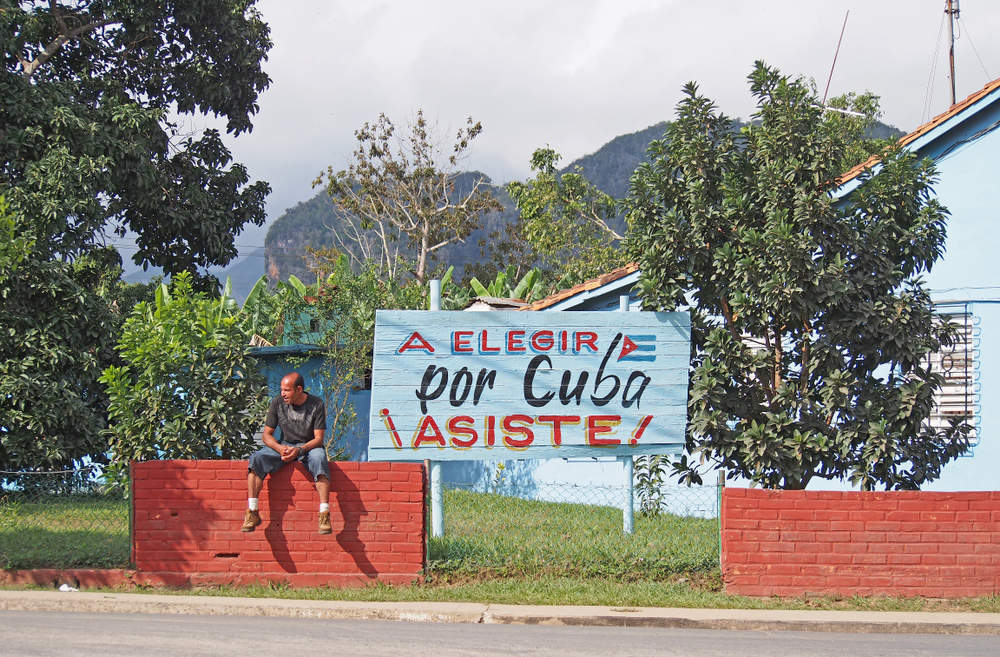 Earlier this month — on what happened to be the anniversary of the 1961 attempted Bay of Pigs invasion by the US CIA — Cuba's National Assembly selected Miguel Díaz-Canel as the country's new president.
Raúl Castro took over the Cuban presidency temporarily in 2006 because of his brother Fidel's illness, but it was made official in 2008 when his older brother announced he would not stand for president again.
At the 2013 National Assembly meeting, Raúl announced he would retire at end of his second five-year term in 2018 and also chose Díaz-Canel as his vice-president.
This was the country's first move towards integrating a younger generation into leadership positions and moving towards an eventual transfer of power from the old guard who fought in the 1953 revolution. Díaz-Canel was born after the revolution.
An electronic engineer by training 57-year-old Díaz-Canel has worked his way up the ranks of Cuba's Communist party.
After a brief stint as a university lecturer, he became party chief in his home province of Villa Clara in the 1990s. He was known for working long hours and given the nickname Diaz y Noche (Day and Night) and supporting LGBT rights when homophobia was commonplace in the party.
How well do you
really

know your competitors?

Access the most comprehensive Company Profiles on the market, powered by GlobalData. Save hours of research. Gain competitive edge.
Company Profile – free sample
Thank you!
Your download email will arrive shortly
Not ready to buy yet? Download a free sample
We are confident about the unique quality of our Company Profiles. However, we want you to make the most beneficial decision for your business, so we offer a free sample that you can download by submitting the below form
By GlobalData
As a result of his success in Villa Clara, he was moved to Holguin province, the centre of Cuba's growing tourist industry and foreign investment in 2003. He was summoned to Havana in 2009 to be higher education minister, before being made vice-president in 2013.
Antoni Kapcia, director of the Centre for Research on Cuba in the Department of Spanish, Portuguese and Latin American Studies at the University of Nottingham said:
He was relatively unknown in 2009… although within the party he had clearly been identified as someone to watch.

When Raúl began a process of generational renewal in the provincial layers of the Party from 2007, Díaz Canel was one of those who was clearly seen as reliable and efficient and imaginative.
Raúl Castro's legacy
During his presidential tenure, Raúl initiated a modest reform agenda, despite some protests by his brother. This included reforms to the economy, as well to the constitution.
Fidel described his brother's minor liberalisation of the economy as concessions to the enemy, Raúl argued changes were necessary to make socialism in Cuba sustainable.
Sebastian Arcos, associate director of the Cuban Research Institute at Steven Green of International and Public Affairs of Florida International University describes Raúl's intention as "to extend the life of the regime without fundamentally changing its nature".
By allowing more private businesses to exist on the island, Raúl successfully trimmed the excessive state payroll, as well as leasing out fallow land to rural communities.
The number of self-employed Cubans has more tripled since 2011 to 580,000.
It is now much easier for Cubans to own property, computers and mobile phones, as well as travel outside of the country.
He also introduced a new law that offered tax cuts to foreign investors and renegotiated Cuba's external debts in order to help the country to re-integrate itself into global markets.
Constitutional reforms were approved in principle under Raúl, but few have been enacted. The main one to be enacted was presidential term limits.
Kapcia credited Raúl with being "instrumental in keeping on track the reform process" by "balancing basic principles and values with the need to update the meaning of socialism and to make the economy more efficient".
However, a lot of the promised reforms were not implemented or have been stalled or drastically changed.
Crucially, Raúl failed to unify Cuba's dual currency system which was implemented in 1994 by Fidel to encourage Cubans living abroad to send remittances home.
During the 2018 National Assembly meeting in which he handed over the reins of power, Raúl described the attempt to unify the two currencies as a "headache".
Cuba cannot seek the help of the IMF or World Bank because it withdrew from the institutions in the 1960s.
A former Cuban central bank economist, Pavel Vidal, has estimated that the nation's economy is one third smaller than it was in 1985 when the country was receiving substantial financial support from the Soviet Union.
Government statistics estimate the economy has grown 2.4% in the past decade accompanied by a stagnation of exports.
The think tank Brookings estimates agricultural output has stagnated over the past decade and Cuba has to import between 60% and 70% of food consumed. Reuters estimates the sugar harvest fell 305 to its lowest level in more than a century in 2017.
The economic collapse of Cuba's closest ally Venezuela has not helped the Caribbean island's economic situation. Venezuela's GDP has declined by 30% in the past four years.
Havana has exhausted its credit lines with China and Russia is not an economic powerhouse, like it was in the 1980s, so cannot step in, according to the Financial Times.
The slow pace of reforms and the limited improvement in earnings and living standards of ordinary citizens has led to a lot of resentment; this is especially true in the countryside.
State wages remain at approximately $30 per month and more than a two-thirds of Cubans still work in the public sector.
William LeoGrand, American University professors told the Miami Herald:
The economic reforms launched in 2011 promised both, but they have yet to deliver and the forward progress of the reforms appears to be stalled.
Arcos told Verdict:
"His [Raúl's] reforms created a lot of expectations inside Cuba and abroad, among many who believe he was moving toward a Chinese model or even a democratic transition, but in the end disappointed."
However, Raúl's major achievement during his tenure was improving relations with the US under Obama.
Arcos said Raúl "proved to be more flexible than Fidel in dealing with the US, being able to put aside at least some of the anti-American rhetoric — on which Fidel built his own power base – in order to (partially) restructure the bilateral relationship with Obama".
Kapcia agreed. He said:
The partial détente under Obama also would probably not have begun with Fidel still in the saddle.

The reality was that, since Carter in 1977, no US President could ever contemplate easing up on Cuba while Fidel was in power.
However, US President Donald Trump has largely reversed Obama's policy changes. He has made it more difficult for US businesses to invest in Cuba and restored limitations on travel to the island.
Following a health scare late in 2017, the US embassy has 12 staff members, fewer than during the height of the Cold War. Cuba's presence in Washington has also reduced.
Approximately one million US visitors travelled to Cuba in 2017 and spent around $650 million, according to US-Cuba Trade and Economic Council. The island only received a total of 4.7 million visitors in 2017.
What to expect from Miguel Díaz-Canel
Although Díaz-Canel is the President of Cuba, he is not the head of the Communist party – Raúl retains that post – and members of the revolutionary old guard remain in important positions in both the government and the party.
Some believe this substantially narrows Díaz-Canel's space for manoeuvre if he did want to implement radical reforms.
In his inauguration speech, Díaz-Canel said:
For us, it's totally clear that only the PCC (the Communist Party of Cuba) guarantees the unity of the nation and of its people.

Raúl stays at the forefront of the political vanguard by his own merits. He will be in charge of the most important decisions for the present and future of the nation.
Arcos told Verdict:
Raul Castro is not stepping down from power. He continues to effectively rule Cuba as the leader of its two most powerful institutions, the communist party, and the military.

I do not expect any acceleration of reforms nor any radical moves from the new president, whose main role is to be the new face of the Cuban regime. Raul Castro will be constantly watching over his shoulder.
Frank Mora, former US deputy assistant defence secretary and current professor of international affairs at Florida International University told The Financial Times:
I expect that Raul will serve out the rest of his life somewhat like Deng Xiaoping did in China: with decreasing formal power but immense informal power — at least until he dies.
Ricardo Barrios, Latin America and the world programme associate at Inter-American Dialogue, a Washington think tank, agreed.
The recent political process hints that Raul and the old guard of Cuba's 'historic generation' will remain influential players in national policy for several years to come. This is true within both state and party organs.

There are plenty of constraining factors, such as the handful of remaining conservatives in state positions and the supremacy of the Party, which will circumscribe just how much change can be effectuated by the new (state) leadership.
As does Kapcia. He told Verdict:
No measures are likely to be decided by the government which people know would go clearly against what he [Raúl] might want – he will still exercise authority, if not power, and due respect will still be paid to what he might think – very much what happened in 2008-16 with Fidel.
However, he also notes the ways their negative influence may be limited:
Since 2011, Raúl focused on bringing the Party down to size, and stopping it from interfering in government, and used the government and Assembly to by-pass the Party when the latter resisted changes.

So he is unlikely to allow a Party led by him to now revert to type and start interfering.
Arturo Lopez-Levy agreed with Kapcia's optimistic sentiment. He told the FT:
Inevitably, Díaz-Canel's appointment as president will also see a re-arrangement of patronage inside the party.

I think Díaz-Canel will have some space to enact reforms.
It seems that his presidency is intrinsically linked to Díaz-Canel's close personal relationship with Raúl.
The BBC has described him as a "staunch ally of Raúl" and noted that Raúl and Díaz-Canel entered the National Assembly chamber together as a symbol of continuity.
His selection as Raúl's vice-president and then successor seems to be "because of his loyalty to the party-state and overall competency", in the words of Inter-American Dialogue's Barrios.
In his inauguration speech, Díaz-Canel said:
There is no room in Cuba for those who strive for the restoration of capitalism.

The mandate given by the people to this legislature is the continuity of the revolution.

The revolution continues and will continue to be alive.
This situation leads Arcos to conclude:
This is not a "historical moment"…This is neither meaningful change nor transition. This is continuity.

The hand-picked new president has no personal power base and no military rank. He owes his current position to Raul Castro, and has little power to change anything. Like his predecessors before 1976, he is nothing more than a figurehead.
Cuban state media, which is tightly controlled by the government, repeatedly focused on the continuity that Díaz-Canel would bring including encouraging the use of the hashtag #SomosContinuidad (which means We Are Continuity) when tweeting about the election, as noted by Arcos.
As a result, experts generally expect there will be some modest reforms, but overall little concrete change.
He will be under pressure to improve the economic situation and improve the daily lives of Cubans, but Raúl's failure to achieve significant change despite his natural authority from being part of the revolutionary army means Díaz-Canel is likely to struggle.
Phil Peters, a former US State Department official and now Cuba consultant told the Miami Herald:
Cuba's new president will have to deal with all these tensions, without the benefit of the Castro surname.
LeoGrande wrote in the Conversation:
I don't expect any drastic changes in direction from Díaz-Canel – at least, not right away.
Barrios told Verdict:
"I expect, for example, a more concerted push to spread mobile and internet access, but only as long as they are not being used to access and spread information deemed detrimental to the political establishment's stability."
But he acknowledged that this depends on how much support he can gain from the rest of the Cuban political elite:
"Should Diaz-Canel gain the support necessary from the rest of the Cuban elite, we could see a more ambitious reform agenda, but this would likely be initially confined to the economic sphere."
Mora said:
Nobody expects big change, nor do I. But who knows: maybe Díaz-Canel will surprise.
However, Cornell University professor Lourdes Casanova said: "The new president may have no choice but to move toward a more market-friendly economy."
Analysts generally agree that the selection of a new non-Castro president will not have an impact on the relationship between Cuba and its large neighbour, the US.
Kapcia told Verdict:
I anticipate three more years of 'much the same', and after that it depends – on who is in the White House and who leads the party.
Pedro Freyre of Akerman, a US law firm that advises companies on doing business with Cuba told the Financial Times:
I don't see relations with the US getting any better soon.

If anything, I expect them to get worse.
The White House was dismissive of the change of Cuban President saying it did not think the Cuban people would gain greater freedoms and the government had no intention of softening its policy towards the communist country.
Heather Nauert, a US State Department spokesperson, said:
Cuban citizens had no real power to affect the outcome of this undemocratic transition process.

We are disappointed that the Cuban Government opted to silence independent voices and maintain its repressive monopoly on power, rather than allow its people a meaningful choice through free, fair and competitive elections.
It seems that the Trump's administration hard-line on Cuba is only emphasised by the selection of Mike Pompeo as Secretary of State and John Bolton as national security adviser – whilst working for George W Bush's administration, Bolton included Cuba on the so-called Axis of Evil list.
However, Barrios said:
Pompeo's comments during his recent confirmation hearing hint that he is also open to improving the relationship [with Cuba].
Díaz-Canel and Raúl both attacked the US in comments surrounding the National Assembly session.
The former said Cuba would not back down in the fact of "the threats from the powerful imperialist neighbour".
Raúl said during his farewell speech at the session:
Since the current US President came to power, there has been a deliberate setback in relations between Cuba and the US, and an aggressive and threatening tone prevails in the statements of said government.

US imperialism creates conflicts that generate waves of refugees. It pursues repressive, racist and discriminatory policies against migrants. It builds walls, militarises borders. It makes unsustainable the pattern of production and consumption, and gets in the way of cooperation in confronting climate change.
In addition, the first foreign leader to visit Cuba's new president was Venezuela's Nicolas Maduro. This meeting represents Díaz-Canel's first official act as Cuban President and affirms the strong alliance between Venezuela and Cuba, the US's two main adversaries in Latin America, which is based around exchanging oil for Cuban medical services and personnel.
Maduro told Cuban state media after the meeting:
We come to renew hope, to renew dreams and … above all, to visualise the ten years ahead.