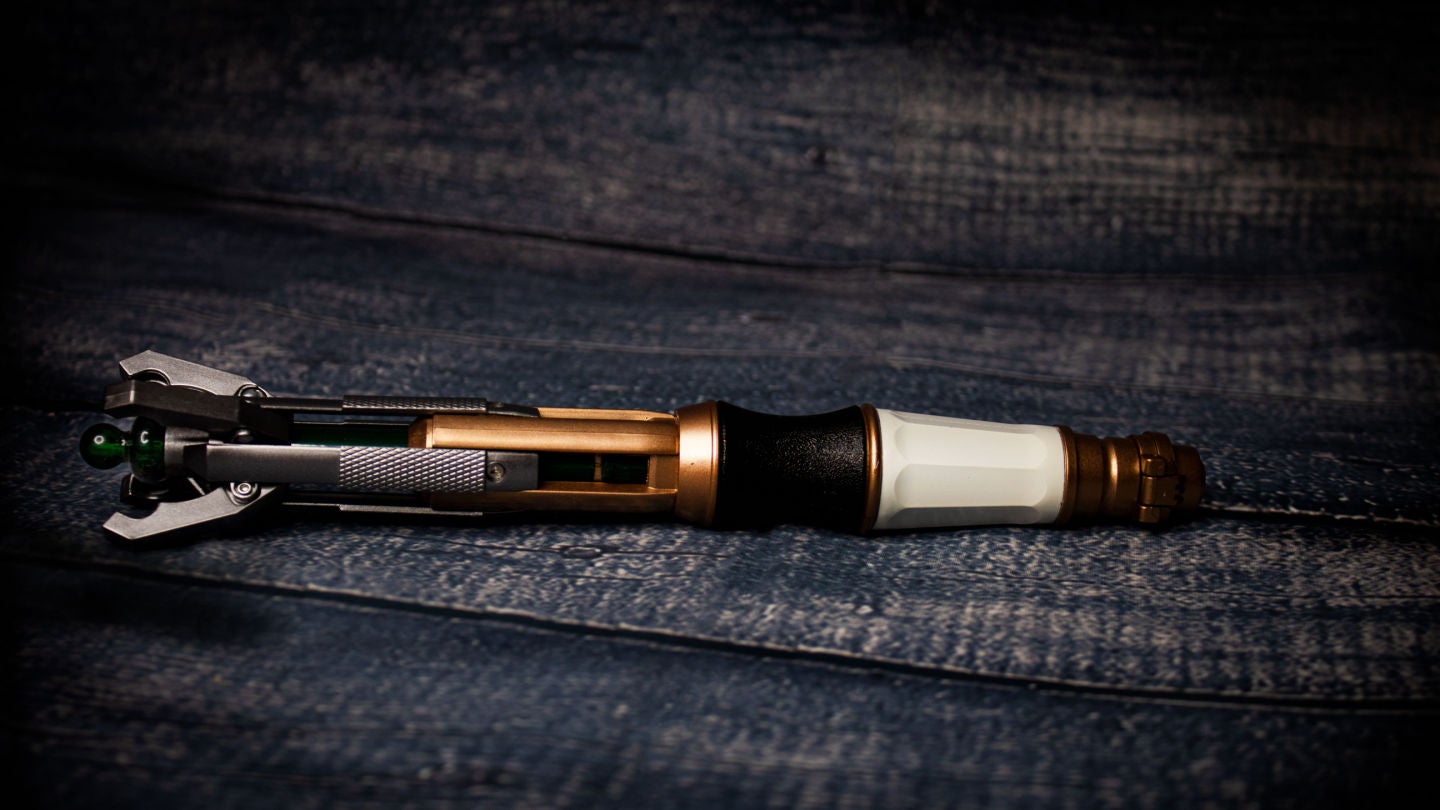 In its sixtieth year, it is worth looking back at some of the predictions made by the grandfather of science fiction television, Doctor Who. Of course, not all of them have come to pass. After all, the internet was not owned by one ruthless billionaire in 2012, and it remains to be seen whether we will have a colony on Mars by the 2050s. But it has predicted the future with startling accuracy on several occasions.
Doctor Who sonic technology
The sonic screwdriver is almost as iconic as the Doctor 'themselves'. It has helped the titular Timelord unlock doors, start fires, cut rope, disarm landmines, and scan companions for injuries. The minds behind the show actually wrote the tool out of stories in the early 1980s after it became something of a magic wand, capable of getting the characters out of seemingly any situation (though it returned in its full capacity for the modern revival).
Though sonic technology is not as useful as the show may have you believe, it is being used in one area the Doctor would disagree with: warfare. GlobalData's Thematic Intelligence report on Directed Energy Weapons states that high-power sonic weapons (or HPSWs) have "undergone development for several decades by major military organizations in China, Israel, the US, and the UK." Like the Doctor unlocking a cell door, sonic weapons use sound to affect a target. Depending on the strength of these weapons, they can create certain psychological effects, such as a general sense of fear or anxiety, or more potentially fatal biological effects. One of these is nausea, something the Doctor took advantage of when trapped inside the mouth of a giant space whale.
These weapons are still nascent and unlikely to be deployed on a massive scale anytime soon, but research is advancing.The report states that "the potential for the weaponization of acoustic devices has likely been overstated" but mentions that these devices have been used in a limited capacity. For example, the US Army's Long-Range Acoustic Device (LRAD) was used to enforce exclusion zones around naval vessels in the Middle East.
It is not all death and destruction, however. Sonic technology is being used in medicine too, in the form of high-intensity focused ultrasound (HIFU) cancer treatment. This procedure uses high-frequency sound waves to heat and destroy cancer cells and has the benefit of being non-invasive and low-cost.
Nanobots in Doctor Who
In 1941, after a plague of gas-mask-wearing zombies terrorized London at the height of the Blitz, the Doctor saved the day with nanogenes (or nanobots), proclaiming gleefully as the tiny robots healed the wounded masses, "Just this once — everybody lives!" Though nanobots are not nearly that miraculous—and forgetting for a moment that the nanobots actually started the plague—the idea of minuscule robots could revolutionize healthcare.
How well do you
really

know your competitors?

Access the most comprehensive Company Profiles on the market, powered by GlobalData. Save hours of research. Gain competitive edge.
Company Profile – free sample
Thank you!
Your download email will arrive shortly
Not ready to buy yet? Download a free sample
We are confident about the unique quality of our Company Profiles. However, we want you to make the most beneficial decision for your business, so we offer a free sample that you can download by submitting the below form
By GlobalData
As described in GlobalData's Robotics in Healthcare report, one of the leaders in this space is Bionaut Labs, which is using its remote-controlled micro-robots, Bionauts, to combat brain diseases. The Bionauts are "designed to move through fluid-filled spaces [and] can be directed to move, pierce tissue, and unload the contained therapeutics, before being safely directed back out of the patient." Having already tested its tech on large mammals, Bionaut Labs aims to begin human proof-of-concept studies in 2024.
Though it is still early days for this technology, and losses from unsuccessful research are heavy, the market is growing. According to GlobalData's Patent Analytics, there were over 60 patent applications for micro-robots in healthcare between 2019 and 2022. It will only take a handful of successful applications to instill confidence in this futuristic technology.
Robotics
The Doctor is no stranger to robots. Over the last sixty years, these have ranged from killer machines to faithful companions. One of the most well-known is K9, the Fourth Doctor's trusty robot dog. Current iterations of robot dogs might not be as capable as K9, but the technology is fast advancing, and these machines are used for various tasks. The most well-known is Boston Dynamics' Spot, which has gone viral for its adorable dance routine as well as being used to help explore and excavate archaeological sites like the ruins of Pompeii.
The robotics market is growing and is quickly entering the realm of what was once science fiction. GlobalData forecasts predict the sector will be worth over $586 billion by 2030. One of the biggest areas of development for these robots is in the military, and the weaponization of these robots is a real concern. In 2021, the US Department of Defense (DoD) allocated $7.5 billion for the development and procurement of unmanned robotics systems and related technologies. In Doctor Who, K9 may have used his nose laser in self-defense, but that is a far cry from a robodog with a mounted machine gun, as was recently seen in footage on the Chinese social media site Weibo.
But there is still hope for our mechanized future. Six influential robotics companies, including Boston Dynamics, released an open letter in 2022 vowing that they will not let their robots be weaponized. They stated: "We believe that adding weapons to robots that are remotely or autonomously operated, widely available to the public, and capable of navigating to previously inaccessible locations where people live and work, raises new risks of harm and serious ethical issues."
Doctor Who may not have predicted the future with 100% accuracy, but the writers over the past 60 years have successfully identified numerous technologies that have since grown exponentially, as any good science fiction is wont to do. It is interesting to imagine 60 years into the future and consider which technologies will have fallen by the wayside by 2083.