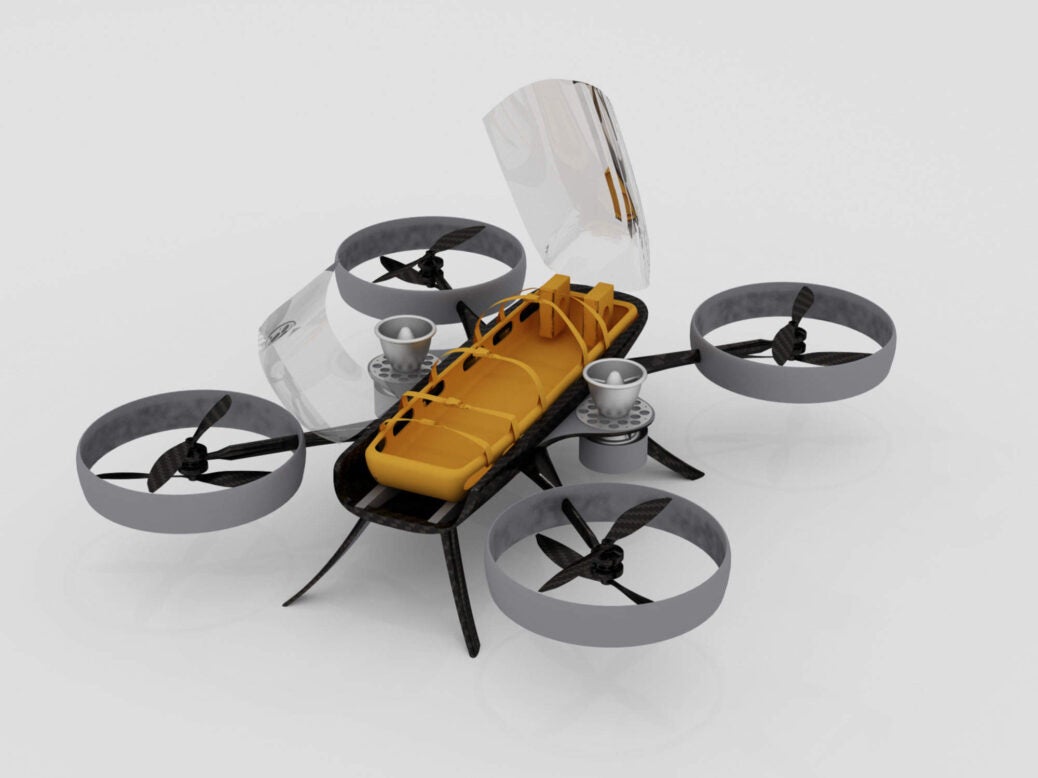 A drone ambulance that is capable of operating autonomously while carrying a single injured passenger has been awarded $20,000 to fund its further development.
Engineer Vicenzo Navanteri, the designer of the drone ambulance, was awarded the Prince Alvaro de Orleans-Borbon Grant this weekend at the 2nd FAI International Drones Conference and Expo in Lausanne, Switzerland.
"It is a pleasure to receive this grant, and to use it for development," said Navanteri at the award ceremony. "As a company it is what we need. And, more than my own business, it will support the general development of this type of technology."
The all-weather drone ambulance
The drone ambulance is designed to be able to operate in all weather conditions, and can travel up to 150km at speeds of 110km/h.
It can reach an altitude of 1,000m, and operates completely autonomously, arriving at supplied GPS coordinates. The drone ambulance is also equipped with on-board cameras, communications systems, medical monitoring systems and oxygen supply to assist with care while the patient is en-route.
While it is not designed to replace conventional ambulances, it could be a valuable alternative to helicopter ambulances, particularly in severe weather.
"The drone is intended mainly for rescue and first-aid missions," he said, giving examples such as "urgent interventions in remote villages, or where access is temporarily difficult".
It could also be used to transport vital equipment in disaster situations.
"Anywhere affected by any type of disaster – earthquakes, floods, even nuclear contamination zones," he explained.
Central to its design is eight battery-driven propellers, which are themselves driven by gas-driven micro-turbines. This allows it to have far greater range than previous large-payload drone designs, making it more practical for real-world use.
"This revolutionary blade-less and highly efficient micro-turbine technology is patented by us and is key to the long range of the drone," said Navanteri.
"The core of our business is the turbine that creates the electricity to power the drone. So I am happy because it means people actually understand that our technology will help move drones forward, away from simple 20-minute battery-life."