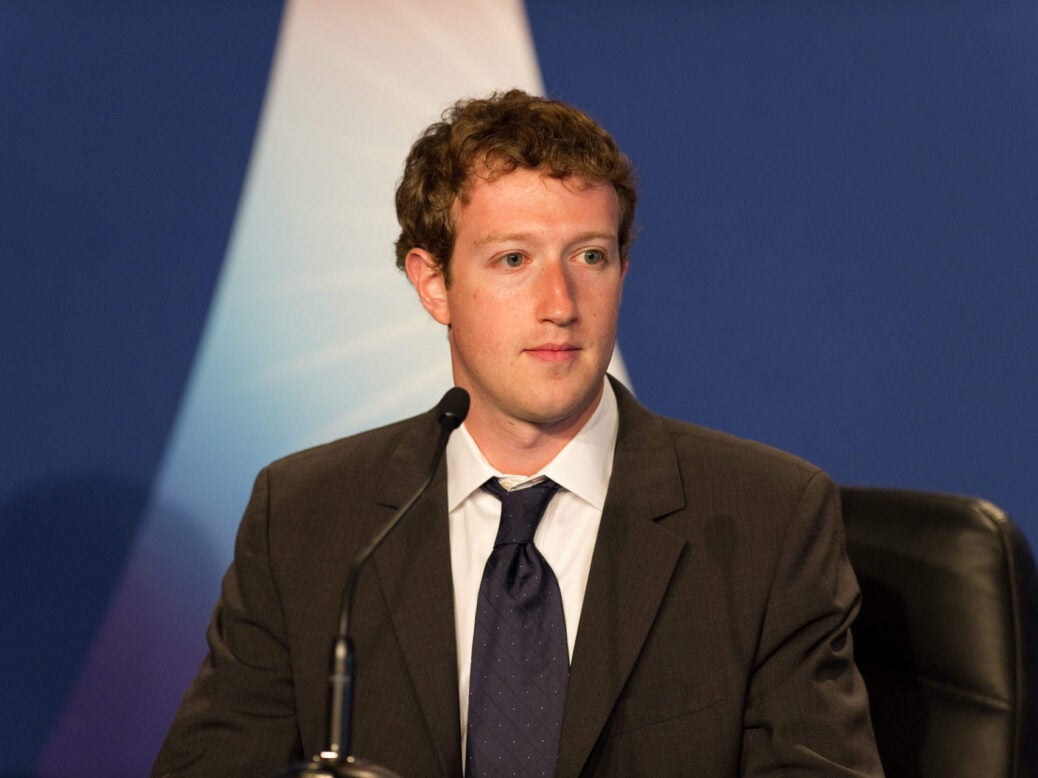 Last night Facebook shares tumbled by a fifth. Today the markets opened with Facebook showing a loss of 18.4%. The social media giant now has a market valuation that is $123bn lower than 24 hours ago.
The reason for this is far lower than expected projections of user base growth. In North America there has been no growth, and in Europe Facebook has shed around a million users.
"Ultimately, as a publicly traded company, which relies upon investor optimism, this sort of reversal of fortune is most likely a direct response to a loss of investor confidence based upon self-reported key performance indicators such as the number of daily active users and overall revenue forecasts," said Brad Shimmin, service director at GlobalData Technology.
However, this drop in users largely stems from the growing privacy movement and the surrounding regulations.
"It does appear that European privacy regulations factored into the share decline," said Amy DeCarlo, principal analyst at GlobalData Technology. "Facebook CFO Dave Wehner said in the earnings call that European privacy regulations are having a negative impact on advertising revenue growth in the region."
Facebook has been badly impacted by European regulations, with the recent Cambridge Analytica scandal resulting in a £500,000 fine by the Information Commissioners Office (ICO). But with GDPR only beginning to bite, and more privacy regulations expected in the US, the company's woes are far from over.
Facebook shares and the rise of regulation
While data protection has been a strong focus of discussion for some time, the topic is not going away any time soon.
"Regulation will remain a big theme for 2018 and 2019," said Cyrus Mewawalla, head of investment research at GlobalData.
"Users are realising that the last decade of their lives has been brutally monetised."
For Facebook, the immediate challenge is GDPR.
"Further bad news is to come for Facebook with GDPR. It has just started, but it is already increasing compliance costs for the company because they have to hire more people to monitor content," he said.
"GDPR will also slow revenue growth as Facebook is forced to remove fake users and fake news. It will also limit the personal data that social networks can profit from. "
While this topic has so far been mainly acted upon in Europe, Mewawalla does not see this remaining the case for long.
"The EU leads the world in issues like data privacy and the right to be forgotten, which are now beginning to resonate with people worldwide," he said.
"The US will ultimately be forced increase regulation rather than just being a bystander."
For Facebook, this will steadily increase costs with little opportunity for increased revenue – a combination that is sure to damage investor confidence.
Decentralised apps: the future of social media that will challenge Facebook's might
In the longer term, however, Facebook is set to struggle further. With the current ecosystem model of social media, there is only so much that regulation can do to protect personal data.
"The big internet ecosystems have established near-monopolies in their respective sectors by producing apps that combine user interface, software code and personal data and controlling this from their own clouds. If users move to rival service, they lose their data," explained Mewawalla.
In the long run, he anticipates the rise of decentralised apps, or dapps, that would change the dynamic significantly for users.
"Decentralised apps (dapps) would allow control of data to flow back to users enabling them to control access to their data," he said.
"The data would be stored in one place, controlled by the users and decentralised apps, say a social network or search engine, could access that data with the permission of the user. This would allow users to switch from one internet ecosystem to another without suffering the penalty of losing all their data."
For Facebook this would likely result in a serious hit to revenues.
"Longer term we see regulations separating data from apps and the cloud. Right now Facebook is a virtual monopoly because it controls all three," he said.
"When users genuinely control their personal data and Facebook has 'read-only' rights, there will be more competition because users will be able to switch from one social network to another without any loss of data or friend networks, and without any hassle."
Good news for users, but a significant problem for the ailing social media giant.