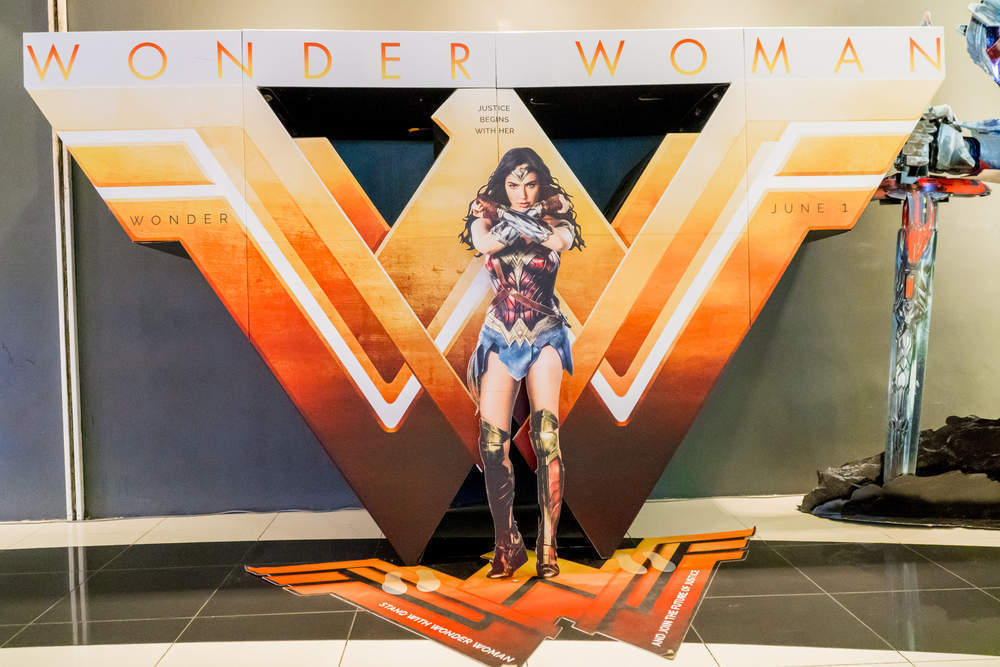 Hollywood still has a sexism problem — especially when it comes to female movie directors. One hardly needs a magnifying glass to peer into the murky, misogynistic waters of the matter.
In fact, you only need look at Wonder Woman — the biggest hit of summer 2017, directed by Patty Jenkins and starring Gal Gadot — to see Hollywood needs to re-think its old ideas.
Wonder Woman is the 5th highest-grossing superhero film ever made. This summer it made over $20m more than Guardians Of The Galaxy Vol. 2 despite being part of a much less well-regarded franchise.
It also had a budget $51m smaller than Marvel's big superhero effort.
Despite the success of the original Wonder Woman, Jenkins helming the sequel still hasn't had formal confirmation.
Meanwhile, previously successful female directors appear to have been cast aside by the industry.
Catherine Hardwicke who directed Twilight, a film which at the time had the highest grossing opening of a female director, hasn't made a major studio film since 2011.
Sam Taylor-Johnson took that record with 50 Shades Of Grey in 2015 and hasn't directed another film since.
Pitch Perfect 2's director Elizabeth Banks has also not been attached to any film as a director since 2015.
Clearly for women in Hollywood, one early success doesn't necessarily lead to further opportunities in future.
But why doesn't Hollywood like to hire female directors?
According to Slated, a data analytics firm, the reasons most frequently cited to explain why studios lack gender diversity are as follows:
Only directors with a hit independent film (or feature directing experience at all) can be considered for a studio film.
Male directors are simply safer financial bets for studio-size films.
There's not enough of a pipeline of qualified female directors.
However, their new research shows that all of these assertions are simply not true.
We're going to dig into all the data to see what the reality is and why Hollywood needs to stop making excuses.
Only male directors with a big independent film can be considered for a studio film
For a start, even if you take the word 'male' out of that sentence, it simply isn't true.
In fact, the majority of directors do not come from an independent film background.
The data shows 58.3 percent of studio directors came from other avenues to feature films.
Sure, there might be high profile examples like Colin Trevorrow going from the indie Safety Not Guaranteed to Jurassic World but they aren't indicative of general trends.
The idea seems to have sprung from the fact that the single area which produces studio film directors is independent cinema.
Indie directors make up 41.7 percent of the people studios pick to helm their films.
However, TV produces 11.3 percent, animation makes 11.3 percent, screenwriters are 10.9 percent, 6.6 percent were directors of adverts, and 5.3 percent of directors came from producing short films.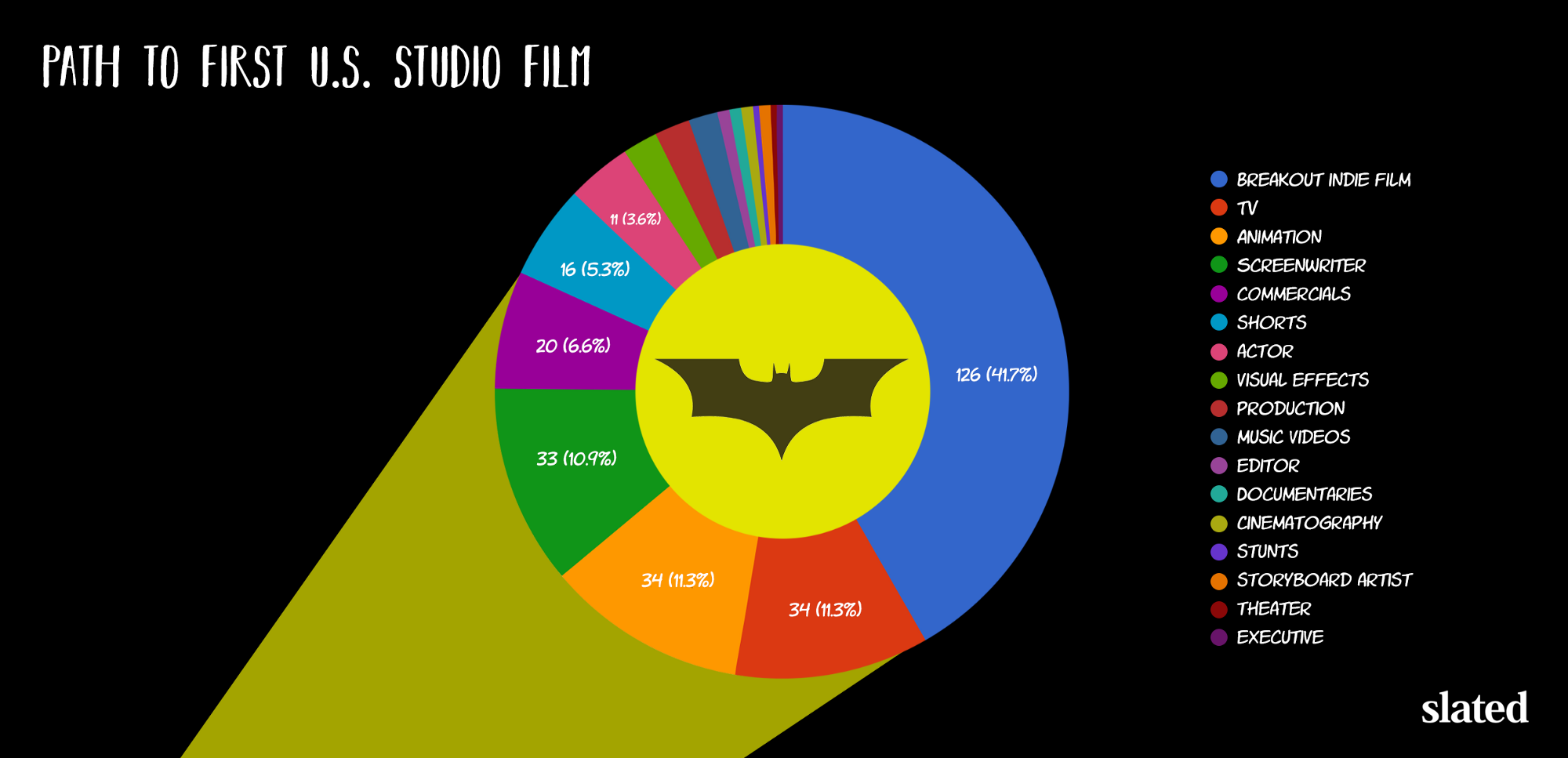 Click to enlarge
However, another part of the confusion is that for women, the best route to a major studio film is with an independent hit.
For female directors 64.3 percent do come through the indie film route compared to 40.5 percent of men.
A breakout indie hit isn't necessary in general, but for women it can be a proving ground that men don't need.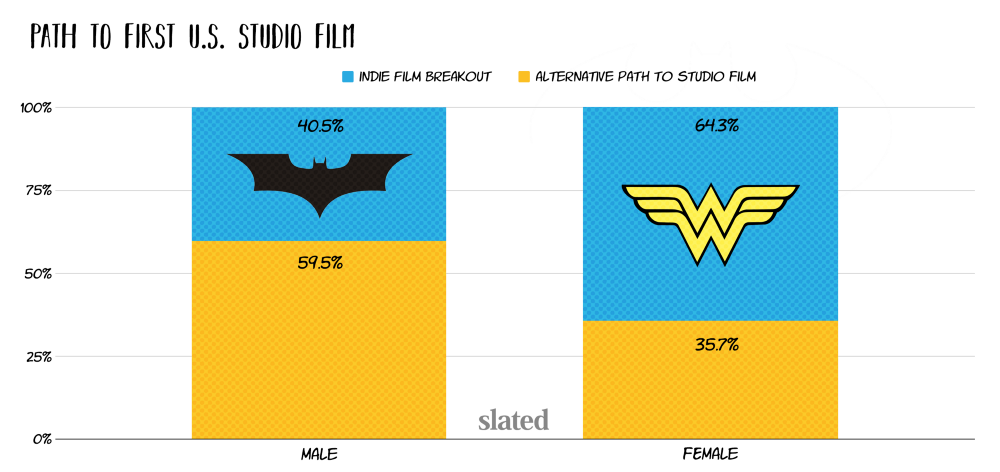 Click to enlarge
Male directors are simply safer financial bets for studio-size films
Nope, nope, nope. Just not true.
Female directors get smaller budgets and therefore generally smaller box office takings. However, the return on investment is not massively different.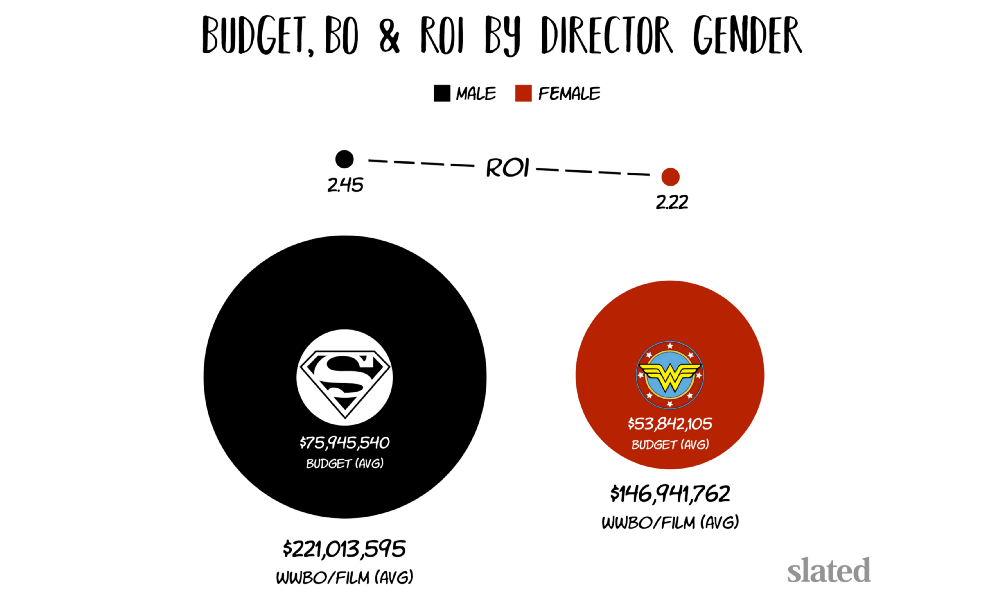 Click to enlarge
Sure, women do tend to have slightly lower ROI. Could that be because fewer female directors get the opportunity to work with major franchises which would be huge box office draws anyway?
There's not enough of a pipeline of qualified female directors
One issue that always comes up is that there simply aren't enough qualified female directors out there.
However, since 2010, hiring practices simply have not included women in the same way as men.
Slated's data examines the 125 women and 1075 men who had films released between 2010 and 2015.
They found that the studios bet on 1 in 3 male indie directors, but only 1 in 8 female indie directors.
Simply put, Hollywood hires female directors only four percent of the time for $25M+ budget studio movies, despite making up 15 percent of indie film directors in that same period.
Conclusion
We wrote recently that 2017's summer movie season has been pretty terrible box office earnings.
We speculated that the wealth of cinematic universes and franchise flicks are finally getting boring.
Perhaps if those franchises would start incorporating a more diverse filmmaker roster, they wouldn't have got quite so tiresome.
What's for sure is that there's no good reason that Hollywood can't diversify its directing roster. After all, look at the success of figures like Katheryn Bigelow and Ava DuVernay.
Female directors are just as capable and talented as their male counterparts. It's time Hollywood allows them to shine.