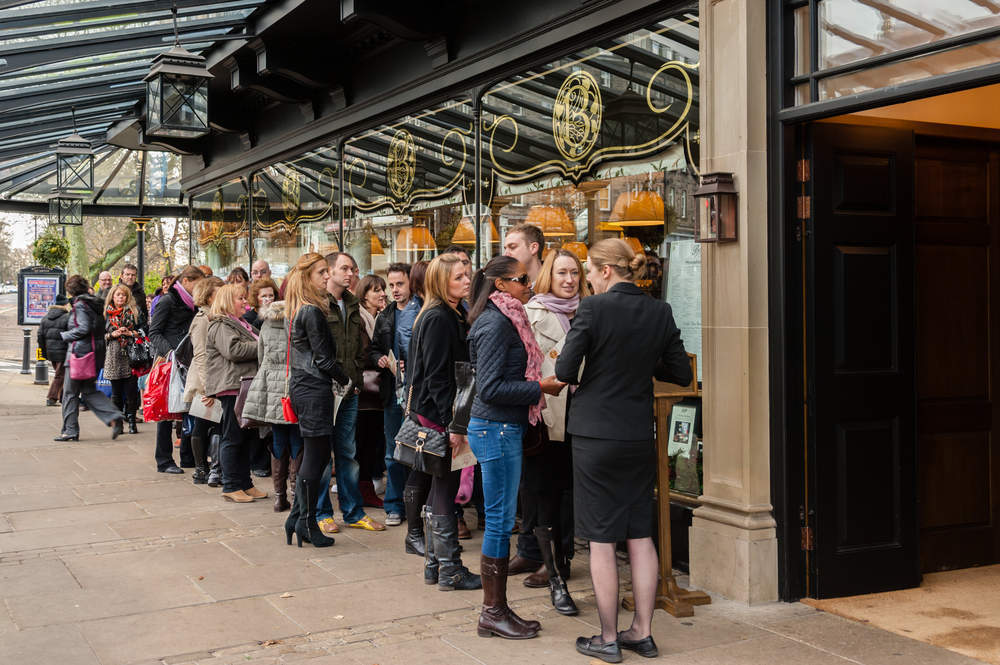 There's nothing worse than a waiting for a table when your stomach won't stop rumbling and your mouth won't stop watering. Luckily, Google is here to steer you clear of waiting lists and lengthy queues.
The search giant is rolling out a new feature that will show you the approximate wait times for the world's busiest establishments.
These estimates are calculated using the location history of opted-in Google users.
This is already used to provide features such as Google's traffic predictions and will likely work much the same. User devices track how long diners spend in the restaurant, which is likely compared against an average time. If a number of diners stay for longer than this average, it would suggest that there is a wait to be seated and show accordingly.
This may sound familiar if you've used the busiest times feature that appeared on Google search back in 2015.
That used old data to estimate when local businesses tend to get busy. However, Google restaurant wait times provide a much more in-depth insight.
The current time period will show live waiting time updates, informing searchers of how busy the restaurant is and how long they should expect to wait.
Likewise, future times will also display a predicted wait based on past data.
See below for a comparison of what the feature offered before and what it now offers:

Google restaurant wait times: more to come
Google has stated that it will be adding wait times to approximately 1m sit-down restaurants around the world.
The feature has been added globally. However, it seems that Google has focused on major areas first. The vast majority of results show in places such as London, New York and Los Angeles. We did manage to find wait times listed for some popular restaurants in places like Dubai and Sydney, but it appears to be much less frequent. This is likely to change as Google rolls out the new feature.
The search giant has confirmed that they are working to add a similar feature to supermarket listings, which we can only assume will estimate checkout times.
No time frame for any further updates has been provided. However, Google restaurant wait times are enough for now. If it stops us from turning up at popular joints, only to be turned away or put on a three hour waiting list, who can complain?
Here are just some of the popular eateries that Google has got covered:
Dishoom – London
These Indian restaurants are some of the most popular establishments in London. Scores of locals and tourists are eager to book a seat at one of Dishoom's five London restaurants. However, the vast majority of tables are kept unreserved, turning every night into a desperate scramble to get there ahead of the rush.
Weekends tend to see queues of foodies extending into the distance. However, now you can decide whether it's worth the wait before you leave your house. A 1pm lunch, for example, is worth the fifteen minute wait, but an hour in the cold on a November evening? No thanks.

Roberta's Pizza – New York City
Pizza is a staple in the New York food scene and nowhere serves up bread, tomato and cheese quite like Roberta's Pizza.
From the outside, Roberta's looks like a place best avoided. Located inside a bare-brick building complete with plenty of grime and graffiti, tourists would easily mistake the restaurant for a public toilet or abandoned storage unit. However, the Brooklyn based eatery is famous among locals for its pizza. As a result, wait times can supposedly stretch into the 2-3 hour mark some days.
According to Google, there will always be a wait to grab a slice of Roberta's pizza. Expect an hour wait on weekday evenings and at just about any time over the weekend.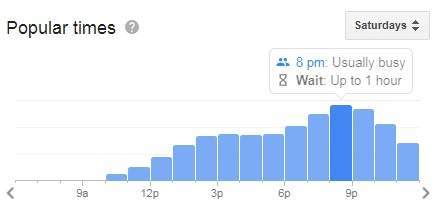 Burma Superstar – San Francisco
Burma Superstar has been attracting hungry diners to the outskirts of inner-city San Francisco since the early 1990s. Refusing to take reservations, it isn't uncommon to see a queue stretching out of the door.
And yet, visitors have few complaints. Burma Superstar's Burmese home-style dishes are ranked among the best that San Francisco has to offer according to online review websites. Waiting less than two hours for a table on a Saturday is supposedly short. Thankfully, you can now use Google to pick your moment, like 11am on a Wednesday, for example.