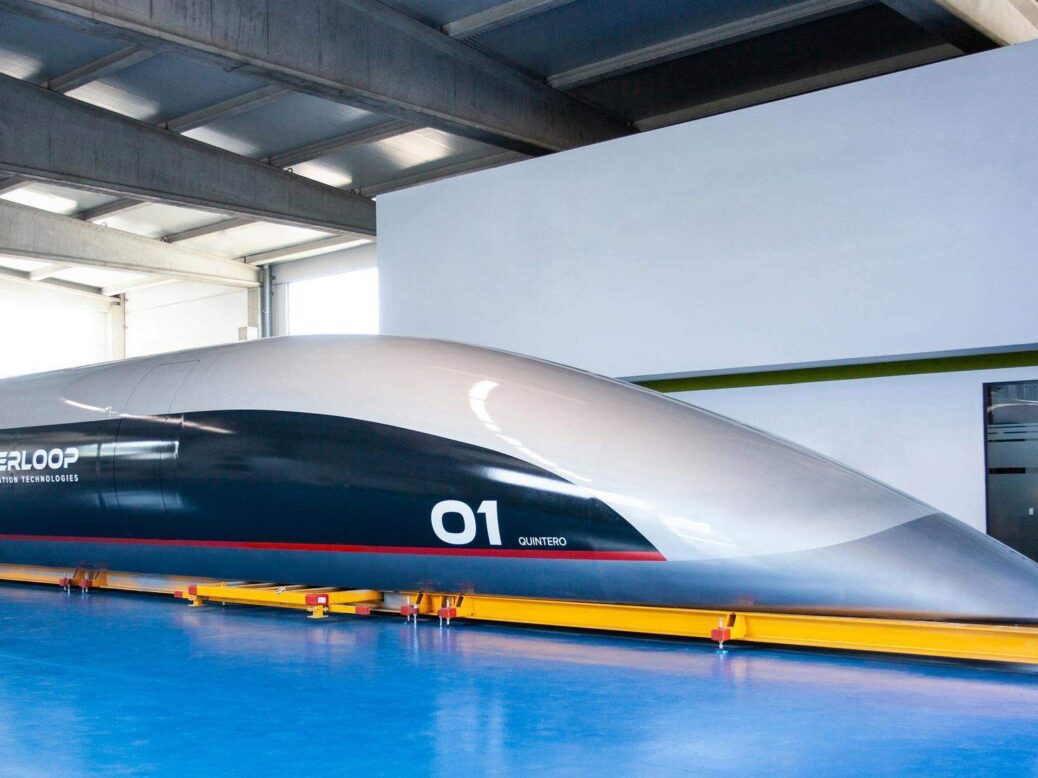 Hyperloop Transportation Technologies (HTT) has revealed the world's first full-scale passenger Hyperloop capsule, signalling a key milestone in the race for the world's first commercial Hyperloop track.
The 32m long capsule, named 'Quintero One', will one day be fired at speeds of more than 700mph in a near-vacuum tunnel using magnetic levitation.
Elon Musk, who coined the term Hyperloop, famously described the transportation method as a "cross between a Concorde and a railgun and an air hockey table".
HTT's Hyperloop capsule will fit between 28 and 40 passengers and weighs 5,000kg.
"The creation of this capsule represents over a year-long journey of the best expertise in design, engineering, and the development of cutting-edge materials," said Dirk Ahlborn HyperloopTT co-founder and CEO.
"In just five years we have solved and improved upon all of the technology needed for Hyperloop with our new levitation system, vacuum pumps, batteries, and smart composites.
"This capsule will be a part of one of the most efficient transportation systems ever made."
Since the first demonstration of a low-pressure Hyperloop run on 29 January 2017 companies have made steady progress. In April HTT began construction on Europe's first-ever Hyperloop track.
HTT rival Virgin Hyperloop One has plans for Hyperloop systems in Spain and India and has completed successful tests of its Hyperloop capsules.
Meanwhile, Musk's Boring Company secured a high-speed train contract in Chicago in June.
What is the first Hyperloop capsule made from?
The Hyperloop capsule took 21,000 skilled engineering hours to construct. It is made almost entirely from HTT's Vibranium, a dual-layer smart composite material – not to be confused with the fictional material from which Marvel's Captain America's shield is made.
As reported by The Verge, the material is "eight times stronger than aluminium and ten times stronger than steel alternatives".
Embedded into the material are 72 sensors that transmit critical safety information, such as temperature and stability.
The capsule was constructed with HTT's partner Airtificial. Its co-founder and chairman Rafael Contreras described it as "perhaps the safest transportation vehicle in the world."
However, that didn't stop Ahlborn telling CNBC that passengers would need to sign a waiver before boarding a Hyperloop capsule.
The capsule will be transported to HTT's research and development centre in France. There it will receive final assembly before being integrated into the system and ready to be used on the first commercial track.
Bibop Gresta, chairman and co-founder of HyperloopTT said in a company statement that he expects the capsule to be "fully optimised and ready for passengers" in 2019. However, in an interview with CNBC he said that it would be closer to three years before the system would be fully up and running.
"Since we have taken major steps in solving government regulations with our safety certification guidelines and insurance frameworks, we are now closer than ever to bringing Hyperloop to the world," he said.