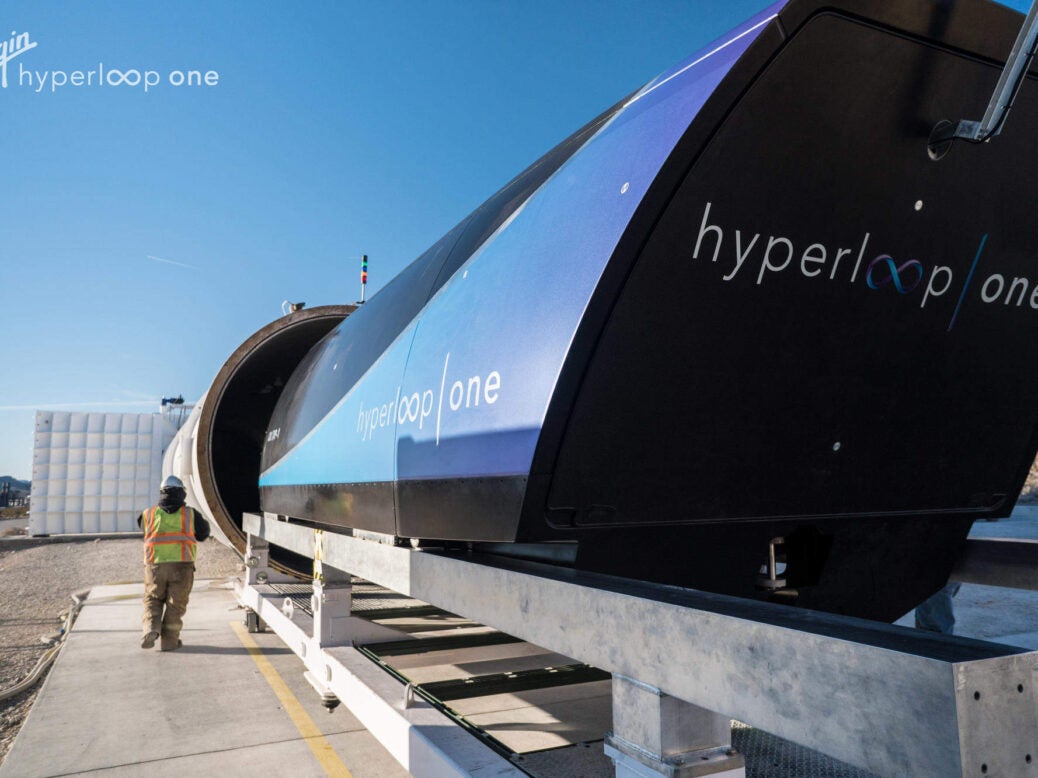 They may seem futuristic, but hyperloop trains could in fact be coming to the UK within the next ten years.
First popularised by Elon Musk before being rebranded after investment from Richard Branson, Virgin Hyperloop One has the potential to link cities together in a way that has never been seen before. Using magnetic levitation, hyperloop trains could dramatically reduce travel time, creating greater access to a wider range of talent, customers and markets.
Speaking at the TechXLR8 event, Part of London Tech Week 2018, vice president of Virgin Hyperloop One Colin Rhys believes that hyperloop trains are part of the "transport revolution":
"Just as in the 1990s you saw broadband connect people in a digital way and brought people closer together, we believe now is the time for a physical revolution, one that brings physical connectivity to a new bound, the ability to bring people closer together in shorter periods of time."
How does hyperloop work?
Hyperloop trains use magnetic levitation to lift carriages or 'pods', carried by electric propulsion, above tracks. Pods are powered by "boosting stations" every 10-15 km, and can then glide, using less energy than high-speed trains. Nearly all of the air outside the pod is removed. This means there is very little aerodynamic drag, making it possible to travel at high speed.
Rhys likens this to creating a "sky" within the chamber, making it possible to achieve "airline speeds at ground level".
Pods are capable of travelling at 300m a second, or 1080km per hour. Although no routes in the UK have been given the green light yet, Virgin claims that Hyperloop One could make it possible to travel from London to Manchester in half an hour, and London to Edinburgh in under an hour.
Hyperloop One will be fully automated "by the most advanced systems in the world" according to Virgin. Rhys believes that this will make it safer than any other mode of transport:
"If you look at traffic accidents today, whether it's rail road or air, 85% are caused by human error. We firmly believe that if we want to deliver the safest mode of transportation, we had to do that autonomously."
Hyperloop could become a reality sooner than you think
Far from being the stuff of science fiction, Virgin's Hyperloop One test site in Nevada has had a fully-functional 500m Development Loop and since May last year.
In February, Virgin announced that The Indian State of Maharashtra intends to build a Virgin Hyperloop between Pune and Mumbai within five to seven years. If successful, a journey that currently takes three and a half hours by train could be reduced to just 25 minutes.
In the more immediate future, Virgin hopes to begin constructing its first route in 2019, and to be able to use hyperloop to transport cargo by 2021. In April, Virgin announced that it was partnering with delivery company DP World to develop Cargospeed, Virgin Hyperloop One technology to transport goods at high speed.
Rhys believes that the first stages of making Hyperloop a reality could begin in less than a year, with the focus for the near future being bringing Hyperloop One to the Middle East and Asia:
"You'll see a production system running in 2022-2023 and that will either be occurring in India, Saudi Arabia or the UAE. All of those three are in the race right now to hopefully have shuttles in the ground within the next 6-8 months."
It could come to Europe within three years
Rhys believes that the early stages of hyperloop could be implemented in Europe within the next three years, and could be brought to the UK within 10, far sooner than a 2017 Department for Transport report that predicted that it would take over two decades for hyperloop to come to the UK.
Rather than replacing existing modes of transport, Rhys envisions hyperloop being connected to existing infrastructure, intended to "integrate not replace". An application of this would be linking various airports within the UK, making it possible to travel from Heathrow to Gatwick in five minutes.
An obvious concern with the new technology is price, but Rhys assures that the price of travelling by hyperloop will be comparable to train travel:
"It will be a similar price to public transportation, so you are roughly looking at ten cents per kilometre just as you would take a bus or any other kind of road transport. For mass transport, it cannot be selective. It has to be totally inclusive."