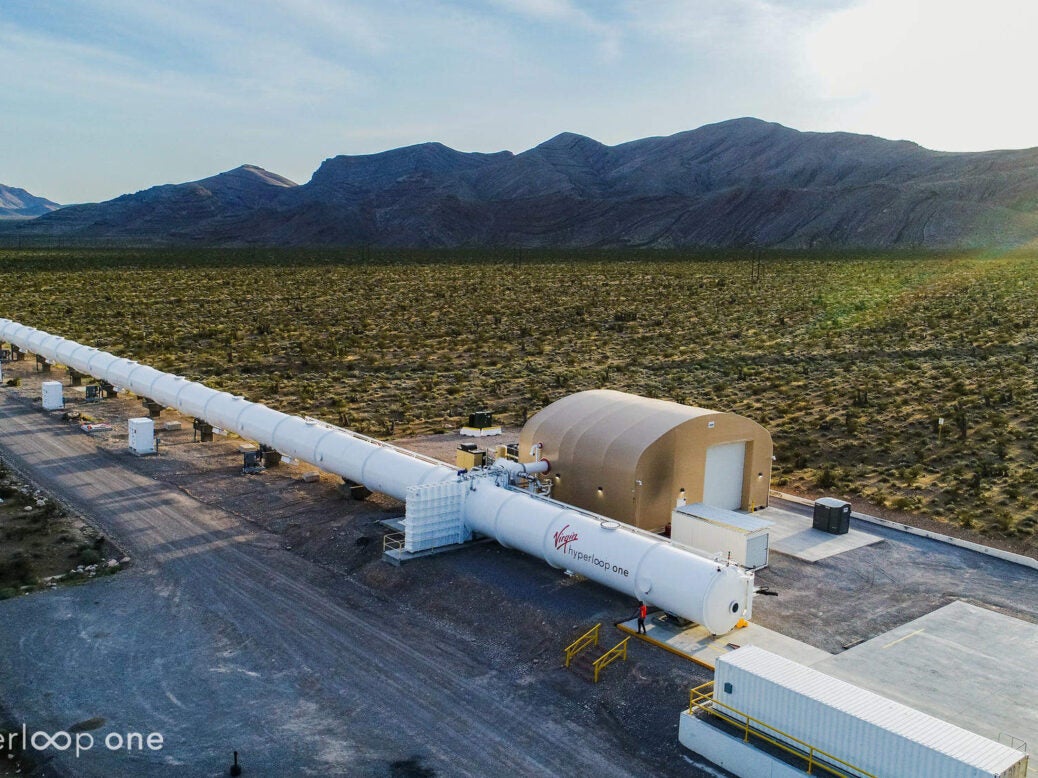 The Spanish Government has signed a deal to open Europe's first Hyperloop Development Facility for Virgin Hyperloop One.
Publicised as being capable of transporting passengers between cities within minutes, Virgin Hyperloop One could revolutionise transportation systems.
How does the Virgin Hyperloop One work?
Hyperloop trains work by using magnetic levitation to lift carriages or 'pods', carried by electric propulsion, above tracks. Pods are powered by "boosting stations" every 10-15 km, and can then glide, using less energy than high-speed trains. Nearly all of the air outside the pod is removed meaning that there is very little aerodynamic drag, making it possible to travel at high speed.
Pods are capable of travelling at 300m a second, or 1080km per hour. Although no routes in the UK have been given the green light yet, Virgin claims that Hyperloop One could make it possible to travel from London to Manchester in half an hour, and London to Edinburgh in under an hour.
Virgin's Hyperloop One 1,640-feet "DevLoop" test site in Nevada has had a fully-functional 500m Development Loop since May last year, but this will be the first site in Europe.
This will be the first hyperloop test site in Europe
The Advanced Technology Development and Testing Centre will be located in the Andalusian region of Spain, and will be valued at approximately $500m. Virgin Hyperloop One will receive around €126m in loans and grants from the Spanish Government to partly fund the development.
The region is already known as an epicentre for the transportation, aerospace and technological innovation industry, and Virgin Hyperloop One estimates that the new centre will provide jobs to 200 to 300 high-tech skilled professionals.
It is hoped that the agreement, facilitated by the state-owned infrastructure agency Administrador de Infraestructuras Ferroviarias, will stimulate regional economic growth and job creation as well as advancing the commercialisation of the Hyperloop One throughout Europe.
The 19,000 square metre centre, scheduled to be opened by 2020, will develop, test and certify components and subsystems to improve safety and reliability of hyperloop systems.
Virgin Hyperloop One CEO Rob Lloyd said:
"With its robust transportation, aerospace, and high-tech sectors in turn paired with outstanding regional talent, Spain is an ideal fit for Virgin Hyperloop One's Advanced Technology Development and Testing Centre. By investing in the development and testing of Virgin Hyperloop One, Spain is extending its long-tradition as an innovative, global transport leader. We are excited to partner with such a forward-thinking country in developing the next generation of transportation."
In other parts of the world, the steps are being taken to make Hyperloop One a reality. In February, Virgin announced that The Indian State of Maharashtra intends to build a Virgin Hyperloop between Pune and Mumbai within five to seven years.
In April, Virgin Hyperloop One released plans to build a high-speed transit system in Saudi Arabia.