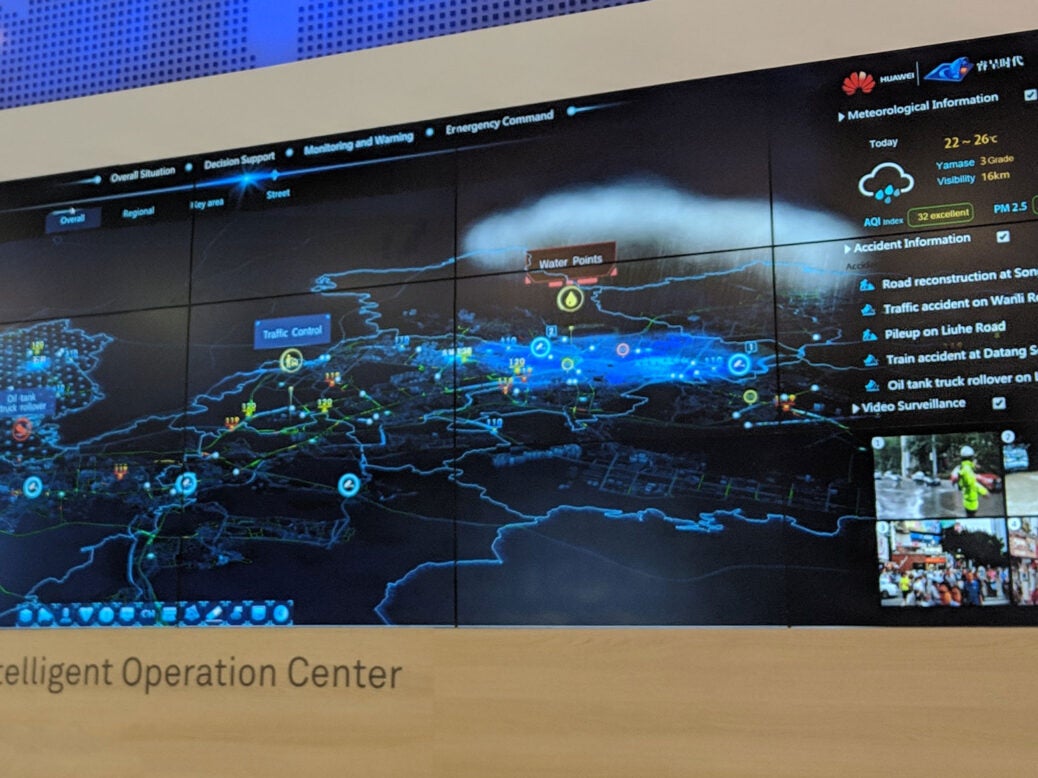 Chinese technology giant Huawei has today launched an unprecedented smart city platform that provides a vast "operating system" for cities.
Covering all aspects of city operation, Huawei's Digital Platform allows urban areas to be managed from a central point, pulling in disparate data sources and types and using AI to assist with the smooth management of infrastructure.
Announced at Huawei's Global Smart City Summit held at the Smart City Expo World Congress in Barcelona today, the platform builds on the company's existing smart city efforts, integrating AI, Internet of Things data and cloud technologies.
Yu Dong, Huawei's president of industry marketing and solution department, likened the Digital Platform to a central nervous system for cities.
"We can compare a city to a human: we can create a nerve system to have effective self-learning and self-development," he said in a press briefing at the event.
"We've mentioned platform for several years, but in the past our platform mainly focused on the infrastructure. Now some of the new technologies are here, we put the new technologies into this platform."
The Intelligent Operations Centre at the heart of the smart city platform
The platform includes an Intelligent Operations Centre (IOC), where live data from different feeds, including video, sensors and government departments, can be fed into a live 3D map of the city built on a geographic information system (GIS).
From here city managers can oversee the running and operation of a city, getting real-time insight into details such as air quality, traffic and pedestrian hotspots and infrastructure issues.
The IOC uses AI to assist with analysis and predictions, augmenting operators' ability to manage the city.
In a demonstration at the Smart City World Expo Congress, Huawei demonstrated this to prospective cities over a vast multi-screen display, effectively creating a control room for cities.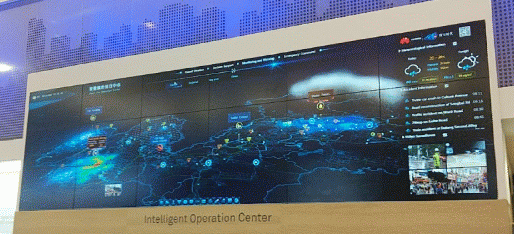 A multi-partner smart city platform
While Huawei heads up the smart city platform, it is achieved through a host of partnerships with different smaller companies. One such company is Hexagon, which provides the GIS technology.
This has allowed the company to produce a platform that it claims goes well beyond what is offered by its competitors, offering a full-stack smart city solution covering hardware and software.
"We're the only company on Earth that provide all the products," said Joe So, chief technology officer of industry solutions at Huawei.
This partnership approach has also led the company to make it possible for partners to build existing capabilities onto the Digital Platform.
"We think we need to open the functionalities and capabilities of the platform to our ecosystem, to enable our partners to easily access these capabilities," said Dong.
Furthermore, because the company's business focus is on hardware, they, as So puts it, "don't touch data", avoiding the data privacy and misuse concerns often associated with this type of technology.
Making smart technology work for cities
Huawei already has implemented smart city solutions in a host of cities around the world.
"We have a lot of experience: we serve 160 cities in 40 countries already," said So.
This includes Rustenburg in South Africa, Shenzhen in China and Duisburg in Germany.
Importantly, all cities have different needs, and different levels of infrastructure compatible with a smart city platform. For this reason, the Digital Platform can be tailored to different cities, and scaled as they develop.
"The smart city is a very long-term project," explained Dong.
"The city leaders have to be prepared: the number one person in charge of a city has to be personally involved. Then you have to have the organisation to implement it."