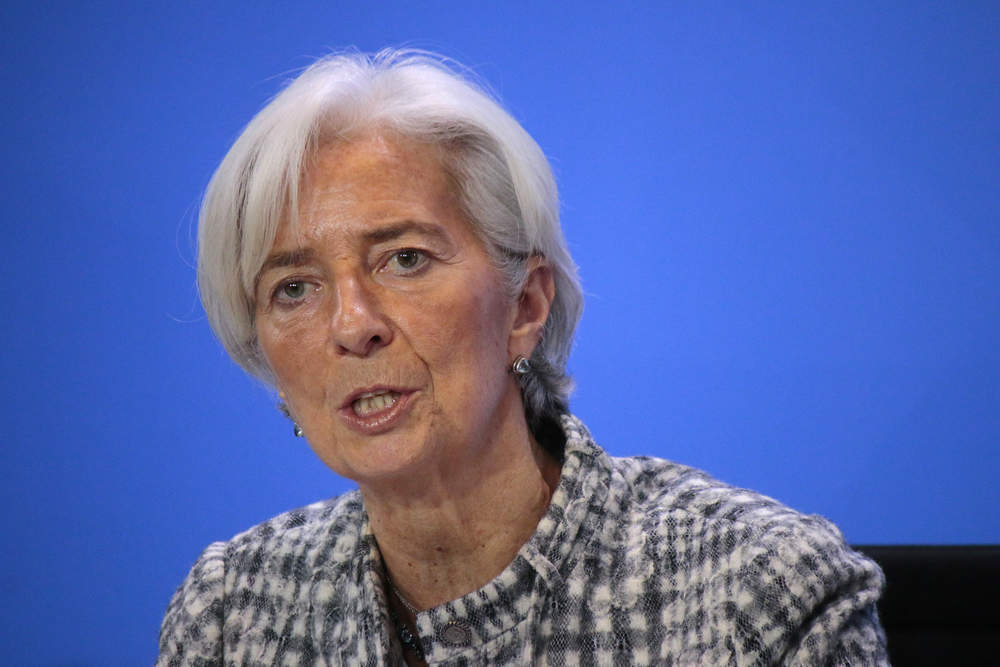 The International Monetary Fund (IMF) has cut the economic growth outlook for the UK and the US despite saying the "pick-up in global growth" that it had anticipated in its previous survey in April remained "on track".
In the IMF's latest World Economic Outlook it chopped its forecast for UK growth this year by 0.3 percentage points to 1.7 percent on weaker-than-expected activity in the first quarter as the country works through its exit from the European Union.
The IMF said:
The growth forecast has also been revised down for the UK for 2017 on weaker-than-expected activity in the first quarter.
The IMF notoriously warned the UK's economy would fall into recession if it voted to quit the European Union in June last year though that warning has yet to materialise.
It has been suggested now that the IMF has pushed back its warning of economic catastrophe to when the UK formally exits the bloc officially in March 2019.
It raised its euro-area growth forecast for 2017 to 1.9 percent from 1.7 percent. For 2018, it increased its forecast to 1.7 percent from 1.6 percent.
Meanwhile, the IMF estimated US growth at 2.1 percent this year and again in 2018, consistent with what the fund said in its annual assessment of the US economy in June.
That's down on its April report however, in which it had forecast US growth of 2.3 percent and 2.5 percent, respectively, in 2017 and 2018. The economy expanded by 1.6 percent in 2016.
These lower forecasts for the UK and the US however have been offset by expectations the euro zone and Japanese growth would accelerate, keeping global growth steady.
The world economy is set to expand 3.5 percent this year, up from 3.2 percent in 2016, and by 3.6 percent in 2018.
Additionally, the IMF raised its China growth forecast for 2017 by 0.1 percentage point to 6.7 percent, citing a stronger-than-expected first quarter.
For 2018, the IMF raised its China growth forecast by 0.2 percentage point to 6.4 percent on expectations authorities will maintain high public investment to meet their target of doubling 2010 real GDP by 2020.
The IMF also tweaked its Japan forecast for 2017 to growth of 1.3 percent, up from 1.2 percent forecast in April, while leaving its 2018 forecast unchanged at 0.6 percent.
IMF economists wrote in the July report:
Global growth for 2016 is now estimated at 3.2 percent, slightly stronger than the April 2017 forecast, primarily reflecting much higher growth in Iran and stronger activity in India following national accounts revisions. Economic activity in both advanced economies and emerging and developing economies is forecast to accelerate in 2017, to two percent and 4.6 percent respectively, with global growth projected to be 3.5 percent, unchanged from the April forecast. The 2018 global growth forecast is unchanged at 3.6 percent. The revisions reflect primarily the macroeconomic implications of changes in policy assumptions for the world's two largest economies, the US and China, as discussed below.
| | | |
| --- | --- | --- |
| | 2017 growth projections (%) | 2018 growth projections (%) |
| World Output | 3.5 | 3.6 |
| Advanced Economies | 2 | 1.9 |
| United States | 2.1 | 2.1 |
| Euro Area | 1.9 | 1.7 |
| Germany | 1.8 | 1.6 |
| France | 1.5 | 1.7 |
| Italy | 1.3 | 1 |
| Spain | 3.1 | 2.4 |
| Japan | 1.3 | 0.6 |
| United Kingdom | 1.7 | 1.5 |
| Canada | 2.5 | 1.9 |
| Other Advanced Economies | 2.3 | 2.4 |
| Emerging Market and Developing Economies | 4.6 | 4.8 |