The technology industry continues to be a hotbed of patent innovation. Activity is driven by the rising demand for realistic audio in entertainment, gaming, and training simulations, advancements in audio processing algorithms and hardware, and growing importance of technologies such as binaural audio processing, beamforming, and ambisonics. In the last three years alone, there have been over 4.1 million patents filed and granted in the technology industry, according to GlobalData's report on Innovation in technology: directional sound rendering. Buy the report here.
However, not all innovations are equal and nor do they follow a constant upward trend. Instead, their evolution takes the form of an S-shaped curve that reflects their typical lifecycle from early emergence to accelerating adoption, before finally stabilizing and reaching maturity.
Identifying where a particular innovation is on this journey, especially those that are in the emerging and accelerating stages, is essential for understanding their current level of adoption and the likely future trajectory and impact they will have.
190+ innovations will shape the technology industry
According to GlobalData's Technology Foresights, which plots the S-curve for the technology industry using innovation intensity models built on over 1.5 million patents, there are 190+ innovation areas that will shape the future of the industry.
Within the emerging innovation stage, network-on-a-chip, in-memory computing, and aural exciters are disruptive technologies that are in the early stages of application and should be tracked closely. Electron beam lithography, OLED pixel compensation circuits, and PCI power management are some of the accelerating innovation areas, where adoption has been steadily increasing. Among maturing innovation areas are capacitive touch panels and emergency communications network, which are now well established in the industry.
Innovation S-curve for the technology industry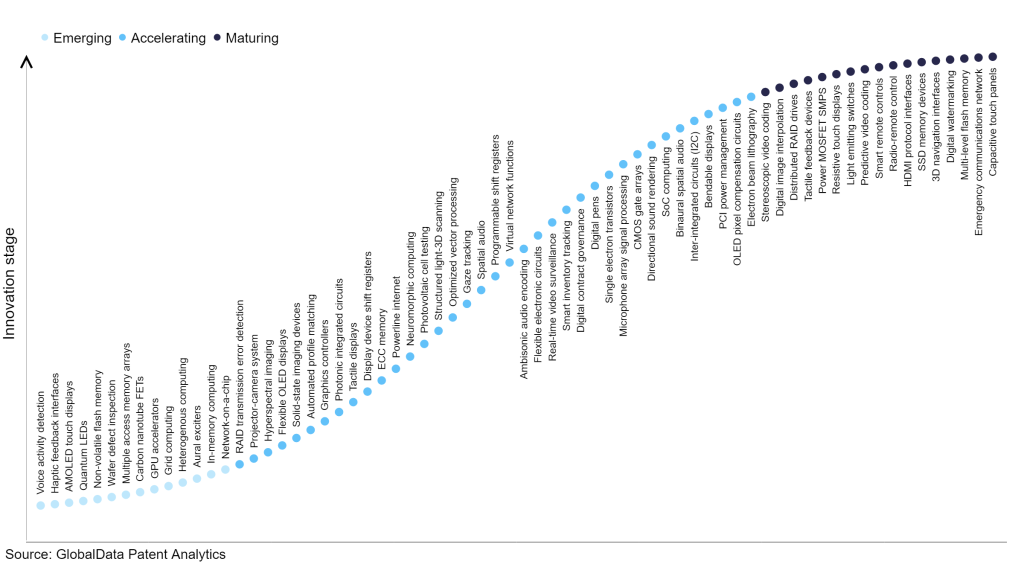 Directional sound rendering is a key innovation area in technology
Directional sound rendering involves altering an incoming audio signal to produce an output audio signal perceived as emanating from a specific virtual location in a spatial audio environment. This process includes adjusting parameters of a sound generator, applying filters to input audio signals using the inverse of loudspeakers' near-field acoustic transfer functions, creating signals to drive a set of speakers for generating specific sound pressures, and filtering audio signals according to a chosen spatial configuration.
GlobalData's analysis also uncovers the companies at the forefront of each innovation area and assesses the potential reach and impact of their patenting activity across different applications and geographies. According to GlobalData, there are 110+ companies, spanning technology vendors, established technology companies, and up-and-coming start-ups engaged in the development and application of directional sound rendering.
Key players in directional sound rendering – a disruptive innovation in the technology industry
'Application diversity' measures the number of applications identified for each patent. It broadly splits companies into either 'niche' or 'diversified' innovators.  
'Geographic reach' refers to the number of countries each patent is registered in. It reflects the breadth of geographic application intended, ranging from 'global' to 'local'. 
Patent volumes related to directional sound rendering
Source: GlobalData Patent Analytics
Among the companies innovating in directional sound rendering, Magic Leap is one of the leading patents filers. The company's patents are aimed at describing systems and techniques designed for recording audio, applicable in contexts like virtual reality, augmented reality, and mixed reality systems. In some configurations, multiple monitoring devices equipped with both microphones and location tracking units are strategically positioned throughout an environment. These devices not only record audio but also track their respective locations over time. Using both the audio signals and location tracking data, the system constructs a representation of a sound wave field within the environment. Furthermore, the system has the capability to ascertain various acoustic characteristics of the surroundings based on the collected audio signals and location tracking information. Some of the other prominent patent filers in the space include Nokia and Sony.
In terms of application diversity, Shenzhen Voxtech leads the pack,while Starkey Hearing Technologies and Roland stood in second and third positions, respectively. By means of geographic reach, Shenzhen Voxtech held the top position, followed by Magic Leap and Roland.

Directional sound rendering by accurately localizing sound sources in virtual environments, it enhances realism in applications like gaming, virtual reality, and augmented reality. This technology allows for a more convincing and engaging sensory experience, contributing to a heightened sense of presence and immersion for users. Additionally, directional sound rendering finds applications in various industries, including entertainment, teleconferencing, architectural acoustics, and assistive listening, underscoring its versatile and crucial role in modern audio technologies.
To further understand the key themes and technologies disrupting the technology industry, access GlobalData's latest thematic research report on Technology.
Premium Insights
From
The gold standard of business intelligence.
Blending expert knowledge with cutting-edge technology, GlobalData's unrivalled proprietary data will enable you to decode what's happening in your market. You can make better informed decisions and gain a future-proof advantage over your competitors.