The technology industry continues to be a hotbed of innovation, with activity driven by the increasing demand for reliable and secure computing systems, the growing complexity of applications and data processing requirements, and the need for enhanced data integrity in critical industries such as finance, healthcare, and cloud computing. The growing importance of technologies such as error detection and correction algorithms, error correction codes (such as Reed-Solomon or Hamming codes), and specialised memory controllers that facilitate error correction operations is further driving innovation in the industry. ECC (error correction coding) memory may also utilise advanced algorithms and error correction codes to identify and rectify memory errors, ensuring data integrity and system stability. In the last three years alone, there have been over 3.6 million patents filed and granted in the technology industry, according to GlobalData's report on Technology Innovation: ECC (error correction coding) memory. Buy the report here.
However, not all innovations are equal and nor do they follow a constant upward trend. Instead, their evolution takes the form of an S-shaped curve that reflects their typical lifecycle from early emergence to accelerating adoption, before finally stabilising and reaching maturity.
Identifying where a particular innovation is on this journey, especially those that are in the emerging and accelerating stages, is essential for understanding their current level of adoption and the likely future trajectory and impact they will have.
300+ innovations will shape the technology industry
According to GlobalData's Technology Foresights, which plots the S-curve for the technology industry using innovation intensity models built on over 2.5 million patents, there are 300+ innovation areas that will shape the future of the industry.
Within the emerging innovation stage, microphone beamforming, live betting games, and quantum dots are disruptive technologies that are in the early stages of application and should be tracked closely. Circuit design testing, smart contracts, and surround sound systems are some of the accelerating innovation areas, where adoption has been steadily increasing. Among maturing innovation areas are vehicle platooning and PCI power management, which are now well established in the industry.
Innovation S-curve for the technology industry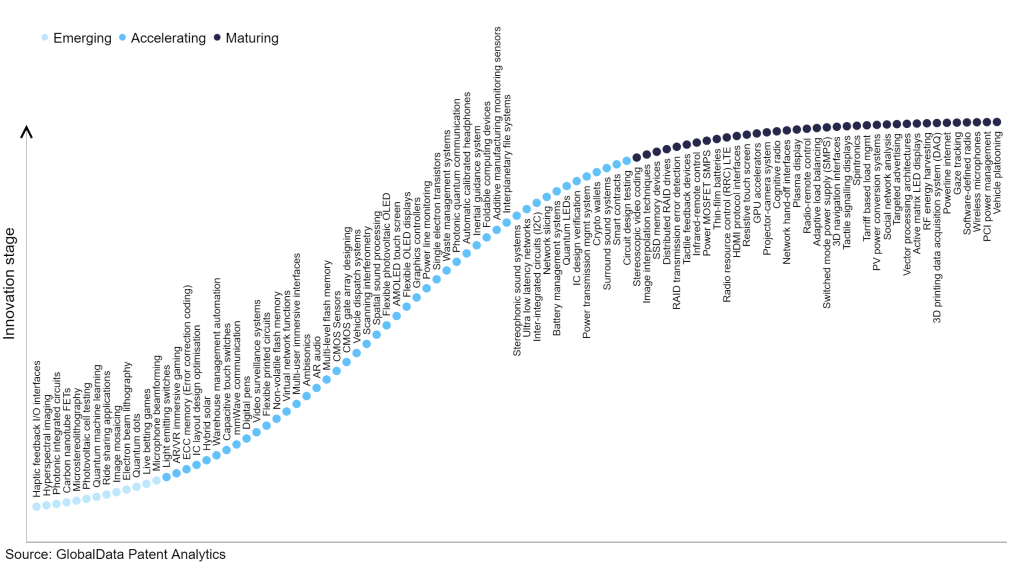 ECC memory (error correction coding) is a key innovation area in technology
ECC memory, also known as Error Correction Coding memory, is a computer memory technology that employs an error-correcting code (ECC) to identify and fix errors in data during read and write operations. By appending additional bits of information to stored data, ECC memory can effectively detect and rectify errors when the data is accessed. This ensures the accuracy and integrity of the information stored in the memory, minimizing the impact of potential errors on system performance and data reliability.
GlobalData's analysis also uncovers the companies at the forefront of each innovation area and assesses the potential reach and impact of their patenting activity across different applications and geographies. According to GlobalData, there are 100+ companies, spanning technology vendors, established technology companies, and up-and-coming start-ups engaged in the development and application of ECC memory (error correction coding).
Key players in ECC memory (error correction coding) – a disruptive innovation in the technology industry
'Application diversity' measures the number of different applications identified for each relevant patent and broadly splits companies into either 'niche' or 'diversified' innovators.
'Geographic reach' refers to the number of different countries each relevant patent is registered in and reflects the breadth of geographic application intended, ranging from 'global' to 'local'.
Patent volumes related to ECC memory (error correction coding)
Source: GlobalData Patent Analytics
Micron Technology is a leading patent filer in ECC memory (Error correction coding). One of the company's patents focuses on inventions related to updating reliability data. Several methods involve receiving either a first reliability data value with a corresponding hard data value or a second reliability data value with its corresponding hard data value at a variable node. The reliability data is then updated based on input from a subset of the connected check nodes, following a parity check code.Other prominent patent filers in the space include Samsung Group and Western Digital.
By geographic reach, Synopsys leads the pack, followed by Hitachi and SuperMem. In terms of application diversity, Synopsys holds the top position, followed by Arteris and NGD Systems.
ECC memory helps to ensure data integrity and system stability in computing environments. By incorporating advanced algorithms and error correction codes, ECC memory can detect and correct memory errors, reducing the risk of data corruption and system crashes. This is especially important in critical industries such as finance, healthcare, and cloud computing, where data integrity is paramount. ECC memory provides an additional layer of protection against memory errors, improving the reliability and accuracy of data processing.
To further understand the key themes and technologies disrupting the technology industry, access GlobalData's latest thematic research report on Technology.
Premium Insights
From
The gold standard of business intelligence.
Blending expert knowledge with cutting-edge technology, GlobalData's unrivalled proprietary data will enable you to decode what's happening in your market. You can make better informed decisions and gain a future-proof advantage over your competitors.