The technology industry continues to be a hotbed of patent innovation. Activity is driven by the escalating demand for more immersive and realistic virtual experiences, particularly in industries like gaming, automotive, and healthcare, advancements in haptic technology, such as more sophisticated actuators and sensors, and growing importance of technologies such as vibration motors, electroactive polymers, and piezoelectric devices. In the last three years alone, there have been over 4.1 million patents filed and granted in the technology industry, according to GlobalData's report on Innovation in technology: haptic feedback interfaces. Buy the report here.
However, not all innovations are equal and nor do they follow a constant upward trend. Instead, their evolution takes the form of an S-shaped curve that reflects their typical lifecycle from early emergence to accelerating adoption, before finally stabilizing and reaching maturity.
Identifying where a particular innovation is on this journey, especially those that are in the emerging and accelerating stages, is essential for understanding their current level of adoption and the likely future trajectory and impact they will have.
190+ innovations will shape the technology industry
According to GlobalData's Technology Foresights, which plots the S-curve for the technology industry using innovation intensity models built on over 1.5 million patents, there are 190+ innovation areas that will shape the future of the industry.
Within the emerging innovation stage, network-on-a-chip, in-memory computing, and aural exciters are disruptive technologies that are in the early stages of application and should be tracked closely. Electron beam lithography, OLED pixel compensation circuits, and PCI power management are some of the accelerating innovation areas, where adoption has been steadily increasing. Among maturing innovation areas are capacitive touch panels and emergency communications network, which are now well established in the industry.
Innovation S-curve for the technology industry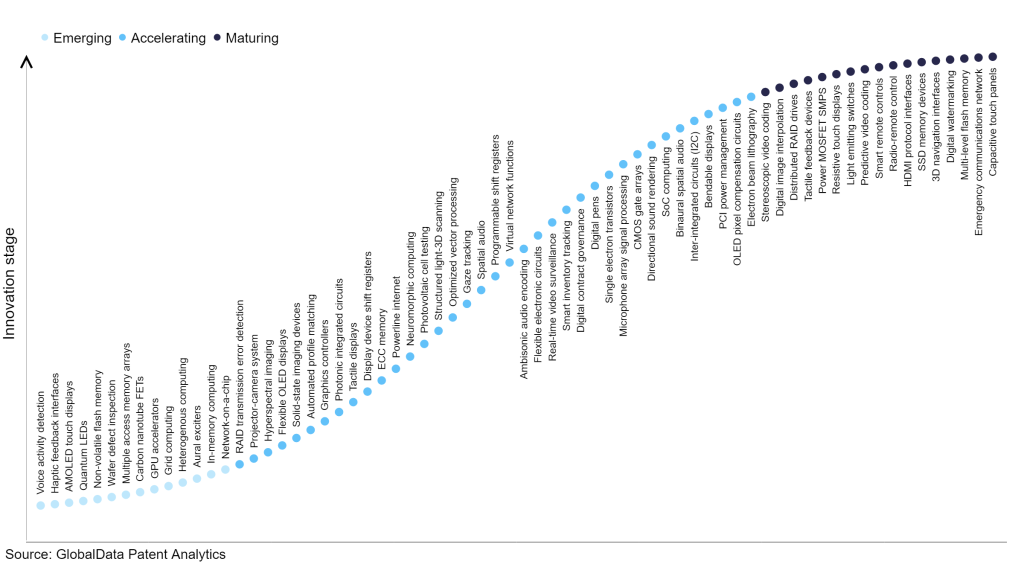 Haptic feedback interfaces is a key innovation area in technology
Haptic feedback input/output (I/O) interfaces refer to interfaces that deliver tactile sensations to users via technologies like vibration, force or deformation sensing, and pressure touch. These interfaces rely on sensors, control circuits, and drive units to detect user actions and offer haptic feedback, enhancing user experience by providing tangible cues and confirming input.
GlobalData's analysis also uncovers the companies at the forefront of each innovation area and assesses the potential reach and impact of their patenting activity across different applications and geographies. According to GlobalData, there are 50+ companies, spanning technology vendors, established technology companies, and up-and-coming start-ups engaged in the development and application of haptic feedback interfaces.
Key players in haptic feedback interfaces – a disruptive innovation in the technology industry
'Application diversity' measures the number of applications identified for each patent. It broadly splits companies into either 'niche' or 'diversified' innovators. 
'Geographic reach' refers to the number of countries each patent is registered in. It reflects the breadth of geographic application intended, ranging from 'global' to 'local'. 
Patent volumes related to haptic feedback interfaces
Source: GlobalData Patent Analytics
Among the companies innovating in haptic feedback interfaces, Behr-Hella Thermocontrol is one of the leading patents filers. The company's patents are aimed at describing a vehicle's operational component, featuring an operator interface with multiple symbol fields corresponding to specific functions activated by manipulating the operating element. This element is positioned on a support structure to be depressible and resettable via an actuation object, typically a finger. The unit also includes a mechanical switch engaged upon depressing the operating element, a controllable force threshold switch determining the force required to depress the element, an activation sensor system discerning if the actuation object contacts one of the symbol fields, and an evaluation and control unit processing signals from the sensor system. This unit prompts the force threshold switch to transition from a higher to a lower threshold only when the actuation object touches the operating interface within one of the symbol fields during operation. An electromagnet or permanent holding electromagnet serves as the force threshold switch. ther prominent patent filers in the space include Apple and Dell Technologies.
In terms of application diversity, Boreas Technologies leads the pack, while Behr-Hella Thermocontrol and Dell Technologies stood in second and third positions, respectively. By means of geographic reach, Wacom held the top position, followed by Texas Instruments and Kyocera.

The haptic feedback interfaces provide users with tactile sensations, allowing them to physically engage with virtual environments or digital content. This sensory input is vital for various applications, including gaming, virtual simulations, and medical training, where a sense of touch enhances realism and effectiveness. By bridging the gap between the digital and physical worlds, haptic feedback interfaces revolutionize user experiences, opening new avenues for immersive technologies and applications across industries.
To further understand the key themes and technologies disrupting the technology industry, access GlobalData's latest thematic research report on Technology.
Premium Insights
From
The gold standard of business intelligence.
Blending expert knowledge with cutting-edge technology, GlobalData's unrivalled proprietary data will enable you to decode what's happening in your market. You can make better informed decisions and gain a future-proof advantage over your competitors.