The technology industry continues to be a hotbed of patent innovation. Activity is driven by the progress in robotics, machine learning, artificial intelligence, and sensor technologies, and growing importance of technologies such as infrared sensors, reflective optical sensors, digital image processing, and microcontrollers. These technologies work together to enable line follower robots to detect and track lines accurately, making them suitable for applications such as automated guided vehicles (AGVs), line inspection, or maze-solving challenges. In the last three years alone, there have been over 4.1 million patents filed and granted in the technology industry, according to GlobalData's report on Robotics in technology: line follower robots. Buy the report here.
However, not all innovations are equal and nor do they follow a constant upward trend. Instead, their evolution takes the form of an S-shaped curve that reflects their typical lifecycle from early emergence to accelerating adoption, before finally stabilizing and reaching maturity.
Identifying where a particular innovation is on this journey, especially those that are in the emerging and accelerating stages, is essential for understanding their current level of adoption and the likely future trajectory and impact they will have.
190+ innovations will shape the technology industry
According to GlobalData's Technology Foresights, which plots the S-curve for the technology industry using innovation intensity models built on over 1.5 million patents, there are 190+ innovation areas that will shape the future of the industry.
Within the emerging innovation stage, inspection robots, robotic maintenance, and cleaning robots are disruptive technologies that are in the early stages of application and should be tracked closely. Surveillance robots, warehouse management automation, and automated palletizing are some of the accelerating innovation areas, where adoption has been steadily increasing.
Innovation S-curve for robotics in the technology industry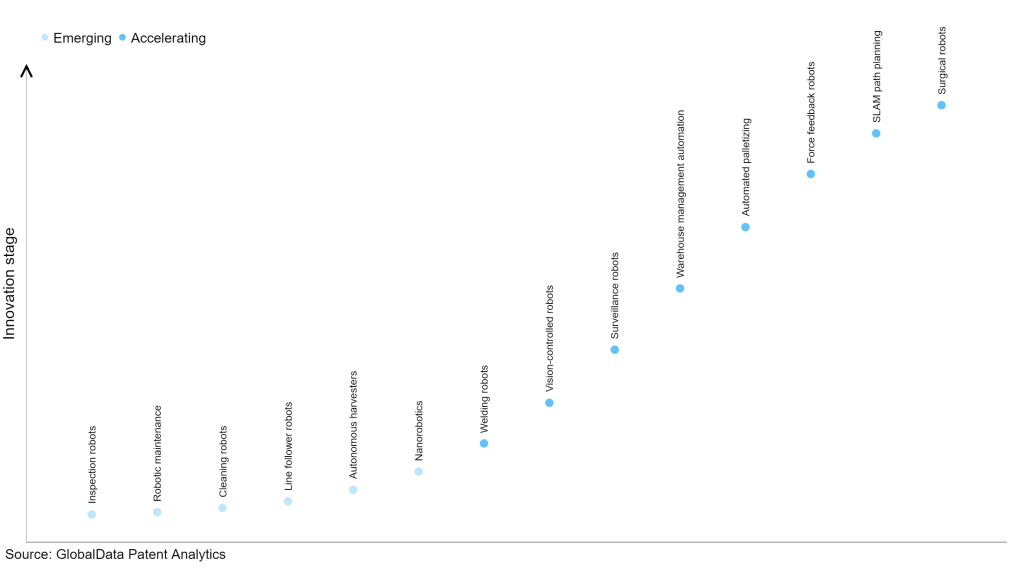 Line follower robots is a key innovation area in robotics
Line follower robots are robotic systems designed to track and adhere to a designated line or pathway using sensors. These robots typically incorporate multiple infrared (IR) sensors positioned at the front to detect the line and provide guidance for the robot to stay on course. Line follower robots are commonly employed in educational settings and competitions that involve tasks related to following predefined paths.
GlobalData's analysis also uncovers the companies at the forefront of each innovation area and assesses the potential reach and impact of their patenting activity across different applications and geographies. According to GlobalData, there are 570+ companies, spanning technology vendors, established technology companies, and up-and-coming start-ups engaged in the development and application of line follower robots.
Key players in line follower robots – a disruptive innovation in the technology industry
'Application diversity' measures the number of applications identified for each patent. It broadly splits companies into either 'niche' or 'diversified' innovators.
'Geographic reach' refers to the number of countries each patent is registered in. It reflects the breadth of geographic application intended, ranging from 'global' to 'local'.
Patent volumes related to line follower robots
Source: GlobalData Patent Analytics
Fanuc is one of the leading patent filers in line follower robots. The company's patents are aimed at a control device of a robot system including a position recording section that records a stopping position of a robot when the robot has been stopped by a stopping section, and a position distribution generation section that generates a distribution of the stopping positions of the robot recorded by the position recording section.
The control device further includes a speed changing section that automatically changes an operating speed of the robot, in accordance with the generated stopping position distribution of the robot.
Other prominent patent filers in the space include Boeing, Seiko Epson, and Kawasaki Heavy Industries.
By geographic reach, Nike leads the pack, followed by BAE Systems and Daifuku. In terms of application diversity, Nike holds the top position, followed by Delta Electronics and Boeing.
The significance of line follower robots lies in its ability to inspire and educate, introduce foundational concepts in robotics, and serve as platforms for experimentation and innovation. It plays a vital role in nurturing interest in science, technology, engineering, and mathematic (STEM), developing technical skills, and promoting advancements in robotics research and industrial automation.
To further understand how robotics is disrupting the technology industry, access GlobalData's latest thematic research report on Robotics.
Premium Insights
From
The gold standard of business intelligence.
Blending expert knowledge with cutting-edge technology, GlobalData's unrivalled proprietary data will enable you to decode what's happening in your market. You can make better informed decisions and gain a future-proof advantage over your competitors.