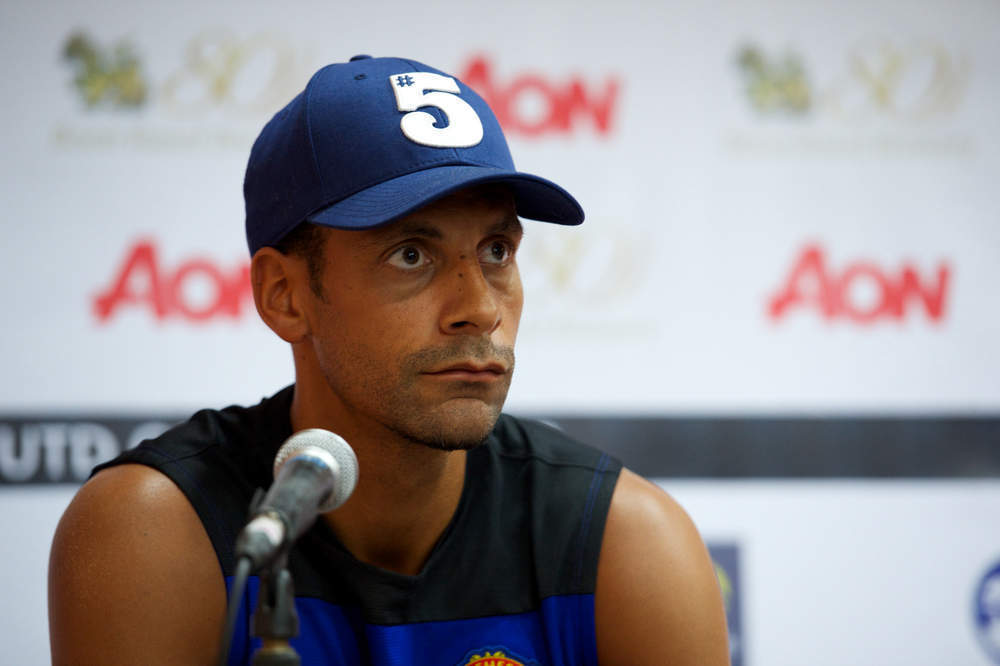 Just two years after calling time on his football career, Rio Ferdinand is set to step back into the world of sport.
However, unlike most of his colleagues, he won't be taking to the dugout to begin his managerial career. Instead, he will be taking to the boxing ring, where he hopes to add a belt to his collection of medals.
The former Manchester United defender has worked as a pundit with BT Sport since retiring. Likewise, he also has his FIVE clothing line to fall back on. However, that doesn't seem to be enough for Ferdinand.
Working with bookmakers Betfair to produce a new television show, Ferdinand will build his boxing skill set, before hopefully taking to the ring, should he be granted a license by the British Boxing Board of Control.
According to former WBC super-middleweight champion Richie Woodhall, who has agreed to train the former footballer, it is the lack of competition that has enticed him into taking up the risky sport:
"I've been retired three years myself and one thing I missed – and he's probably going through himself at the minute – is the competitiveness of being an athlete."
It's a problem that many athletes face.
After years of dedicating their lives to their sport, athletes reach a certain age when their abilities begin to decline and they are forced into retirement. For most, this usually occurs around the age of 33.
While most people are busy working for another 40 years, what do athletes do with their time after retiring?
Sport after sport
It's often said that practice is the best way to learn. That certainly shows in sport, where many of the top off-the-field jobs are occupied by former stars.
An athlete's life revolves around their sport. They have to consider what they eat at all times and ensure that they correctly balance rest and exercise. Likewise, they must consider whether an activity could cause them a career-ending injury.
Once retirement comes, it's often hard for sports stars to get out of the routine. Frequently, they find themselves back into the sport soon enough.
For some, a different sport is their path of choice. Michael Jordan played baseball and Freddie Flintoff took up boxing. However, most return to their own sport in a different capacity.
All 20 of the managers currently leading teams in the Premier League, the top flight in the English football league, played the game at some level before entering management.
Ozzie Newsome, John Elway, Reggie McKenzie and Jerry Reese, all former pros, hold similarly high executive positions in American Football's National Football League.
Sports management is littered with former players. MLB Baseballer Joe Torre won titles as both a player and a coach. Likewise, boxing Hall of Famer Floyd Mayweather Jr. has taken to promoting.
For those that fail to make it into the higher reaches of the managerial game, there are always broadcasters looking for expert opinions in the lead up to events.
A downward spiral
Most sports stars retire with millions in the bank. However, making it as a professional isn't always the blessing that it seems to be.
While Ferdinand has stolen the headlines, another former Premier League footballer has been in the news this week too.
Clarke Carlisle was admitted to hospital due to fears about his mental health. That follows a suicide attempt back in 2014, just over a year after he hung up his boots.
Carlisle has stated in the past that he believes the end of his sports career is part of the problem:
"Everything in your life is structured and all of a sudden that gets taken away. The job title defines you, and when you leave that you get a loss of identity and belonging."
Carlisle isn't alone. A study by FIFPro, the World's Footballers' Association, found that 39 percent of former pros suffer with mental health issues.
Likewise, 32 percent report to have developed a drinking habit. Many also turn to betting, with gambling problems rife in the sport.
Life after sport: it's not always the end of the world
Of course, retirement doesn't catapult every athlete into a downward spiral. It's a welcomed time for some.
Many have been left confused by Ferdinand's switch to boxing. However, it isn't quite as strange as some of the jobs that many of his fellow footballers took on.
After years in the spotlight, many choose to settle down to a life of normality.
1966 World Cup winner Ray Wilson became an undertaker after hanging up his boots, while former Sweden midfielder Klas Ingesson retired early to become a lumberjack.
Meanwhile, former wrestler Jesse Ventura, basketballer Bill Bradley and boxer Vitali Klitschko used their status to enter the world of politics.
However, the strangest of all has to be George Foreman, who became better known for his grills that his boxing career.