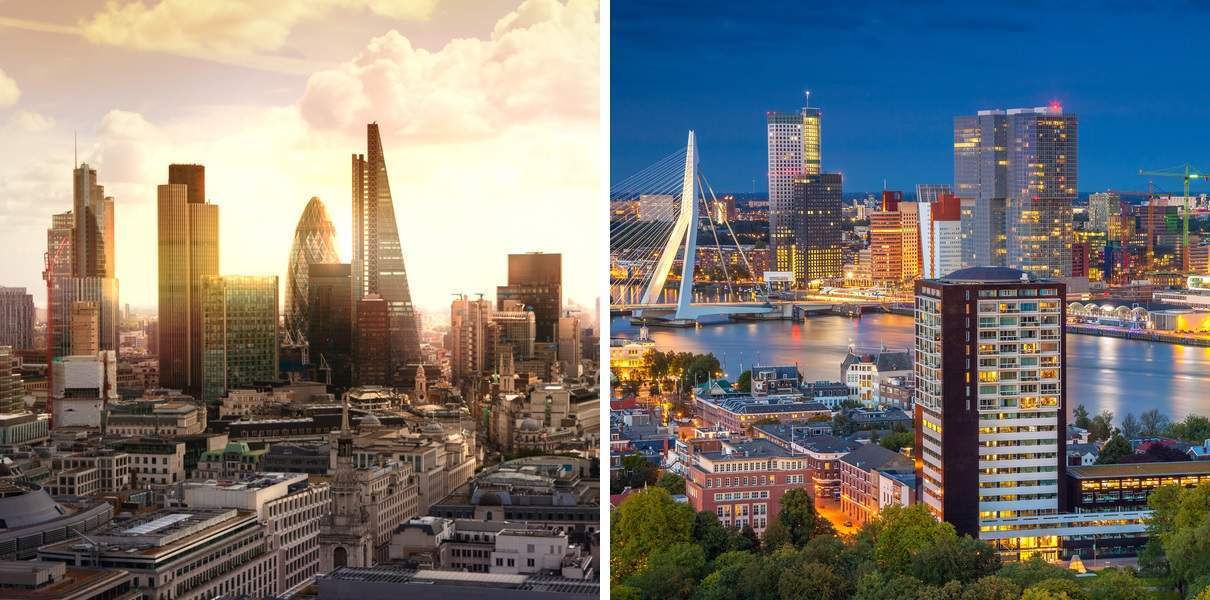 Consumer goods giant Unilever is actually two companies. It is one part Unilever PLC, a London based company, and one part Unilever NV, which is based in Rotterdam.
However, Brexit, coupled with a $143 billion Kraft Heinz takeover bid, has forced the consumer goods giant to reconsider its current corporate divide.
Part of the plans to simplify the company would involve ditching one of the two headquarters, with either London or Rotterdam expected to become Unilever's sole main office.
Should this go ahead, it could prove troublesome for up to 7,500 Unilever employees that would be forced to relocate or find new employment.
Verdict contacted Unilever to ask about the company's plans to relocate employees should the move go ahead. However, a company spokesperson refused to comment, insisting that no decision had been made on the relocation.
With Britain's 2019 exit from the European Union looming, relocating to Rotterdam seemingly makes sense. It would allow Unilever to keep its headquarters in the EU, where it will be far easier to attract workers from across the continent.
How well do you
really

know your competitors?

Access the most comprehensive Company Profiles on the market, powered by GlobalData. Save hours of research. Gain competitive edge.
Company Profile – free sample
Thank you!
Your download email will arrive shortly
Not ready to buy yet? Download a free sample
We are confident about the unique quality of our Company Profiles. However, we want you to make the most beneficial decision for your business, so we offer a free sample that you can download by submitting the below form
By GlobalData
However, David Lutton, economic policy director at business group, London First, disagrees:
"London remains a great global city, with a recent report from the Milken Institute putting us ahead of Berlin, Paris, Rotterdam and all other European cities in creating jobs, innovation and growth,"

"London already has more $1 billion headquarters than any other city in the world, who choose the capital because of its time zone, language, access to capital and legal framework,"

"But our success is ultimately based on the people who live and work here. London is one of the world's most attractive, vibrant and interesting places to live, with unbeatable culture and nightlife and world-famous parks, museums and galleries."
Unilever is expected to complete a review of its structure by the end of March. But where would be best for the 7,500 London employees or 3,000 Rotterdam employees that would be forced to relocate should the move go ahead?
We've crunched the numbers, scanned statistics and considered costs to compare the two cities on everything from the price of an egg to the quality of education.
Cost of living
London is the 24th most expensive city in the world according to The Economist's cost of living index. The UK's capital is no Singapore, the most expensive city in the world, but Rotterdam still offers a cheaper alternative.
To crunch the numbers, we looked at user-contributed data on city comparison websites Expatistan and Numbeo. While these numbers shouldn't be taken as fact, they are estimates based on 15,000 price updates contributed by 2,400 users. For good measure, we've also counted 300 additional reviews from Nomad List users. Euros to pounds conversions were correct at the time of writing.
We have tried our best to use as many of these sources as possible with each estimate. However, numbers should still be taken with a pinch of salt.
Rent
As anybody currently living in London will already know, rent takes a big chunk out of your pay cheque each month.
A one bedroom apartment outside of the city centre sets London residents back £1,139 a month on average.
However, Unilever House, the company's London headquarters, is located in Blackfriars in the city's centre. This means that, for somebody living outside of central London, the need to take public transport to work would add £136 to your monthly outlay on average.
This still works out cheaper than renting in the city centre, where the average one bedroom property costs £1,562 a month.
Financially, at least, Rotterdam presents a more attractive option.
The cost of renting a one bedroom apartment in the city centre is cheaper than renting in the outskirts of London. The average person pays £880 per month to live in Rotterdam's core. For those looking to save, apartments outside of the centre cost £576 a month on average, with a monthly travel ticket costing £60.
Bills
Utility costs are a hard one to judge, given that there are so many factors that can cause variations. Everything from your choice of property (how well insulated it is, for example) to gas prices to weather conditions can change how much you pay.
However, on average, those living in London report average monthly heating, gas and electricity costs of £167 for two people living in an 85 square metre studio. In comparison, the same sized apartment in Rotterdam would cost two people £114.50 to run.
Food
If you're not concerned about pinching the pennies, there likely isn't enough variation in food prices to grab your attention.
A litre of milk costs £0.94 in London compared to £0.97 in Rotterdam. Likewise, bread is also slightly more expensive in London (£1.04) than in Rotterdam (£0.91). There's a £0.10 premium on 500 grams of chicken breast in London (£3.68) compared to Rotterdam (£3.58). The same goes from eggs, with a dozen costing £2.64 in London compared to £2.17 in Rotterdam.
[visualizer id="147669″]
The price of an egg might not seem all that exciting, but that £0.47 difference will add up over the years.
Fast food is slightly more expensive in Rotterdam, with a meal at chains like McDonald's costing £6.54 on average compared to £5.75 in London.
However, London is more expensive for mid-range restaurants, with the average meal costing £28.50 compared to £26 in Rotterdam.
The little extras
While not necessarily needed, it's worth considering the costs of the little things.
Internet, for example, is important. How else would you keep up with your friends and family back home? Regardless of which city you're in, expect to pay somewhere around £25.
If you like to keep healthy, expect to pay far more for a gym and fitness club membership in London. Inner-city fitness services cost £61 on average per month. Rotterdam offers the same services at a fraction of the cost, with monthly membership averaging £23 in the Dutch city.
Those that aren't so healthy will also save in Rotterdam, with a packet of cigarettes costing £5.76 on average compared to £10 in London.
Coffee, a workplace necessity, will set you back by £2.34 in Rotterdam or £2.93 in London.
House prices
According to Numbeo (Expatistan and Nomad List don't provide data on house prices), the average price per square metre to purchase a property in central London is £13,180. Essentially, that 85 square metre apartment that we mentioned earlier would cost you £1.12 million.
Outside of the centre, prices fall to £7,226 per square metre, or £614,000 for the same 85 square metre property.
According to online property portal Rightmove, the average price paid for a London property in January 2018 was £615,600. In central London, Rightmove reported an average sale price of £1.62m in January. Prices in the capital have climbed by five percent year on year.
Property in Rotterdam is cheaper. In the city centre an apartment will set you back by £2,772 per square metre, or £235,620 for an 85 square metre property. Alternatively, a similarly sized property can be purchased in the outskirts of Rotterdam for approximately £151,600.
However, property prices are increasing. According to a report published by Dutch governmental statistics institution CBS, the final quarter of 2017 was the best on record for the Netherlands' property market, with more houses changing hands than ever before. This increased activity saw prices climb by 12% year on year.
Average wage
Looking at Unilever's reviews on employer review website Glassdoor, we found a total of nine positions for which employers had recorded salaries for the same position in both the London and Rotterdam offices. While we can't say that employees in Rotterdam are paid better wages without seeing Unilever's own data for all positions shared across London and Rotterdam, Glassdoor suggests that that is the case.
[visualizer id="147953″]
However, this doesn't seem to reflect the average wages of workers in each city.
According to United Kingdom's office for National Statistics, the average London worker made £34,900 in 2016.  According to the CPN Netherlands Bureau for Economic Policy Analysis' annual Macro Economic Outlook, the average Dutch worker made €36,500 (£32,200) in the same period.
Yet, PayScale a website using big data and complex algorithms to calculate salaries, suggests that the average salary in Rotterdam is €42,800 (£37,700). PayScale suggests a similar London average to ONS's findings (£34,900).
Income tax
An average of €42,800 would fall under the Netherland's third income tax bracket. Those earning between €33,994 and €68,507 must pay 40.85% of their wages to the taxman.
The same wage in the United Kingdom would be charged an income tax of 20%. The UK taxes 20% of all annual income between £11,501 and £45,000. This rises to 40% on wages between £45,001 and £150,000 and 45% on anything over £150,000.
Those earning between £11,501 and 17,750 get off lightly in the Netherlands. However, top earners are charged up to 51.95% in the Netherlands compared to 45% in the UK.
[visualizer id="147969″]
Nightlife
The United Kingdom is the sixth most popular tourist destination in the world. According to the World Tourism Organization's 2017 Tourism Highlights report, 35.8 million visitors arrived in the UK in 2016. Only France, the United States, Spain, China and Italy welcomed more visitors.
London accounts for a huge portion of the UK's international arrivals. According to the Office for National Statistics International Passenger Survey, there were 31.5 million visitors to the capital in 2015.
London is set up accordingly, with the world famous West End, numerous well-known nightclubs that attract the crème de la crème and an abundance of pubs and bars.
A search for pubs, bars and nightclubs in London on the Food Standards Agency website returns 3,426 results. In comparison, the Rotterdam Tourist Information website returns 24 results for nightlife.
The number is lower on travel comparison website TripAdvisor, which has 1,300 nightlife venues listed in London. However, this is still higher than the 32 venues listed in Rotterdam.
According to TripAdvisor, London has 1,168 bars and clubs, compared to just 27 in Rotterdam.
[visualizer id="147693″]
There might be more going on in London, but a night out will cost you.
The average price of a pint of beer in London is £4.64, compared to £2.86 in Rotterdam. Likewise, a cocktail will set you back by £11 in London compared to £7 in Rotterdam.
Best places to go in London
The Distillery – A cosy four-floor gin distillery in the heart of London that Verdict can personally vouch for.  Downstairs in The Ginstitute, currently the number one bar & club spot in London on TripAdvisor, visitors are taught the ways of Portobello Road gin's expert gin-blenders.
Cahoots – Enjoy a drink on the London Underground at Cahoots, a trendy bar modelled on the city's busy public transport system. A 1940s train carriage sitting in the middle of the bar will transport you back in time as you sip cocktails from old mugs, hip flasks and vintage milk bottles.
Egg – Rated the best nightclub in London, Egg is popular in London for its sheer size. It might be spread over three floors and topped with a large terrace, but you will still struggle to move among a crowd of revellers on a Saturday night.
Best places to go in Rotterdam
Paddy Murphy's Irish Pub – The fact that the top-rated nightlife venue in Rotterdam is an Irish-themed pub hardly bodes well. However, you're bound to find plenty of other expats at Paddy Murphy's. This place gets the basics right, with good selection of beer and spirits, decent pub food, a television screening sports and live music.
Tiki's Bar – Not only does Rotterdam's nightlife offer a taste of Ireland but Hawaii too. Tiki's bar is a bar modelled on America's 50th state, with plenty of bamboo, surfboards and Tiki sculptures littering the room. As you can probably guess, cocktails are the drink of choice at Tiki's Bar.
BAR – The name tells you what you need to know. Only not quite. BAR isn't a bar, but a nightclub located in the heart of Rotterdam playing electronic music from 11pm until 5am. Located 200 metres from Rotterdam Centraal Station, it's well connected, which is always appreciated when trying to get home in the early hours.
Other nightlife activities
If rowdy revellers aren't for you, there are plenty of other places where you can spend your evenings.
A night at the movies will cost you £12 in London or £9.40 in Rotterdam.
Or if you would prefer something a little classier, a theatre ticket will cost you £80 in London. A trip to the theatre is less expensive in Rotterdam, with prices averaging £48. However, you can't be London's world-famous West End.
Schools
For those with children, the quality of education in each country will be valued far higher than the ease of getting a drink late at night.
According to the Organisation for Economic Co-operation and Development's (OECD) latest Programme for International Student Assessment (PISA) report, there isn't too much difference between the two education systems in the United Kingdom and the Netherlands.
The PISA report compares countries based on the ability of students in science, reading and mathematics.  The study also looks at factors such as equality and student wellbeing.
The OECD gave both both countries a mean score of 509 for science. However, the Netherlands fared better in reading and mathematics.
[visualizer id="147786″]
Equality, social background and immigration status don't tend to make much difference to students in the UK. In the Netherlands, those from disadvantaged backgrounds still scored above the world average, but below the national average. Immigrant students record scores below the world average.
However, 15-year-old students in the Netherlands report the highest level of life satisfaction in the world (86%), while the UK ranks among the worst countries at 66%.
Higher education
According to higher education marketing company QS's Higher Education System Strength Rankings 2016, the United Kingdom offers better university education based on the rank of its universities, the number of places available annually, global recognition and economic context.
QS's 2018 world universities rankings placed four UK-based institutions among the top ten universities in the world. University College London ranked seventh.
In comparison, the Netherlands placed seventh on the 2016 list and its top ranking university, Delft University of Technology, placed 54th on the annual top universities list. Erasmus University Rotterdam placed 147th.
However, studying in London can be costly. Almost all UK universities charge the maximum rate of £9,250 a year, meaning the average undergraduate degree costs £27,750 in tuition fees. This is far higher than the European average, which is just under £4,000 for EU citizens.
Erasmus University Rotterdam charged £5,540 on average for students beginning in the 2017-18 academic year.
Transport
London's roads might be full of congestion, but an army of tubes, trains, trams and buses connect the entirety of London and Greater London in a way that is quick and easy to navigate. Of course, transport is often busy and cramped at peak times. However, the system does its job effectively. Trains and buses run through the night ensuring that the capital can be navigated at all hours.
Few places can compete with London in this regard. However, Rotterdam also has an effective, albeit smaller, transport network that connects the city by bus, tram and metro. There are also night bus and night metro services over the weekends.
A day travel card in the city costs €8, which permits travel on all services in Rotterdam for 24 hours. In London, A zone 1-4 travelcard, which will get you to most places, costs £9.20. A zone 1-6, which permits travel on all parts of the Transport for London service, costs £11.70.
If sweaty tube carriages aren't for you, the average cost of a litre of petrol in in Rotterdam is £1.37. This is one of few areas where London proves cheaper, with fuel costing £1.21 per litre.
Out of city transport links
While journey times vary, most major city in England, Scotland and Wales is just a single train away from London. Likewise, Google Maps shows that the London-connected motorways can take you to Birmingham in 160 minutes, Manchester in 260 minutes or Glasgow in 420 minutes.
However, Rotterdam isn't as off the beaten track as it might first sound to somebody living in the UK capital. All four of the Netherland's biggest cities are located in the south west, making many of the Netherland's most popular business and tourist destinations easily accessible by car in less than two hours. Amsterdam can be reached in 80 minutes, while The Hague is approximately 40 minutes away by car.
Rotterdam Centraal regularly sees trains heading to other major Dutch cities, such as Amsterdam and Utrecht. Likewise, benefitting from Europe's Schengen Area agreement, travellers can get back and forth from the French capital Paris in less than three hours, or Brussels in just over an hour.
Safety
According to Numbeo's  2018 Crime Index, the Netherlands is one of the safest countries in the world. The Netherlands places 20th on the list while the United Kingdom sits 54th.
This shows when comparing the crime statistics recorded by Statistics Netherlands and the Office for National Statistics. The UK recorded 4.5 million crimes in 2016, compared to 930,000 in the Netherlands.
[visualizer id="148080″]
Likewise, crime in the Netherlands continues to fall. The country has seen a decline in most offenses between 2014 and 2016. Total recorded crimes have fallen by 9.4 percent in a two year period.
[visualizer id="148075″]
Meanwhile, England and Wales saw reported offences climb by 14 percent year-on-year between 2016 and 2017. Knife and gun crime rose by 21 and 20 percent respectively and London is among the worst offenders. Half of the rise in gun offences was linked to London, the Office for National Statistics reported.
Knife crimes rose by 23% in the capital last year. Likewise, murders were up by 19%.