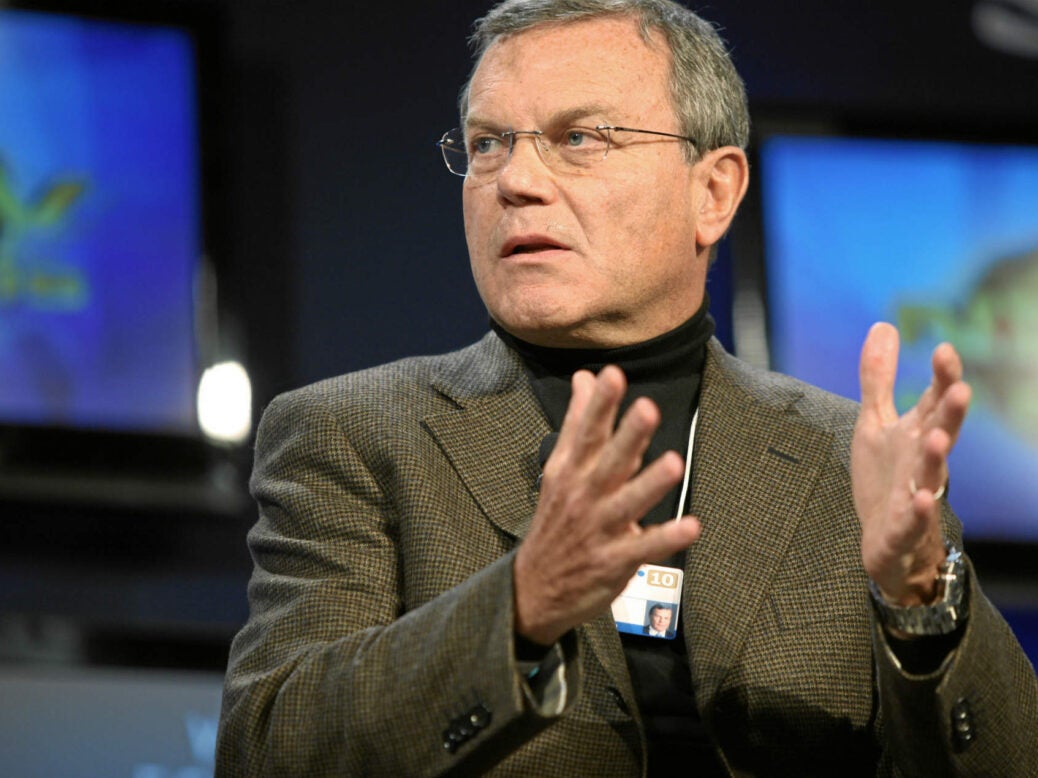 Sir Martin Sorrell, who led the advertising giant WPP for 33 years, has suddenly quit the company and the news has caused its share price to drop.
Since Sorrell took over the firm in 1985, WPP has gone from being a small maker of wire shopping baskets (Wire and Plastic Products plc) to the world's largest advertising agency (WPP Group). Sorrell was the longest-serving CEO of any FTSE 100 company.
While transforming the company into a marketing and media empire, Sorrell made a series of ambitious takeovers, including the agencies J Walter Thompson, Ogilvy, and Young & Rubicam.
Sorrell's departure follows a board investigation into "personal misconduct", allegedly relating to company funds. Details of the investigation have never been made clear to the public.
WPP said in a statement: "The previously announced investigation into an allegation of misconduct against Sir Martin has concluded. The allegation did not involve amounts that are material."
In a statement sent to WPP staff, Sorrell said that he was stepping down because it was in the best interest of WPP's staff, clients, shareholders and stakeholders. He also took the opportunity to reiterate his love of the company.
Sorrell said:
I shall miss all of you greatly. You have given me such excitement and energy and I wanted to thank you for everything you have done and will do for WPP and me.

As some of you know, my family has expanded recently, WPP will always be my baby too.

As a founder, I can say that WPP is not just a matter of life or death, it was, is and will be more important than that.
Reaction to the news was clear this morning when the markets opened for the first time since Sorrell's departure was announced. Shares in WPP tumbled today, and as of 3.10pm were down more than 7%.
This caps off a disappointing year for WPP, when shares have fallen 11% compared with the FTSE 100's general decline of 5.5%. The stock price has fallen 38% since a high in March 2017. Sorrell himself claimed that WPP's performance was due to lower advertising spending by big brands and challenging trading conditions.
Today's negative reaction seems to reflect market uncertainty about the future of WPP without Sorrell.
WPP has stated that Sorrell will be treated as having retired from the company, and Sorrell wrote that he would be available to help the board or any of the staff "with anything, anywhere". However, the Financial Times is reporting that Sorrell does not leave with a traditional non-compete agreement and therefore is free to start a new advertising venture.
Sorrell will be replaced on an interim basis by Mark Read, chief executive of WPP Digital, and Andrew Scott, chief operating officer for WPP in Europe. However, industry insiders predict that WPP will look to hire an external candidate to replace Sorrell.
Julie Langley is a partner at Results International, a leading M&A firm in the global marketing industry. She explained the uncertainty triggered by Sorrell's departure, as well as potential difficulties getting WPP back on track.
Langley said:
Sir Martin Sorrell was at the helm of WPP for over 30 years, the longest-serving CEO of any FTSE 100 company.  No incoming CEO is going to want to keep the status quo, and will be under very real pressure to make WPP fit for purpose to tackle the challenges facing it and the ad industry as a whole.
She added:
Those currently doing well in adland are the nimble, independent agencies. Yet WPP can't behave like an independent overnight. It's an incredibly complex structure with a significant number of acquired companies that are working through their earn out at any given time. Trying to restructure a business like WPP when you are still managing post-merger integrations and earn outs would be difficult and expensive.
Others praised the legacy Sorrell has left behind, but also took the opportunity to reflect on how the advertising industry has changed during his reign.
John Kehoe, CEO of Media Agency Group, said:
Martin Sorrell is the longest serving CEO of any FTSE 100 company and a remarkable player in the advertising world.

However, in today's age with the media constantly evolving and being consumed in a ways like we have never seen before, it perhaps is the right time for him to step aside.

He has done an amazing job keeping up with trends and the digital revolution, but with players like Zuckerberg (to name but a few) hot on his heels and some of the new generation of CEOs in coming to the fold, who can relate to consumers and media, in a new way – then it feels now is the time for him to step aside.
Rania Robinson, CEO of the advertising agency Quiet Storm, said:
There's no denying Martin Sorrell has had a profoundly positive impact on the industry from a commercial and economic perspective but I don't think the same can be said for his influence on the quality of creativity. Creativity has always been integral to success in this business and never more so than today. At a time where innovative thinking and a more engaging approach to communication is even more critical in order to cut through people's apathy towards brands and advertising.
WPP said that it does not intend to publish more details about its investigation into Sorrell's alleged misconduct. However, Sir Vince Cable, the Liberal Democratic leader, has called on WPP to make its findings public.