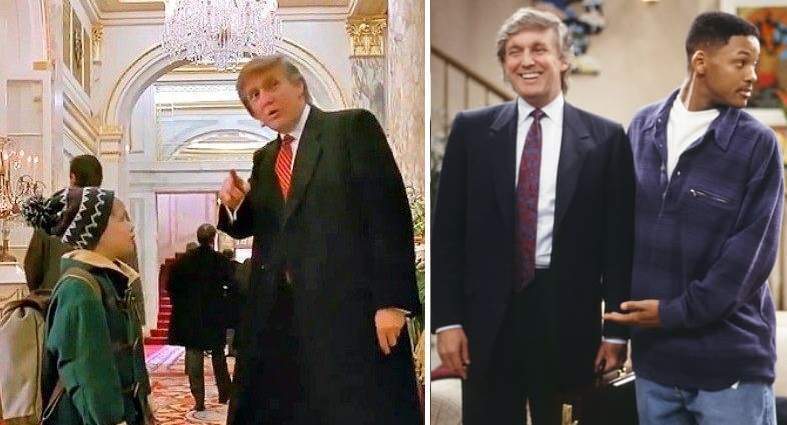 Donald Trump has probably appeared in more forms of popular entertainment than any other president in history.
He might be one of the most famous presidents ever too.
Even before taking office, Trump was well-known for his celebrity. In addition to hosting The Apprentice, the Commander In Chief had made cameos in a vast range of popular films and television shows.
Sex And The City, The Fresh Prince Of Bel Air, and Home Alone all featured appearances from then now-president. You can check out a compilation of all his appearances here.
So why is that?
As recent television interviews have shown, Trump is hardly the most captivating voice to grace our screens.
He's not a wonderful actor either. Why the heck would so many directors feature him? Well, according to Matt Damon, featuring Trump is a burdensome requirement, not an exciting feature.
Matt Damon, Donald Trump: not exactly pals
Speaking to The Hollywood Reporter, Damon revealed that featuring Donald Trump is a requirement if you want to film in one of his buildings:
The deal was that if you wanted to shoot in one of his buildings, you had to write him in a part.
The veteran actor went on to describe Trump's appearance in his film Scent Of A Woman:
[Director] Martin Brest had to write something in Scent of a Woman — and the whole crew was in on it. You have to waste an hour of your day with a bullshit shot: Donald Trump walks in and Al Pacino's like, "Hello, Mr. Trump!" — you had to call him by name — and then he exits. You waste a little time so that you can get the permit, and then you can cut the scene out. But I guess in Home Alone 2 they left it in.
It does rather beg the question as to why the film-makers would ever bother filming in a Trump building?
Then again, considering the president owns some of the most iconic buildings in the world, it might be a price they just have to pay.
Still, at the very least, Matt Damon's comments do serve to highlight the president's incredible egotism.