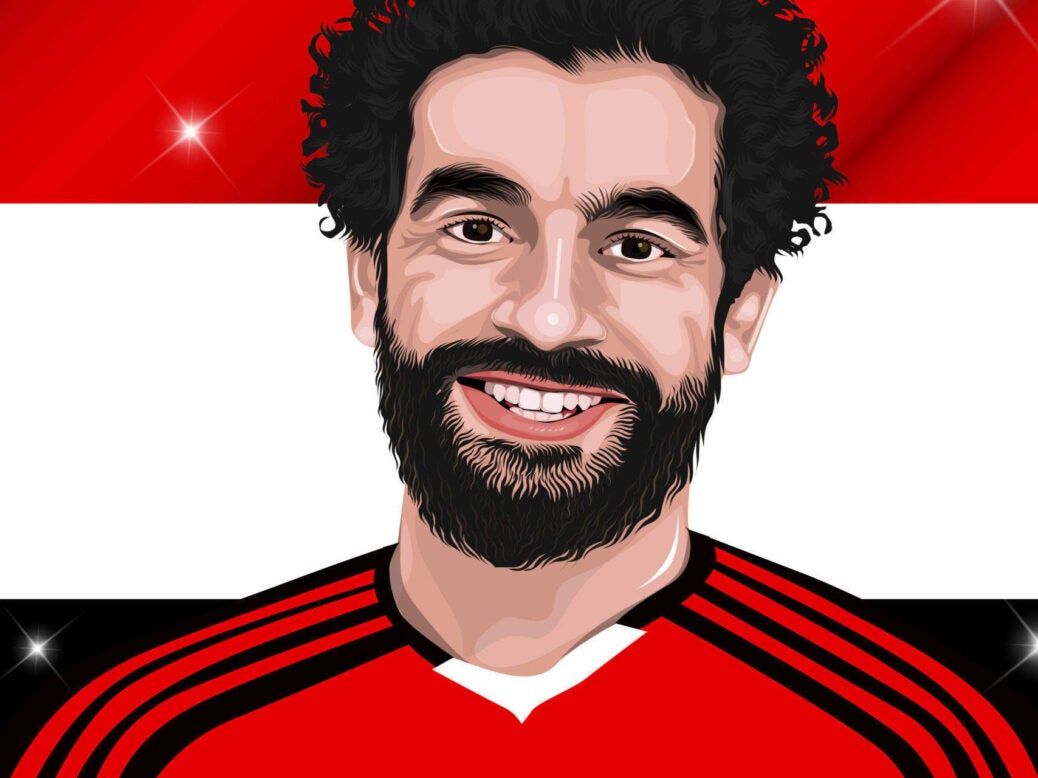 Despite facing tough competition from the likes of Manchester City's Kevin De Bruyne and Tottenham's Harry Kane, Liverpool forward Mohamed Salah was named as the Professional Footballers' Association's Player of the Year last week.
Few expected 31 goals and ten assists in 33 Premier League games from Salah his debut season with Liverpool. However, his incredible haul has seen him likened to leading players Lionel Messi and Cristiano Ronaldo.
In his native Egypt, people already view Salah as a king.
Such is the country's love for the Liverpool forward, Salah came third in the Egyptian presidential election earlier this year. While sports stars becoming politicians isn't unheard of, Salah wasn't running to lead his country. However, that didn't stop more than one million citizens from crossing out the names on their ballot to vote for the footballer instead.
His footballing ability is the catalyst for his popularity, but his charitable nature and humble approach to stardom have helped to establish him as Egypt's biggest celebrity.
Following his Player of the Year award victory, here are six reasons why Mohamed Salah has been crowned the unofficial Egyptian King:
He remembers where he came from
Earning £90,000 per week as a footballer for one of the Premier League's most prestigious clubs, Salah is far better off than the average Egyptian who earns £7,900 annually.
However, the Egyptian King hasn't forgotten where he came from. Since breaking in to the ranks of football's elite, Salah has funded various projects to improve the quality of life in the village where he grew up.
Maher Shetia, the mayor of the small village in Egypt's Gharbiya province, said last year:
"Salah highlighted his small village on the international map. He also built a charity and will build a school that costs millions.

"This is in addition to his donations to Basioun hospital with a complete ventilation room, incubations and an ambulance unit."
He saved Egypt from economic ruin
Salah's charitable work is well documented. However, Salah has done far more for Egypt than build a few hospitals. In fact, he once saved Egypt's entire economy from ruin.
Since the Egyptian revolution of 2011, the country's economy has been crippled by the government's instability.
According to The Times, when the government desperately needed funds to strengthen the Egyptian pound, he gave £210,000 out of his own pocket to relieve the situation.
He sent Egypt to their first World Cup in 28 years
A brace from Salah in their final 2018 World Cup qualifier against Congo handed Egypt a 2-1 victory. This guaranteed the African nation a place at the tournament this summer.
This will be the first time that Egypt travels to the World Cup finals in almost three decades. The last World Cup tournament that they qualified for was Italy 1990.
Qualifying for the tournament means that Egypt will receive a share of the $400 million prize pool that FIFA will distribute between the 32 competing nations.
FIFA guarantees each nation a minimum base payment of $9.5 million. Winning the tournament is worth $38 million. Regardless of how much Egypt comes away with, this money should be reinvested back into Egyptian football to provide better resources to the next generation.
He uses his power for good, not gain
Many footballers use their popularity to earn themselves as much money as possible. Many care little about what exactly they're promoting. Just take a look at some of the unusual sponsorship deals that Cristiano Ronaldo has signed to get some idea.
Salah hasn't sold out like many of his fellow pros. According to data provided by Sportcal, the Liverpool forward has agreed just two deals during his career so far, both with soft drink manufacturer Pepsi.
However, he did agree to star in an anti-drug commercial as part of Egypt's "You Are Stronger Than Drugs" campaign.
Speaking in the video, Salah tells viewers:
"Get addicted to success, don't get addicted to that which dragged you backwards. You are stronger than surrender, don't let it beat you. You are stronger than drugs."
He saves Egyptians money
Vodafone Egypt announced last month that it would be giving Egyptian customers 11 free minutes of talk time for every goal that Salah scores until the end of the season according to the Liverpool Echo.
With 43 million active subscribers, at a cost of 25p per minute, each goal that he scores could save Egyptians in excess of £100 million.
Should he maintain his form next season, his Egyptian fans would gain more than eight hours of free talk time.
He serves as a symbol of better things to come
Much like Egypt, Salah has suffered a turbulent few years. After impressing with Swiss side Basel, Salah joined Premier League side Chelsea in 2014. However, after making just 13 appearances for the club in a two-year spell, Salah was shipped off to Roma in what seemed to be a step backwards.
However, Salah has been in incredible form since signing for Liverpool, providing 41 goals and 13 assists in 46 games to prove his Premier League critics wrong.
According to Egyptian fan Hatem Kadous, Salah's success reminds his home nation that not everything is terrible.
"He's the only thing keeping Egyptians happy. Go to any coffee shop in Cairo when Liverpool are playing… It's amazing.

"For 90 minutes he unites the nation and makes us forget all the crap we're going through. You don't have to worry about revolutions, about Islamic Brotherhood, Isis, any of that.

"He scores, we're happy, we forget."