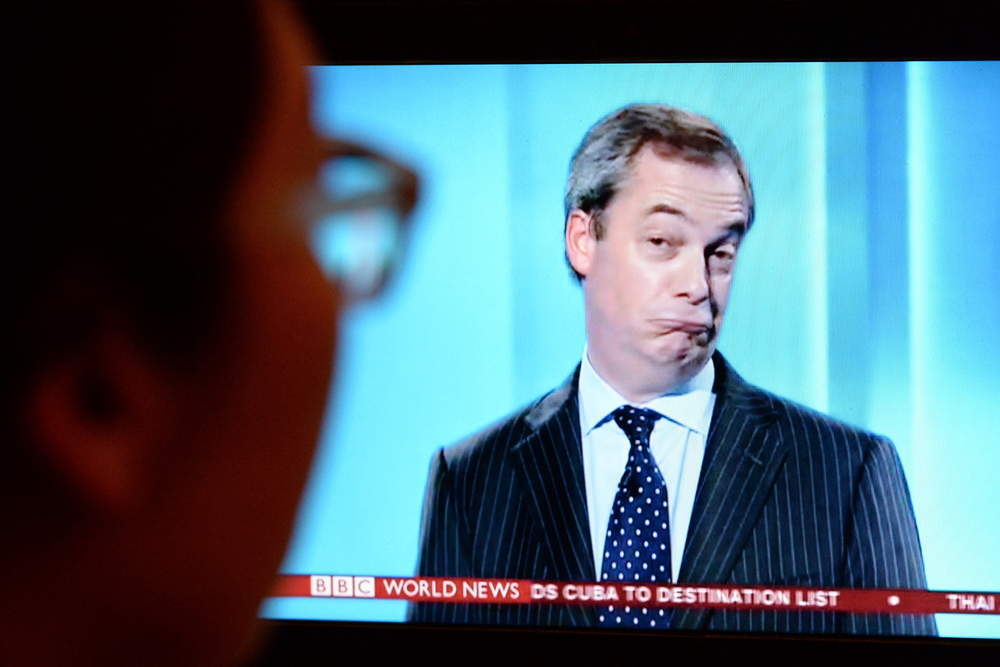 You can't really think about Brexit without immediately thinking of Nigel Farage.
The two are inextricably linked, and history will credit Brexit as Farage's victory. Not a bad result for a politician and party leader who couldn't even get elected to the House of Commons…
Why is Farage against the EU?
One of Farage's key criticisms of the EU is the policy of free moments around the member states.
In a broadcast interview on LBC Radio, Farage once described his mistrust of Romanian immigrants:
I was asked if a group of Romanian men moved in next door, would you be concerned? And if you lived in London, I think you would be.
Writing for the Daily Express prior to the Brexit referendum, Farage explained his opposition to free movement from EU member states to the UK:
How well do you
really

know your competitors?

Access the most comprehensive Company Profiles on the market, powered by GlobalData. Save hours of research. Gain competitive edge.
Company Profile – free sample
Thank you!
Your download email will arrive shortly
Not ready to buy yet? Download a free sample
We are confident about the unique quality of our Company Profiles. However, we want you to make the most beneficial decision for your business, so we offer a free sample that you can download by submitting the below form
By GlobalData
Open-door migration has suppressed wages in the unskilled labour market, meant that living standards have fallen and that life has become a lot tougher for so many in our country… The EU's open borders make us less safe. As a bureaucratic club it makes us poorer. Membership of this union stops us acting in our own national interest, forcing us to be represented by unelected old men in Brussels… A future inside the European Union would mean our population rising even faster at a completely out-of-control and irresponsible rate. This European Union is not one which is standing still. It is expanding in powers, expanding in size and determined to become a United States of Europe.
While Farage does not, at least in this occasion, back up his opinions with verifiable facts, he struck a chord with many British people who feel immigration to the UK is too high.
After the announcement of the referendum result, Farage was — understandably — jubilant. In a speech given to reporters at 4am on the morning of 24 June 2016, Farage said:
Dare to dream that the dawn is breaking on an independent United Kingdom. This, if the predictions now are right, this will be a victory for real people, a victory for ordinary people, a victory for decent people. We have fought against the multinationals, we have fought against the big merchant banks, we have fought against big politics, we have fought against lies, corruption and deceit. And today honesty, decency and belief in nation, I think now is going to win. And we will have done it without having to fight, without a single bullet being fired, we'd have done it by damned hard work on the ground.
What role will Farage play in Brexit moving forward?
Having given up his political career after achieving his life's work — taking Britain out of the European Union — Farage shouldn't expect to have much influence in the Brexit proceedings.
That being said, his response to Gina Miller and her legal challenge against Theresa May's sovereign authority to invoke Article 50 without the votes of the House Of Commons might give some impression of his influence.
In an interview on BBC One's Andrew Marr show, Farage announced that he would lead a "people's army" of 100,000 people protest the Supreme Court's hearing of Miller's case.
He said:
We may have seen Bob Geldof and 40,000 people in Parliament Square moaning about Brexit. Believe you me, if the people in this country think they're going to be cheated, they're going to be betrayed, then we will see political anger the likes of which none of us in our lifetimes have ever witnessed in this country.
In response, then-Liberal Democrat leader Tim Farron suggested that Farage was dangerously close to inciting violence to back Brexit stance:
This is the politics of the gutter. All that has happened is that British judges in a British court have interpreted British laws. Nigel Farage should welcome that. British citizens aren't talking about taking to the street, only Nigel Farage is. Responsible leaders have a duty to calm tempers, heal division and work together to keep Britain open, tolerant and united.
Could Farage use his influence to stir up a revolt against any Brexit policies he disagrees with? Given his popularity and influence, it is certainly possible.
How did Farage come to be such an influential figure in Brexit?
Farage was an active member of the Conservatives since his youth, but broke from the party in 1992 in protest at then-prime minister John Major's decision to sign the Maastricht Treaty.
The treaty was the precursor to the European Union as we know it today, including the creation of the euro.
Farage, already a euro-sceptic, furiously left to found the UK Independence Party (Ukip) in 1993.
Ukip didn't find success immediately, battling the Referendum Party who had a similar platform and more money.
After the founder of that party, multi-millionaire James Goldsmith, died in 1997, many of his MEPs defected to Ukip.
It was then that Farage's party was able to step up it's efforts, removing the parties original founder, Alan Sked.
At the time of his exit, Sked alleged UKIP had become full of racists and far-right elements.
In the 1999 MEP elections, the first to use proportional representation, Ukip gained seven percent of the vote and Farage gained one of three seats.
What followed were several years of infighting and battles with the Conservatives. Ukip lost out against the British National Party during the 2005 general election and some members suggested a pact.
Farage was against this idea. After his election as party leader in 2006, he sought to diversify Ukip's platform.
Farage campaigned on populist policies such as tax cuts, immigration restrictions, climate change denial, and restoring grammar schools.
As a result, Ukip gained a huge boost in popularity after the MPs' expenses scandals and won 16.5 percent of the vote in the MEP elections 2009.
This made them the second biggest UK party in the European parliament, after the Conservatives. Farage then resigned as Ukip's party leader in order to focus on his general election campaign against the House of Commons' speaker John Bercow, which he lost.
It wasn't long before Farage returned to Ukip's leadership.
In the 2013 local elections Ukip increased its number of elected councillors from four to 147, the best result for a party outside of the Tories, Labour or the Lib Dems since World War Two.
By 2014, Farage led Ukip to such success that Ofcom awarded them major party status.
After another strong result in the 2014 European parliament elections and two MPs in the House of Commons, Farage looked to be in a good position in the lead up to the 2015 general election.
He even boldly stated that he'd resign as party leader if he did not win his seat in South Thanet. This hubris proved to be his undoing and he did not win, forcing Farage to resign.
Unfortunately (or fortunately, depending on perspective) Ukip's national executive committee refused to accept his resignation and demanded Farage's return as leader. He continued to front the party until the EU referendum.