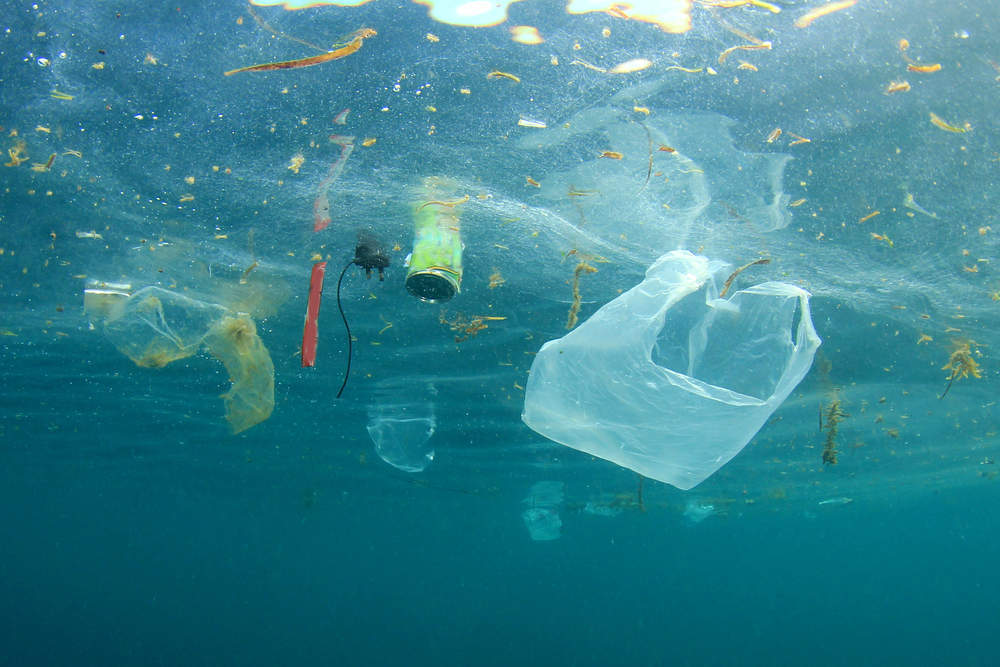 Environment ministers around the world have pledged a zero tolerance policy for plastic pollution for Earth's oceans.
Governments plan to establish an international task force to advise on combating what the United Nations' oceans chief has described as a planetary crisis.
Over 200 countries signed the UN resolution in Nairobi, with many hoping it will pave the way to a legally binding treaty.
The move comes after this year's' United Nations Environment Assembly that ran from 4 December to 6 December under the theme pollution.
Meanwhile, there has been a general rise in awareness about the detrimental effects of waste plastic on the oceans and marine life, in thanks partially to the popularity of the BBC TV show Blue Planet II.
The assembly heard that pollution kills 9m people around the world each year — accounting for one in six deaths and making it the biggest killer of humans.
The United Nations Environment Programme (UNEP) also said that if current pollution rates continue, there will be more plastic in the sea than fish by 2050.
Kenya was praised at this month's assembly for its banning of the use and manufacture of plastic packaging in the summer of this year. It took Kenya three attempts over 10 years to finally pass the ban
Kenya's president Uhuru Kenyatta said:
My advice is that nations should not heed the sceptics, who say that all countries cannot protect our planet better by banning plastic carrier bags.
Kenya joins 40 other countries including France, Italy, China, Rwanda and Tanzania who also abide by a zero-plastic policy.
Kenya enforces the strictest ban however, implementing fines ranging from $19,000 to $38,000 or a jail term of up to four years for carrying, importing or manufacturing plastic bags.
The ban has already resulted in a growth in paper and jute industries, as well as people using shoe boxes and other spare containers to package food.
Some moves have already been made in the Western world to cut down on plastic use; the pub chain Wetherspoons has pledged no longer stock plastic straws by 2018, and local authorities including Fort Myers Beach Council in Florida are banning straws.
British sandwich chain Pret-A-Manger has introduced filtered water stations to encourage customers to refill reusable bottles while writer and explorer Ben Fogle has called for supermarkets to implement a plastic free isle to offer environmental alternatives comparative to those provided to people following a gluten free or vegan diet.
However what alternatives could we expect to see for plastics on a more industrial scale? And how viable are these options?
Often lengthy and expensive manufacturing processes prevents plastic alternatives from making it into the mainstream, though with the pledge to reduce our plastic waste we can expect to see attentions turning to developing more eco-friendly substitutes.
Verdict looks at some of the alternatives out there.
Edible cutlery
Currently, about 40bn plastic utensils are used just within the US within a year. Worldwide, this figure is 16 times more at 640bn.
Almost 10,000 backers on the popular crowdfunding website Kickstarter pledged $278,847, to the India-based startup Bakeys last year — 14 times more than its initial $20,000 goal.
The company produces a series of spoons made of three flours: rice, wheat, and sorghum. The spoons come in a variety of flavours: sugar, ginger-cinnamon, ginger-garlic, cumin, celery, black pepper, mint-ginger, and carrot-beetroot. The company has sold over a million spoons in India and is now working on expanding the range to forks and dessert spoons, with the hope of also making plates and cups in the future.
Milk protein
Researchers have said that casein, the main protein in milk, can be used to make a biodegradable material for use in insulation, packaging and other products.
It's also edible and, according to Bloomberg, is 500 times better than conventional plastics at protecting food from oxygen as it forms a "tighter network when they polymerise".
The packaging has been developed by researcher Peggy Tomasula and her colleagues at the US Department of Agriculture.
Potential applications include single-serve, edible food wrappers or pouches — however as the material dissolves in water it would have to be packaged in larger plastic or board containers to keep it dry when transported.
Plastic additives
Biodegradable thermoplastics can be made using metal compound additives known as prodegradant concentrates (PDCs).
These undergo an oxidation process that turns plastics into brittle fragments that disintegrate and turn into carbon dioxide, water and biomass that contain no harmful residue.
As such, these additives can be used as a plastic substitute in items such as shopping bags and landfill covers. PDC's are usually metal compounds such as cobalt stearate or manganese stearate.
Chicken feathers
This unusual material can be used to make a water-resistant thermoplastic.
Chicken feathers contain keratin, a durable protein similar to plastic. Making plastic from this has proven to be more tear-resistant than other plastics made from soy, starch and other agricultural products.
Liquid wood
Liquid wood looks, feels and acts like plastics — most importantly being able to be moulded to fit different shapes — but is biodegradable.
Some researchers use this as substitute to make toys, golf tees, and hi-fi speaker boxes.
Lingin (an often-discarded element of regular wood) is combined with natural resins, flax and fibers that can be injected into moulds.
The result has been dubbed Arboform by its German inventors. Just like wood it breaks down quickly and organically into non-toxic by-products like water and carbon dioxide.
Edible water bottles
The company Ooho have created "water you can eat", encasing a bubble-like sphere of water inside a film of plants and seaweed, made by gelification — a process used in cooking that turns liquid into gel using an edible gelling agent.
You can either eat the bubble's case, or leave it to decompose — a process that would take between four to six weeks.
The sphere can hold up to 250ml of water and can be flavoured or coloured.
The idea was developed in 2014 but the creators are currently fundraising to get their water-bubbles on a mainstream market, expected to go on sale in under a year.
Each bubble apparently costs less than plastic to make.
Mushrooms
US company Ecovative Design uses mycelium, the vegetative part of fungus that exists underground, to make packaging by mixing the mycelia with farming by-products such as oats or hemp.
The process takes advantage of mycelium's binding properties, meaning it can be grown in moulds similar to those used for plastic.
The brand has branched out from packaging to plant pots, lamp shades and table tops.
The resulting material is fairly fire-resistant, and as water resistant as styrofoam. It will also only take around 180 days to break down in a landfill.
Shrimp shells
In January of this year the University of Nottingham in the UK announced it would be trialling the use of shrimp shells to make biodegradable shopping bags.
The research is being led by Nicola Everitt who is focusing the project at Egypt, which has an abundance of shrimp shell waste.
The shells can be used to make chitosan, a man-made polymer which is extracted from the shrimp shells using acid to reduce their brittleness, followed by alkali to form the molecular chains of the biopolymer.
The dried chitosan flakes can then be dissolved into solution and polymer film made by conventional processing techniques. Two pounds of shells can yield 15 biodegradable shopping bags.
Verdict deals analysis methodology
This analysis considers only announced and completed artificial intelligence deals from the GlobalData financial deals database and excludes all terminated and rumoured deals. Country and industry are defined according to the headquarters and dominant industry of the target firm. The term 'acquisition' refers to both completed deals and those in the bidding stage.
GlobalData tracks real-time data concerning all merger and acquisition, private equity/venture capital and asset transaction activity around the world from thousands of company websites and other reliable sources.
More in-depth reports and analysis on all reported deals are available for subscribers to GlobalData's deals database.